You know SengkangBabies love the wild nature. We had threatened to transform our snails into escargot, and now we ponder fried grasshoppers.
Before you call SPCA about animal cruelty, Daddy is pulling your leg, we release all our "captives" 🙂
And nope, we are not talking about HK's cantopop gig 草蜢.
Those who grow up in the 70s and 80s catch grasshoppers and guppies during playtime.
Back then, grasshoppers could be spotted in any grass patch. You just have to step on the grass and half a dozen grasshoppers will be darting off in different directions.
No need for net too, you can catch them with your bare hand.
But where are the grasshoppers hiding in Singapore now?
From Venus drive carpark, we walk along the small path towards the scrubs. Grasshopper prefers this type of grass. (refer first image)
Along the path, we can spot abundant ferns, banana-leafs, fallen leaves(autumn?) and even streams with longkang fishes (drain). A lot of nature lovers were spotted pacing up and down the trails.
Click for nParks diy trails.

This is actually the first time we brought the kids so near to grasshopper sanctuary.
We are glad Tan and Heng families join us in our hunting adventure.
We set our nets to purpose, but we did not find a lot of grasshoppers. It could be due to the morning rain.

Nevertheless, the kids really enjoy themselves. The adults had fun reminiscing their childhood memories too. Daddy must show the kids how to catch Guppies next.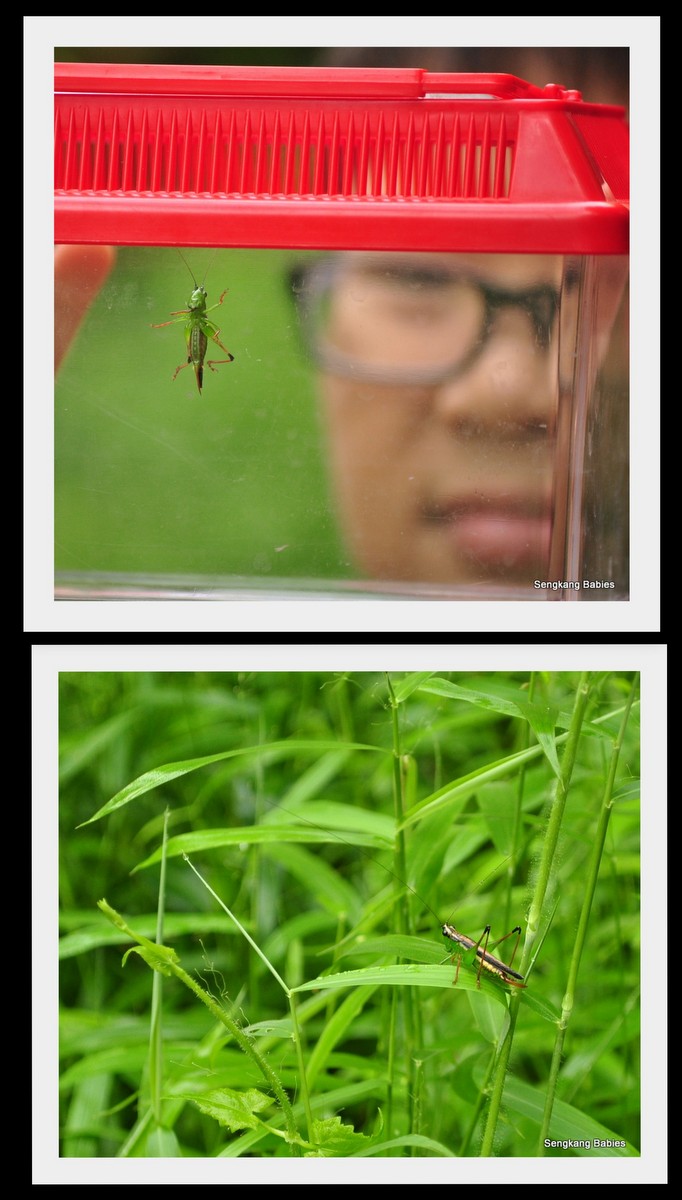 Look at what a macro-len can do for us, photos courtesy from Johnny 🙂

Do you know what is a better experience than catching grasshoppers? Doing the great outdoors together with buddies 🙂
For those seeking more adventures, check out our Maritchie's Tree Top Walk. From Venus Drive carpark, it will take you 90min to reach the bridge. Recommended for kids 6 years and above.
Do pop by our Fanpage for more insect photos.