Cycling to Malacca (马六甲) is a new milestone for us, seven of us have LEVEL UP.
Cycling in Malacca's Red Square, posing infront of Malacca landmarks like Stadthuys felt like a Dejavu moment!
(I had another Dejavu moment at New Zealand middle earth)
YES! We have reached Malacca on two wheels! Savour the moment and memory.
Cycling to Malacca YouTube link (https://youtu.be/Uk3ZGqOCKx4)
You can check out my Johor cycling playlist here.
Our Malacca trip took us one month to plan. The route, coach and accommodation, and food, glorious food. Thank you fellow cyclists from Facebook group "Cycling SG to Malaysia" for sharing their tips and experiences. (Read tips here, here and here).
You may refer to our Malacca Google Maps (GPX) below for points of interest (POI). Just click on link and follow turn by turn navigation.
Cycling to Malacca was my 8th trip to Malaysia. Yet, the no1 question which I always get "Is it safe to cycle in Malaysia?" 🙂
For 250km, no cars horned at us! No vehicles tailgated or pushed us to the edge. We got waves from fellow cyclists, and a few friendly toot-toot horns from well meaning drivers.
That speaks VOLUME, comparing "Singapore and Malaysia" road culture. Cycling on Singapore roads, grab drivers and vans will tailgate you and overtake you closely. Facebook groups seem to promote more hostility towards cyclists!
Singapore drivers have a lot to learn from Malaysians. Bulk of SG drivers are good and patient, but there are too many black sheeps.
Enough of complains, let me break down our trip in numbers.
Total expenses (3D2N) : Total $174
-$41 Submit Signature Hotel Batu Pahat (2 single beds, inclusive breakfast)
-$88 Hatten Hotel Melaka (2 pax)
-$45 Coach (return from Malacca to Singapore)
Our itinerary was spread over 3D2N
-230km total distance (we did extra 20km to cycle along Malacca river)
-Rolling 20 to 23kmh, easy pace to sustain over 2 days
Day 1 130km to Batu Pahat (11 hours total time)
Day 2 100km to Malacca (8 hours)
Refer to Cycling to Malacca on my Strava too.

Experience and feedback
1)First multi-day ride for us, it was an adventure for our group. Can we gel together and take care of each other? Can we stand each other's nonsense (or snores ):p
This trip will gauge whether we can attempt longer multi-day rides together in the future.
We survived, and are now planning for 500+ km rides in the future!
2)Bike packing, first time cycling with panniers for us. My bike weighed extra 6kg!
Foldie (smaller wheels) become less nimble, and needs longer distance to brake. You can definitely feel the DRAG during roll off.
How to prepare for long rides (opinion is from a newbie's experience, we have so much more to learn)
The physical conditioning is the easy part, our group are regulars in Johor. We are comfortable with distances of 100km+ and have enough road confidence within our pack.
On every trip, I trust these folks with my life!
3)Slopes and heat are tougher in Malaysia, compared to Singapore.
Assuming similar parameters, efforts needed to clock 100km in SG might only clock 70km for Malaysia (Just an estimate).
Group cycling definitely helps and motivates everyone to pull together.
4)Navigation is relatively easy with Google Maps. You will still miss a few junctions here and there, just enjoy the detours. (Please ensure Google Maps options should avoid "tolls" and "motorways")
I love planning for trips, and plotting POI (points of interest) along the route. FOOD, culture and experience, these are our motivations, and the journey is always more fun than the destination.
5)This might sounds ironic but fitness is never the biggest challenge
It is always hard to find a good window to accommodate everyone, and even harder to get "permits" from partners 🙂
6) Cycling in Malaysia, you should get used to non-stop cycling for up to 20 or even 30km (no traffic lights nor junctions!). Do remember to hydrate more often (In SG, we always hydrate when we stop at traffic lights)
7) Strong team. Our main group consists of up to 20 folks.  Many are stronger riders than me, but they gamely join our expedition as sweepers!
The beginning
Full load adds extra 6.25kg. My bright yellow pannier is from Rockbros, very functional and useful for my needs.
When I go for longer trips, I will just add one more pannier.
8)Trial and test loading of bike, getting used to new foldie dynamics.
After all the packing, bike stand is less stable!
Day 1 Time 0530 Meetup at Esso Woodlands Road.
Look at our bikes OOTDs!
We normally roll at 23-25kmh, but decided on 20-23kmh for Malacca. 
Time 0730 Butterworth Boy Prawn Noodles Umami sweetness!
Time 1000 Heng Heng Wanton Mee
Famous ketchup wanton mee in Pontian (too bland for me). I suspect Singaporeans will prefer the usual 重口味 wanton mee 🙂
Take note you can only Tabao to next door coffeeshop (no dine in).
See you again, Pontian (Landmark location).
Refer our previous Pontian cycling post here.
After Pontian, minimum shades along the road.
9)We followed Route 5 all the way from Pontian to Malacca.
Fyi.
Before NSHW, Federal Route 1 was the only way to North Malaysia(Kedah).
Route 3 leads to Mersing, Terengganu (and Thailand border)!
Route 5 brings you all the way North to Ipoh (Perak)
Time 1200 20km from Pontian, coconut pit stop.
As our itinerary is free & easy, we can afford some detours. Take more photos, eat and drink more, craft more memories.
Time 1315 Coffee break at Luan fang coffee shop (Rengit)
We plan for small breaks every 20, 30km.
Nice green bean soup (cooling) and kaya toast (sugar boost).
Food is a major motivation for us.

You must take a group photo at Rengit's famous mural (just opposite coffeeshop).
!10) You will hit roller coaster slopes 20km before Batu Pahat.
Start preparing after Senggarang's Mr Diy store (Google Maps GPS "1.748968, 103.052226" here)
The slopes are challenging, but the bends are more dangerous as this route has a lot of traffic. Do refer to 8min mark on Cycling to Malacca YouTube.
Time 1600 Counting down the distance to Malacca (Melaka).
100km marker  is symbolic for us.
This spot is just outside Volkswagen Batu Pahat office. We have already covered 125+ km, and we are only 3km away from our hotel.
Somehow, we managed to avoid the rain clouds on day 1.

Time 1630 Checkin to Submit Signature Hotel
Nice view from our room, we can always see some mountains over the horizon. We chose this hotel because we could roll our bikes into the room.
We did not do any sight seeing or exploration in Batu Pahat.
Simple dinner at the mall next door.
Day 2 Time 0700 Buffet breakfast
Time 0830 Bye Batu Pahat, Cycling to Malacca continues. Next stop, Muar.
As we roll nearer towards Parit Jawa and Muar (麻坡), we noticed more rickshaws themed bus stops. Seems like every town has their own themes.
Time 1030 Daily Happy Otak Otak
There are many otak stores in Muar (Pronounced "Otah" in Singapore).
Take note bulk of Daily Happy's Otak are frozen, not for immediate consumption.
We were lucky to find a few sticks left :p
The otak is slightly spicy, Google Maps"Muar otak" for more options.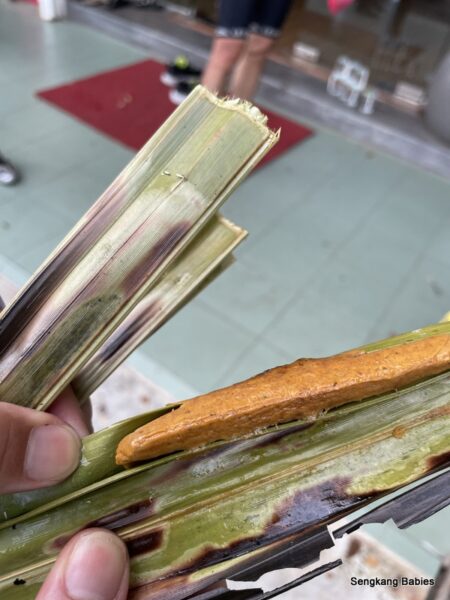 Time 1100 You must go backlane to Otak's "factory" and this nostalgic house. We spent at least 30mins here capturing fun shots.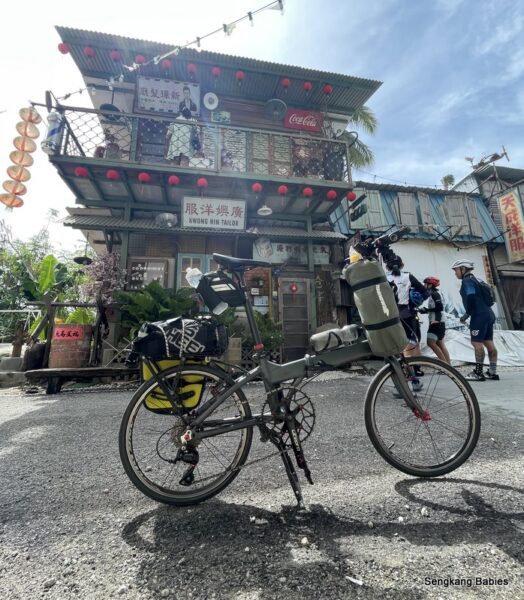 Before this trip, I would only use North South Highway to reach Malacca. But the trunk road between Batu Pahat to Muar and Malacca is lovely.
We love the green shady trees. However, you can expect more "humps" and potholes along the shoulders too.
11) For smaller roads, you need to be alert of cars overtaking from opposite lanes.
Time 1200 Lunch at Restoran Dhia Zahra (mamak stall)
Along Route 5, there will be many food and drink options along the route. We did a small detour for lunch before Muar.
Google Maps actually recommended "R&H Cafe Satay Maharani" but it was closed.
Mamak food does not look appealing but we love the home-cooked fare. Very delicious!
Time 1300 Muar Street Art
Cycle through the back lanes and pose for more photos.
In many towns, murals are appearing on old buildings.
Time 1320 Menara Jam Muar (Clock Tower)
打卡 spot, so we can have proof that we have ben to Muar :p
Crossing Muar bridge. We did not stop at the bridge to enjoy the river view.
But I heard this bridge has a dark side 🙁
Rolling, rolling. We always pray for good weather and lesser slopes
Time 1400 Beca Gergasi Muar (Landmark rickshaw)
This is the first time we have cycled beyond Johor. You can imagine the size of Johor state!
The river (photo below) actually demarcates the boundary between Johor and Melaka state.
12) For smaller towns, you may only see 2 or 3 petrol stations (including opposite lanes). Cyclists love to recharge at petrol kiosks.
Remember to hydrate often, the sun can get to you. We normally pitstop every 20, 30 km
Time 1600 Sudden downpour!
The rain cloud was supposed to skip us, but it pinned us down for 20mins (shelter). We were only 10 to 15km from Malacca downtown.
Time 1620 Reached Hotel Hatten Melaka
Landing in Malacca gave us a sense of accomplishment.
YES, WE DID IT!
We decided to take a short tour of Melaka town and Melaka river first.
Rolling along the river, there are many tourists over the weekends. But somehow, I felt Melaka River is overrated.

Checkout river videos from YouTube (18:50mins onwards).
Entry point at Jalan Baru road (GPS 2.198861, 102.248726), then we cycle Southwards. Exit near Gereja St. Francis Xavier, and cycle towards Melaka Red Square.
We did not take the bumboat cruise.
Malacca Red Square always packed with vehicles! Locals will tell you "Heritage UNESCO" means their renovation or road works might be limited.
(Is this true? )
Happy faces, busy posing 🙂
We can be proud of ourselves.
Back to the hotel for a quick wash.  We got the Junior Suite which is very spacious. Price is reasonable for two pax. 
Our hotel shortlisting zoom into two zones, "1 and 2". "1" is our hotel location (Mahkota). "2" is nearer to Jonker Walk. (Alternate stay at JonkeRED).
We understand JonkerRED had previously allowed bikes to be pushed into rooms (please confirm again).
At Hatten Hotel, we have to lock our bikes inside their luggage room.
Rest and Relax. Time to enjoy Malacca.
All F&B outlets will enjoy full house near weekends. It is hard to find a place to accommodate 7 of us (same table). We had our dinner and dessert at Peranakan Place.
It would be sinful to leave Malacca without any cendol.
Friends love stinky toufu, but I prefer to stay 100m away from the stench :p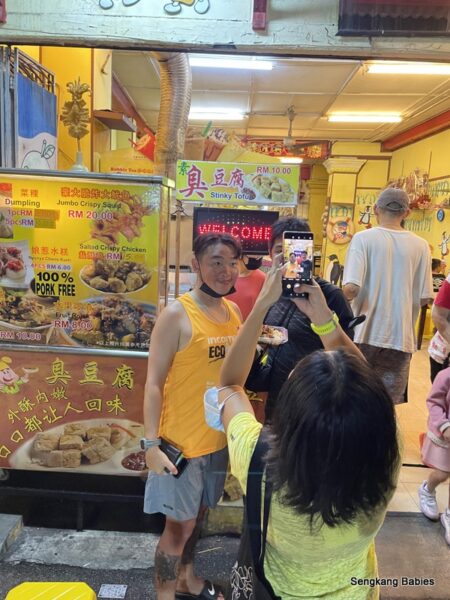 Soothed our sore legs and neck at Wang Yan Foot Reflexology (RM113 for 90 minutes). The lady boss has good technique.
13) Google Maps tip. For inter-state cycling, we use "Driving or cycling mode". But cycling within the town is different. You should try "Walking mode" to discover small back lanes and shortcuts.
(If you use Driving mode in towns, you will end up following roads, and maybe going one big round. )
Take note, there are too many rickshaws in Melaka downtown! The music is on full blast and dazzling bright lights. Do watch out for rickshaws as they can be fast and reckless.
Day 3 packing
Our coach was in the afternoon. We need some energy replenishment first.
Nice Bak Ku Teh at Shan Cheng Bak Kut Teh. (There are many BKT stalls in Malacca)
I like the dry version and friends prefer soup. But we all love the vinegar trotter.
Happy bellies. Compensating for our 250km ride.
14) To bring your bikes onto coach/bus, they need to be wrapped in a carrier bag. This applies to road bikes and foldies. (sample bag from Shopee)
We stopped by Mr Diy to get some extra protection for our bikes. You can wrap your bicycle frame to prevent accidental knocks.
15) Take note there could be two buses leaving Malacca around the same time. Do check your confirmation sms on actual day for the bus number.
We loaded our bikes into the wrong coach, and had to unload again!
(Shoutout to KKKL for good bus services)
Change of dressing, slinging our bikes. Our coach took 9 hours to reach Singapore.
We got a mini shock nearer to SG custom. Bus captain mentioned that all bags must be cleared for inspection!
Fortunately, we need not remove and haul bikes to clear customs. Alan spoke to ICA officer and we left the bikes on the coach.
16) Refer image above, you can shortlist available buses online at https://www.busonlineticket.com
There will be more options (and cheaper rates) if you start/end at Larkin bus terminal (10km from Woodlands checkpoint). Take note of the start and end point too, I cycled 5km home from Kovan Hub to Sengkang.
True story (my cycling kakis)
When I was shortlisting for my foldie in 2020, I never knew how far I would cycle (Foldie shortlisting post here).
Hope to cover more cycling adventures with this bunch of folks 🙂
Summary of our Malacca trip
a)Bike felt so light, after we removed the panniers!
230km is neither short, nor long. It is doable (no need to rush).
It does mean we are now ready to explore longer trips 🙂
b)With our bike packing experience, we can now hitch a coach from Larkin to anywhere in Malaysia!
c)As mentioned at the beginning, we did not encounter any aggressive drivers. We had many pleasant encounters.
-Cyclists from the opposite lanes will wave enthusiastically (wave back)
-Coffee shop uncles are curious about small bikes and adventures
d) Malaysian driving cultures confirmed more patient and accommodating towards cyclists. Ask folks who have cycled over for first hand information (and not those who have only driven).
e) Best team award!
Best endurance goes to Aileen. Fracture toe can still cycle to Malacca!
Alan and Kiera are the most reliable sweepers. They are fast on their road bikes, but chose slower foldies to accommodate the group. They had since complete SG-Malacca loop 500km under 2D1N!
Those who need packing advice should ask Wee Wee.
Her bag is the smallest, did she attended Marie Kondo technique?
Alex and Joe always help to pull the team and they are the silent enablers.
I would plan the itinerary, and am humbled that team trust me to bring them jalan jalan 🙂
(Jason was supposed to join us, and he has shared valuable tips with us. He was the first one in our group to cycle to Melaka. )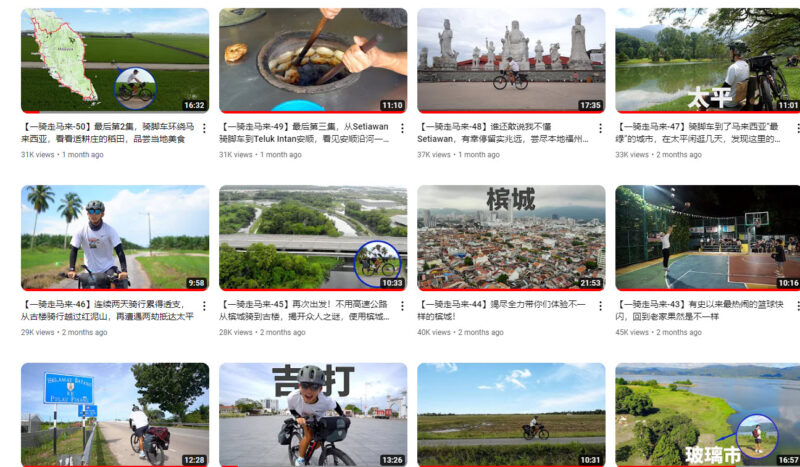 f) I would like to recommend three cycling Youtubers for my cycling inspirations
f1)"马飞" 51 episodes over 4 months!  I call him 马云 (so embarassing) when I saw him at SG custom. Do visit his Singapore episode 17.
f2)"一個叫老菜的男人". Slow and easy, riding around Malaysia
f3) "AlvinAWWY" rides a road bike and covered Malaysia in 12 days!
From their videos, I learnt so much more about smaller towns, cultures and hidden food and attractions. Most importantly, they inspire me and team to ride more explore more.
Meanwhile, you may read about other cycling trips below:
– Cycle to Pekan Nanas and Legoland
– JB food hunt (3 hours 30km)
– Cycle to Forest City
– Cycle to Pontian (笨珍)
– Cycle to Elephant Rock (Bukit Batu Gajah)
– Cycling to Malacca (this post)
–2018 Cycling Hualien to Taitung (with two kiddos)
*Do follow our cycling adventures here -> https://sengkangbabies.com/tag/cycling
YouTube: 2 to 3 Hours in JB. Eat, see and Experience

YouTube: Chill at Pontian 笨珍

YouTube :Cycling to Forest City and boat ride (my best Johor trip yet)

YouTube: Cycling to Elephant Rock (Bukit Batu Gajeh)

YouTube: Cycling to Malacca

YouTube:Cycling to Putuo Village

Cycling In Taiwan (250km from Hualien to Taitung)

ps.. If you are looking to conquer Malacca in one day, this blog post is not for you. We are chill cyclists (touring not training mode).
Do pop by our Road Trip to Penang 2022Dec YouTube: