Taitung top attractions, we list some of our favourite things to do in Taitung 台東, and of course food.
This is also the last blog post from our Taiwan Cycling trip 🙂
You may read our adventures (blog and YouTube) at the end of page.
Mention Taitung and many will ask, where? Most folks are familiar with the West Coast (Kaohsiung and Taichung) , and North/East Taipei and Hualien.
Taitung is not a small county, but most of the activities are conveniently located in the "small" town area.
Located near the South East corner of Taiwan, Taitung is a little bit out of the way. East Coast comprise of only three counties Yilan, Hualien and Taitung (宜蘭,花蓮,台東)
But when you mention the hot air balloon, seawater hot spring (Green Island) or Mr Brown avenue ( 池上 Chisang), Taitung will ring a bell (Top 10 Taitung attractions).
We continue with our cycling journey covering 250km from Hualien to Taitung (Blog itinerary). And this is the last stretch for 4D3N.
23+ km more to Taitung. We are going to cycle Southwards along the coast. You should read our newbie surfing experience in Dulan Donghe too, kids love the waves!
Not many families will consider surfing as one of Taitung top attractions, but backpackers claim Taitung has one of the most happening surf scenes.
Our Relive video, checkout the coastal views.

Youtube (clip), cycling Highway 30,11 Yuli to Taitung

Sample Itinerary and GPS from our Taiwan itinerary (G drive link). Do take note Column E distance is relative to Norden Ruder (our stay).
加路蘭海岸 Jialulan, one of the best spot to see stars and milky way in Eastern Taiwan! It is also popular with visitors during the day.
Pose with the art decorations, enjoy the coastal view and breeze.
As we cycle from Highway 11, we will reach 台東森林公園活水湖 in Taitung. This is a scenic park with a lake, popular with joggers and pet dogs.
If you are cycling from Highway 9, you will return the bikes before exploring the rest of Taitung.
There are two Giant outlets in Taitung, you should return the bike to new Taitung train station.
Do take note Taitung Center is around the old Taitung train station, and this is 6 km from the new train station. Taitung center is where all the happening stuff and good food are bunched together.
So ensure you book your accommodation at the right spot 🙂
You will notice all the good food are bunched together and within walking distance.
Refer to our custom Google Map above. Once we entered Taitung, we cycled 20km clockwise to eat and shop before returning our bikes (follow the yellow bicycle icons).
Due to lack of time, we had to skip a few.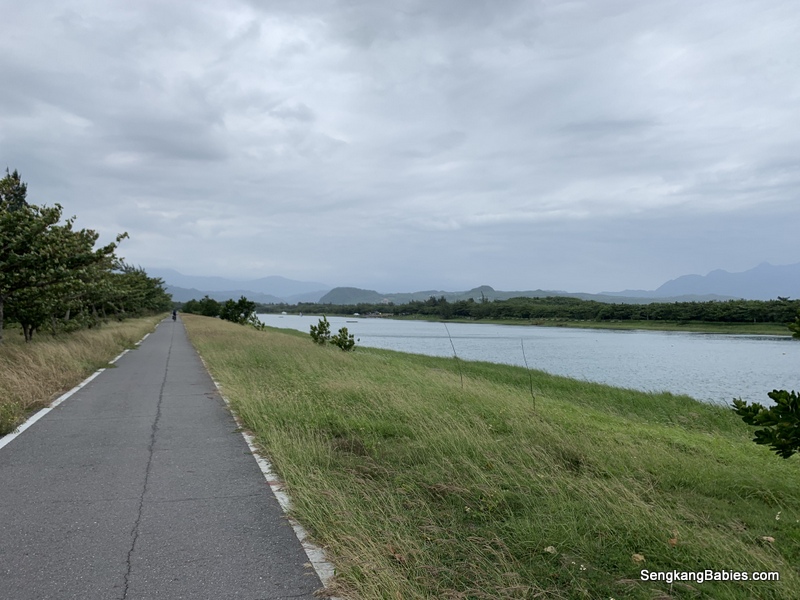 We were hunting for 琵琶湖觀景臺 (Pipahu Lookout), but it seems like the whole piece of land was blocked! We could only cycle the circumference.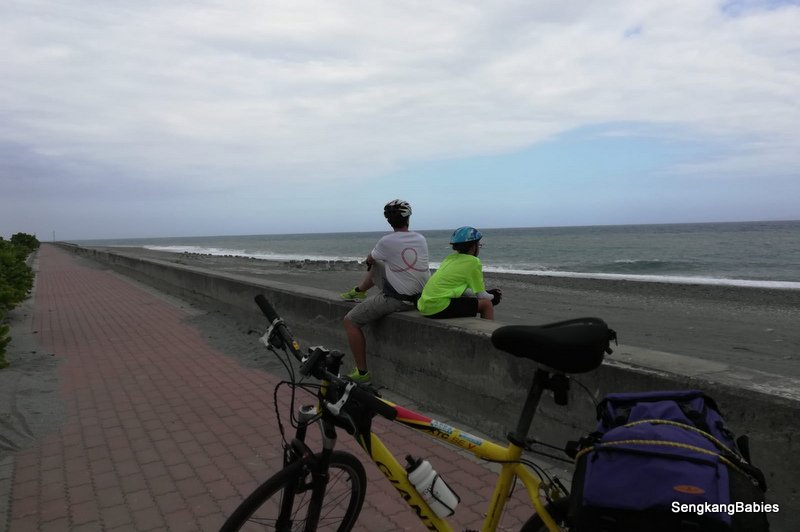 Taitung is one of the most bike friendly cities in Taiwan. We witnessed many folk (not only tourists) exploring the city on two wheels.
The sea view route was both windy and packed with family activities, some buskings too.
Landmarks, example 台東生命之樹 and 台東濱海公園大相框 Photo frame.
黄记葱油饼 (Taitung spring onion pancake). I felt bad about missing this, but kids absolutely hate spring onion :p
Besides, I was nursing a swollen elbow due to an earlier fall.We had to skip a few other points along the way.
楊記家傳地瓜 Yang Potatoes is a popular souvenir from Taitung. Take note of the opening hours, the chips are sold exclusively at shop (not airport).
客來吃樂 大腸蚵仔麵 (Taitung Chang oyster noodle), delicious bowl of goodness. Some say better than 西門町 Xi Men Ding's Ah Zhong Mee Sua.:)
Enjoy the last 10km ride. This route is built over old railway tracks, and is part of the 21km "Taitung Mountain/Ocean Bicycle Trail".
More biking trails here -> Taitung Link
Feels just like our park connector, but slightly more scenic and well maintained. No PMD menace here.
And the end point, 捷安特 台東站 Giant Taitung 🙂
Take note return time must be before 1600, otherwise billing for one more day. There are two Giant outlets in Taitung, do not return to the wrong outlet!
Map below will indicate the trains from Hualien to Taitung, running along Highway 9 (Left) or Highway 11 (Right)
While the kids were de-kitting our bikes,  I walked 300m to Taitung train station for our luggage and Taitung-Kaohsiung train tickets.
You may read about our train tickets booking and collection tips on this blog post. In Taiwan, you can drop your luggage in one train station, have it delivered to your destination. This is cool! (Tips and cost shared at
Hualien post)
After dropping our bike and picking up our luggage, we headed to 路得行旅  Norden Ruder for the night.
Boutique hostel which looks modern and yet contemporary. Love the center area with lush greenery and view of the "open" roof.
The breakfast is filling but not happening 🙂
Totally casual. After all the cycling , we just want to be in our most comfortable attire. Image wise, Taiwanese are well-dressed, even when they visit night market 🙂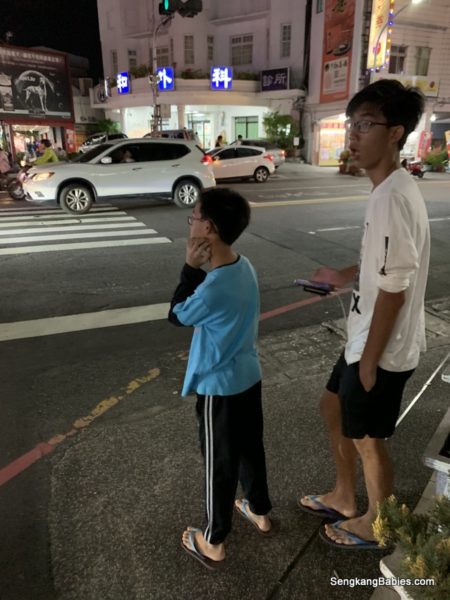 哈拉麵. This was actually our second visit. Shop was closed when we visited in the afternoon. You will be surprised at the variety of Japanese food in Taitung. (I had highlighted only 4 in my Itinerary.)
Friendly boss, superb Ramen. We asked whether flip-flops customers are welcomed haha, the friendly boss quickly found a table for us 🙂
Our No1 recommendation is Blue Dragonfly. Everyone in Taitung know 藍蜻蜓! Crispy and juicy, I will choose Blue Dragonfly over KFC any other day!
It is popular with locals and tourists, but serving is fast.

Nightlife in Taitung. Streets are still abuzz with cars and scooters late into the night.
海山寺 temple (bak bai). We needed to say a prayer, and thank you to our guardian for keeping us safe all the way from Hualien to Taitung.
There are at least 3 night markets in Taitung. And they are open on different days!  Example 台東觀光夜市 and 四維夜市.
After one night in Taitung, we are ready to take the train to Kaohsiung for our flight home.
Our cab from hostel to Taitung Train station pass by a popular baseball stadium too. Baseball is popular with Taiwanese.
Although you can get a train from Zhiben (知本站) or Kangle station (康樂站), we would recommend first timers to stick to Taitung Station. Unless you intend to stay one night at Zhiben. (Besides, most train might not stop at Kangle station)
Train journey from Taitung to Kaohsiung would be 3 to 4 hours easily.
Take a nap or just relax 🙂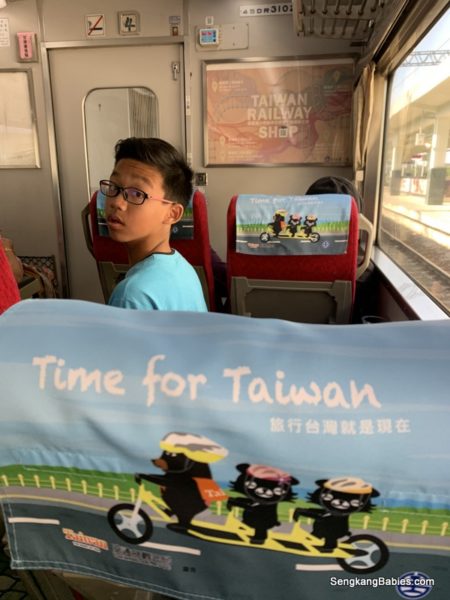 Did last round of shopping, souvenirs and sports gear, before we took the transit to airport. We have listed more shop and eat options in itinerary but we did not have time to explore.
Our trip was short and memorable, and we will definitely re-visit the South with family again. Kaohsiung, Tainan, Kenting and Taitung wait for us 🙂
Meanwhile, you can get more Taitung updates via their website
->https://tour.taitung.gov.tw
Stay tune for more adventures and photos.
Do follow our IG Story too #sengkangbabiesTaiwan #SengkangBabies花東
You may reference our Taiwan cycling posts at this tag SengkangBabies花東 : *Google Sheet itinerary (GPS inclusive)
*4D3N Cycling itinerary and summary
-Day 1a-Hualien-Taiwan Railway Online booking
-Day 1b-Hualien-Taiwan Giant bicycle rental and Hualien attractions
-Day 2-Cycling Hualien to Ruisui (Google Map GPX)
-Day 3-Cycling Ruisui to Yuli, route 193 is SO beautiful! (Google Map GPX)
-Day 4-Antong to Donghe (Attractions along Highway 11) (Google Map GPX)
-Day 4/5 – Surfing at Dulan
-Day 5 – Taitung top attractions, Kaohsiung, Home
ps.. Do follow our Cycling adventures on Instagram hashtag #Cycling
Video: Cycling Hualian to Ruisui

Video: Cycling Ruisui to Yuli (so pretty!)