[ Sponsored ]
The first thing which capture our eyes at Ah Dong Teh House are the wall decorations. We love the cute cartoon animations, it brighten up the venue and brings a smile to customers.
Ah Dong Teh House is a halal certified Hong Kong style bistro (with a local flavour), but the menu has options to suit everyone.

Even the Ah Dong menu cover looks cute. Maggi noodles and (chicken) luncheon meat are popular with my kids 🙂
Wok, Local, cuisine, western, seafood, or hot plates?
If you cannot make a decision, go for platters.
We heard the curry noodle is consistently a hot favourite (sometimes sold out before dinner)
A wide selection of beverages and desserts to choose from. I spotted Yuan Yang 鸳鸯 too!
XO Carrot Cake is the bomb, our favourite dish for the night. Take note it  is a little bit spicy. We love the chunks of chicken luncheon meat with carrot cake (unique texture), and the coating of floss.
Chicken Noodle Gong Zai Mian 公仔面), aka fast food from Hong Kong 🙂
Fried sotong (squid) you tiao for starter.
Xin and her fried rice. There is always something for everyone.
Our "Meat Lover" platter, with huge chunks of delicious (ok, we were a little bit guilty) turkey hams! Meat lovers rejoice, the seafood platter can feed 3 to 4 easily, and looks tantalising too.
Good venue and value for family gathering, big portion for the whole family, value for money and tasty food too. We ordered too much food!
Ah Dong Teh House was crowded with families when we visited. It is a popular haunt for those living in Sengkang and Punggol.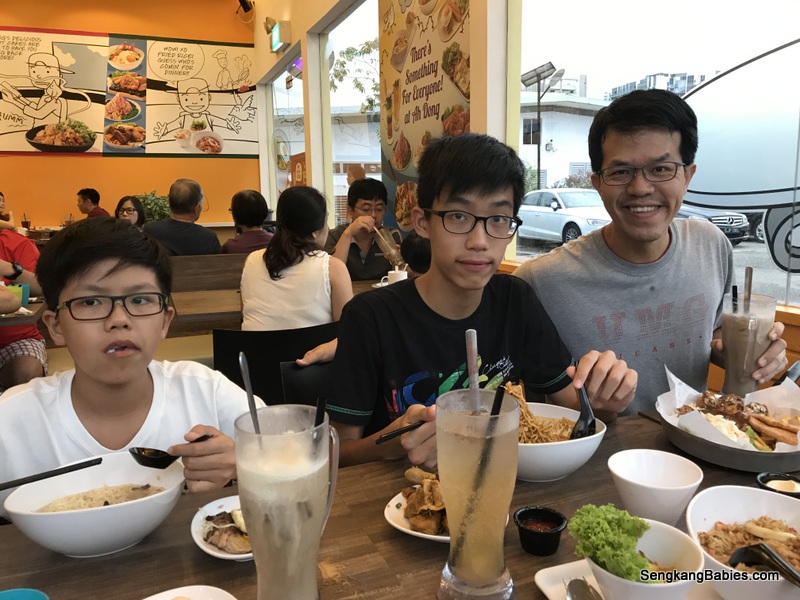 Root Beer float with Ah Dong Curry chicken noodle (crazy combination!) , but Wei loves it. He loves the spicy and tender chicken.
Take note curry chicken  noodle will likely sold out before 7pm. We were lucky to grab the last bowl of the day.
We always have a compartment for desserts and sweet stuffs. Pancake with extra dosage of marshmallows 🙂
Xin diy a ice kacang for us! Please go EASY on Gula Melaka and condensed milk haha. The kids had fun "colouring the ice mountain!
Did you know that Birthday boy and girl can get a free Ice Kachang 🙂
(T&C on Ah Dong Teh House website)

Thank you for the invite, Ah Dong.
We hope more families will enjoy dining at Ah Dong Teh House too.
Do follow Ah Dong Teh House on their Website and Facebook for latest promotion.
Address : 10 Tebing Lane #01-03/04
                Singapore 828849 (Nearest LRT is Riviera)
 Contact : 6241 0309