You cannot miss Village Hotel Changi's colourful balconies. Little did we know the view from our rooms (towards Changi Golf Course) are even more alluring!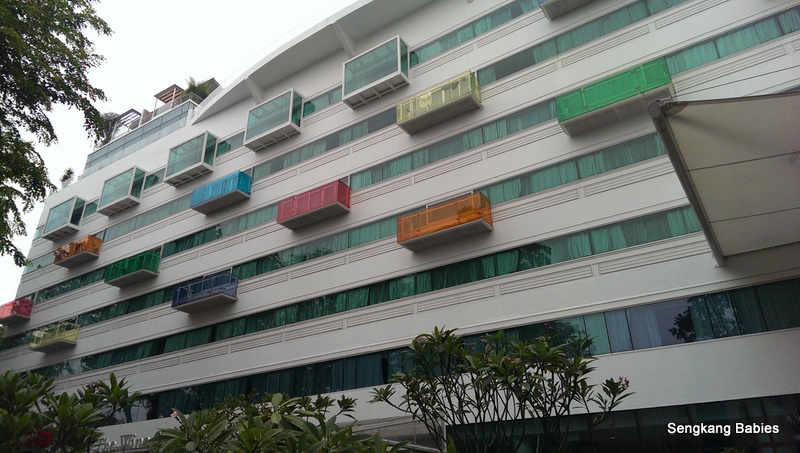 Scenery would be perfect without the haze. The green tree canopy reminds me of fresh air, away from bustling city center! We can even spot jumbos coming back to roost at Changi Airport 🙂

We were invited to Village Hotel Changi's staycation, and we got two connecting rooms with free wifi. Decent amenities, kids are always curious about transparent panels between room and bathroom.

Daddy explained that this feature is more for love birds, not families :p

The cute guidebook for tourists also caught our attention. How to start a Singlish conversation and order your kopi in style. Tourists can blend in easily leh!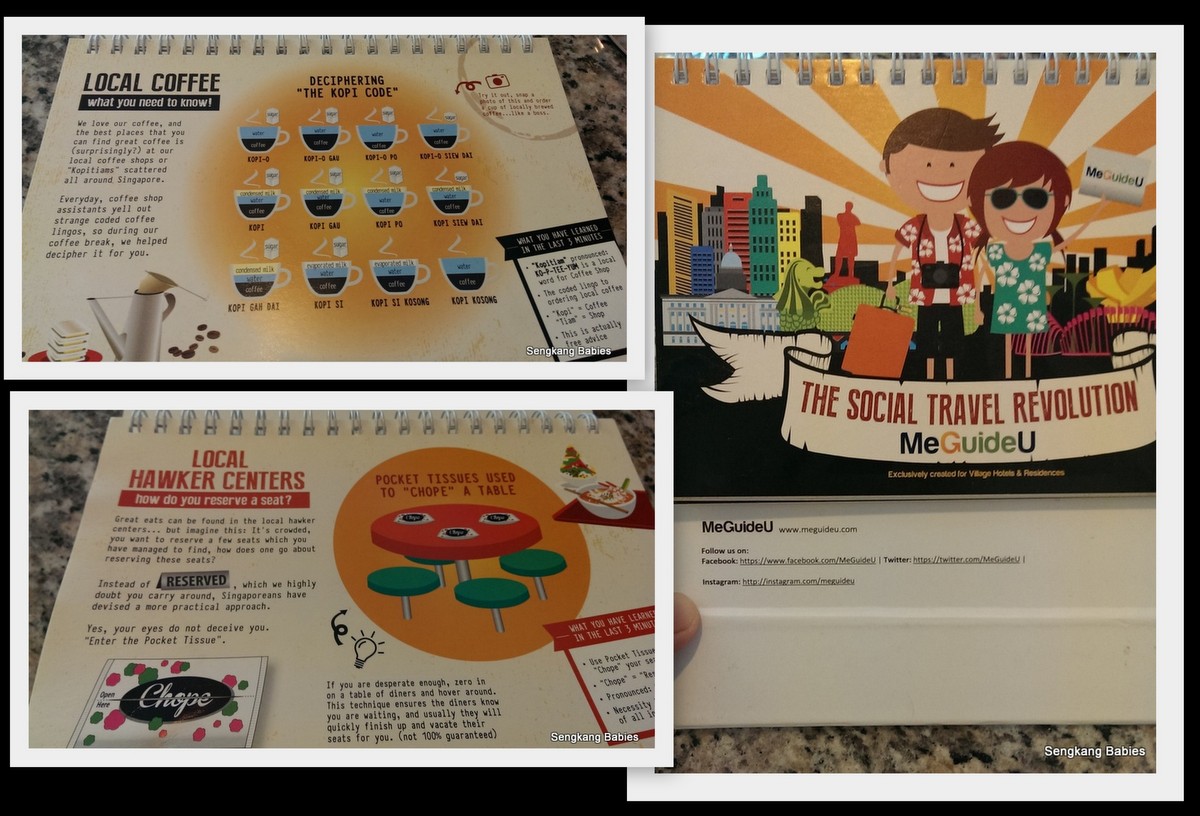 The bubble lift provided some simple thrills when we ride up and down.

Love the high ceiling lobby, offering a sense of space.

First, we need to snack first. Kids are always hungry, and Changi Village hawker center is just a short eight minutes walk.

Regulars to Changi Village would associate this small town with cycling, fishing, Pulau Ubin and FOOD!

If you really run out of activities, hop on a bum-boat to rustic Pulau Ubin (Chek Jawa).

At Changi Village, anytime, any corner, good (and sinful) food beckons 🙂

No lack of food options, from street food to artisan cafe and desserts.

Chocolate Origin was something new for us. We noticed people queuing up for Cuppa Lava Cake. Mummy was absolutely delighted with her desert 🙂

Activities day and night, Live Band serenades you with "Say Something" as you enjoy your supper! Boon Yee posing with one of Changi Village's trademark red bricks.

Under our staycation package (Play and Stay), we could choose either free 2-hour cycling or 2 bowling games (per room). We thought it might be interesting to introduce 10 pins to the little ones.
Do take note bowling is at Changi Civil Service Club across the road, and the lanes on Saturday are always fully booked! We had to book a Sunday morning slot. Bowling facility is open to public.

There are two swimming pools in our Hotel. Infinity Pool (8th floor) offers a scenic green and sea view as you swim.

You can even spot aeroplanes over the horizon.

Next to the pool is a patio to host your event. Wedding receptions should be memorable under the stars.

Creek pool is next to Saltwater cafe on the ground floor.

With the transparent wall, you can be "entertainment" for someone enjoying his or her breakfast buffet.
But kids do not care, give them a pool and they will swim non-stop 🙂

There is a free shuttle bus service from hotel to Changi Airport every 90 minutes. The smooth bus ride brought us to more dining options at T3, and the bus ride does provide parents with some shut eye moments.

International buffet at Saltwater cafe. After a good night rest, we need to recharge before the morning's activities.

Koi feeding is one of the complimentary activities under our staycation package. Boon Xin has been asking "When when when can we feed the fish" since our checkin. Love the landscaping and huge couches, so inviting for guests to just sit down and chat.

Bowling was hilarious! Kids would run and brake abruptly and throw the ball down with a BANG! They were cheering "Long Kang, Long Kang" so loudly the opposite lanes might have missed a few Strikes hee hee.


(Bowling at CSC Changi)
Bowling gif, I am till laughing at the kids' styles "Run, Brake, Throw, Thud".
Video : More bowling and swimming captured in our video 🙂

Bowling champions (not yet), but most importantly, everyone enjoyed their games!

Thank you Village Hotel Changi for the staycation invite. 2D1N created more opportunities for us to explore the rustic area in Changi, we love the experience!
If we had more time, and if the haze was not so bad, we would have consider planes spotting along coastal road or even Changi beach walking trail from Nparks (our boardwalk in 2011)
More details and promotions about Village Hotel Changi can be found at their website and Facebook.
More photos had been uploaded on our Fanpage album (Day 1 and 2).
ps.. Our stay is sponsored by Village Hotel Changi