24 hours every day, 365 days every year, Changi Aiport never sleeps.
During our Crowne Plaza Changi Airport staycation (read Day 1 here), we could literally walk the Airport Terminals in our pyjamas but we are too conservative :p
As the world buzz around us, it feels serene for us to enjoy our slower weekend pace. Yup, as fun as relaxing (and delicious) as Boon Yee's donuts 🙂

We started the day with a marvelous breakfast at Crowne Plaza's Azur.

Family time, bonding over fresh juices, omelette and muffins.

Kids help themselves to multiple servings of Azur's delicious Tim Sum.

As we explore Changi Airport Terminals (1,2 and 3), this airport is always buzzing. Fantastic connections, both domestic and international, bring everyone to Changi Airport, inbound, outbound and transit. MRT, Skytrain and Taxis mean Changi Airport is always accessible.

We landed at Canopy, an indoor playground at Terminal 1. Entertainment and lifestyle options are listed at this link, and Canopy playground is Free 🙂

After Canopy, we met up with our Disney friends back at T3. As it was the Christmas month, we had toy soldiers, Mickey and friends to raise the festive spirit. There was a giant bouncing castle to thrill the kids too!
Do pop by our Changi Airport Christmas review at this link.

Happiness is easy to achieve for our kids, just buy them a dozen Krispy Kreme donuts. Mummy and Daddy will be contented with just a cup of warm coffee 🙂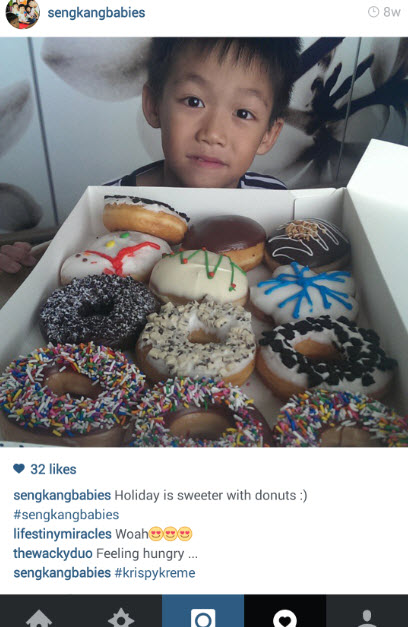 Boon Kang is happy spotting the airplanes land and takeoff. He was telling us that the Jumbo planes make more splashes (and mist) when they land on the wet runway.

For those who like shopping (not necessary Mummy), iShopChangi offers you shopping experience from your keyboard. It certainly helps that Changi Airport absorbs 7% GST too!

Did you know that Free Wifi is available at Changi Airport too? Social Media addicts Digital Influencers will be busy updating their Online persona.

Our Fun 3D2N staycation on Instagram.

One more thing about staycation at Crowne Plaza Changi Airport, everything is self-contained within the "lifestyle hub"! Entertainment, food, shopping, our itinerary was never affected by the weather 🙂

Dinner at Paradise Inn. Simple cuisines to make our tummies happy.

Posing at Singapore's Tourism office. Do take note this is not exactly a playground but the friendly staff allow us to pose with Ah Meng's descendents and other famous Resorts World Sentosa attractions.

Kinetic Rain day or night, is always soothing. We end the evening with more slides at T3 🙂

Do pop by our Crowne Plaza Changi Airport itinerary here :
– Day 1 Checkin, swim and canape
– Day 2 Exploring Changi Airport (photos)
– Day 3 Transit area's attractions (photos)
– 2014 Disney Magic at Changi Airport
– Follow Changi Airport lifestyle through their Instagram @fansofchangi, Fanpage and Website.
– Crown Plaza Changi Airport enquiry here.
– More Changi Airport lifestyle options listed at this link
ps.. our trip is sponsored by Changi Airport Group