One consistent feature appeared throughout our recent cycling trip to Forest City.
Big SMILES!
From roads to bashing (new pathways) to boat rides, we really enjoy each cycling experience. Our team has gel together and we are super comfortable with each other.
Checkout our Fun 100km cycling to Forest City YouTube below.  Scroll to the end for our Google Map GPX map (turn by turn guidance).
Regardless of whether you ride a foldie or road bike, we are one team. And it is this dynamic friendship which motivates us to keep cycling to Malaysia.
Cycling trip to Forest City will be 100 to 120km within Johor itself.
The usual poses.
Expect nice sunrise photos between 0700 to 0720 at the bridge. For those heading West, this bridge is the second climb. Do grab the opportunity to catch a breath, and breakfast is only 5km away.
Breakfast at Jia Qing. Good food, early opening hours and convenient spots, we need not detour into Bukit Indah or Sutera Mall neighbourhood for breakfast.
As you cycle into Malaysia more frequently and earlier, it is important to identify F&B stops which open earlier (maybe before 7am).
Kway Teow Mee is good. Wanton Noodle is delicious but be prepared to wait.
After our comfort breakfast, we headed toward route J4. Refer to Google Map screenshot below, this is a single lane road.
J4 would be the most technical and challenging stretch for some of us. This stretch contains a few slopes and road works (imagine x 1.5 times of Mandai Road slopes). Refer full Gpx map link at end of page.
Ride safely.
Additional Tips
1) Cyclists are not supposed to ride on expressways and some highways.  Using Google Map, ensure you avoid "Motorways and Tolls".
2) Secondly, when Google Map indicates "Mostly Flat" terrain, do take it with a HUGE pinch of salt. Example, Mandai Rd is also considered FLAT!
In general, Malaysian motorists (cars, motorbikes and even trucks) will give you a wide berth when overtaking. Thank you!
3. Petrol Stations (NO Tandas!)
Do take note there are no petrol stations or convenience stores along J4 stretch until Forest City. Do clear your bladder at Nusajaya "Educity" area!
Cyclists need to look out for each other, the no1 priority is always to enjoy our trip and return to Singapore safely.
Looking at the map below, Point A Google Map actually asked us follow J4 do a loop before heading South towards Forest City. This is a 8km loop.
We decided to take a shortcut and bash through some glass fields. Part of the Fun! (estimated GPS location 1.383153, 103.569452)
Rolling our bikes onto the carriageway above, and we are only 8km from Forest City.
There are two or three Forest City "huts" along the route.
Road bikes can dash ahead and meet up slower foldies infront.
Many opportunities to take scenic photos of "HDB new town" :p
Love below photo!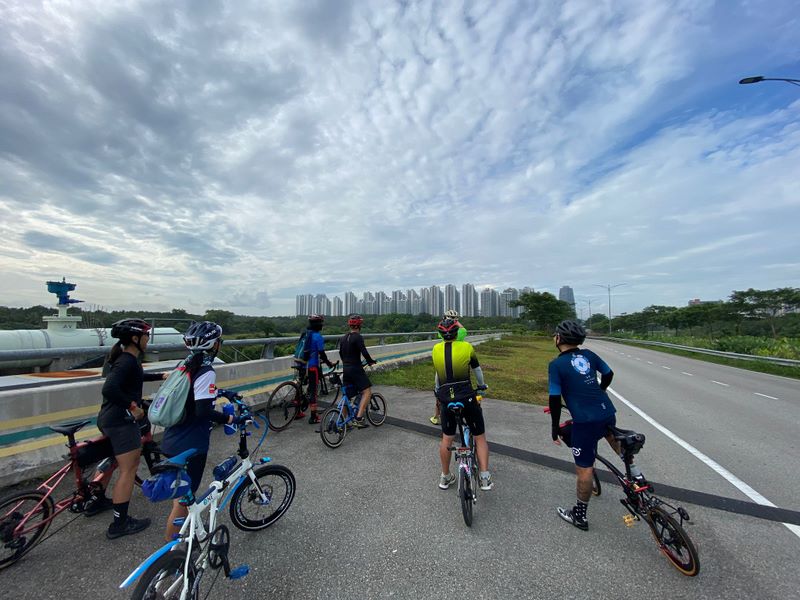 New friendships and kakis along the routes. To quota Alan "This trip feels like family going on a holiday!"
We were laughing at the similarities between Forest City and Singapore. Punggol waterway here, Waterway Point there. Vivo City, TPE and Golden Mile!
Inside Forest City, just navigate towards "Fisherman Wharf".
This "staircase" is one of the highlights at Forest City, and it should provide some hilarious photo ops (spot the beetle car).
Behind every nice photo is a huge team of supporters! Enjoy the green Oasis. You will also noticed that Forest City is super quiet
Aileen's cap says it all. Cycling to explore and eat! Savour the experience 🙂
Photo of Forest City from Singapore's Johor Straits Lighthouse . I had walked there during my 150km Round-Island hiking map. It is so near to Tuas.
Bye Bye Forest city, on to the next highlights.
We had to make another small detour in order to land on Route J4 again. Yes, the same J4. (Estimated GPS location 1.355282 103.585961)
Walk down from highway to dirt track, which leads to J4 and Pendas fishing village (boats and seafood maybe).
In a big country, always expect Google Map to have some missing data, eg old junctions or missing new routes. This is very common.
Amazingly, team never complained and we all took detours as part of the Fun! Kudos!
Once we were on J4 (about 200m off road and pebbles). We are only 7km from Pendas fishing village (refer map , GPS 1.355282 103.585961).
As you get nearer to the village, you will see a tall yellow building in the distance (Sunway Grid Residence)
Our objective was to take the boat across Sungai Pendas! Perhaps seafood next round.
Eddie recce around the jetty and announced boat ride is RM10 per pax. Yes!
Look at the glorious smiles! Feels like 11 kiddos going for an excursion 🙂
Planning for overseas cycling requires more flexibility. We do have Plan B and C in our itinerary. Depending on time and our conditions, we can always improvise or skip a few attractions.
Looking at the comparison below, shall we take a boat, or detour 10km back to Legoland corner?
The choice was super obvious for us!
Boat ride was definitely one of the highlights, No regrets!
You will cross the river in under 3 minutes, but still a novelty for most of us. (Strongly recommend cyclists to have travel insurance ok).
Once across the sungai, you will follow the coast (one way) towards a gravel path.
You will cycle near to Bigbox on the way "home".  We deserved a good lunch, Dim Sum at Tasixi (大四喜).
One of the bonus for us was durians. Alas we were too tired to hunt for durians around Skudai (Sutera Mall), refer map below. Ah Shuai seems to be a popular choice.
Tips
4) Going home, just head towards "Pusat Bandaraya" (until you reach Danga Bay area)
5) Do take note "Lebuhraya" means Highway in Malay. Some say cyclists are not supposed to go on Highways. But Google Map does indicate feasibility. There are wide shoulder lanes which is safer for cyclists.
6) Major or trunk roads are easier to roll and perhaps less slopes compared to "kampong roads". But expect faster cars.
7) Nearer to Danga Bay, always follow overhead signboard and navigate towards Hospital Aminah direction (Loop).
This step is important, otherwise you will land on Route 1. Route 1 is narrow, sandy and packed with fast moving cars
One final group photo before ending our Malaysia cycling trip.
Forest City Mission Success!
I only have one small regret.
As I am leading from the front, miss out a lot of gossiping from the team. Chirpy bunch of cyclists. You should hear the bantering and giggling within the tribe!
8) This is the Google Map GPX for our Cycling trip to Forest City. You can open the link and follow turn by turn to reach your destination.
Our Strava Map pursuits. Forest City and also Pontian (our furthest ride!)
Forest City ride was still the most fun because of the DETOURS and boat ride. So memorable!
Pontian would be famous for the slopes and vast array of food options.
Our Forest City cycling trip would not be as fun without our reliable sweepers. Thank you Alan and Kiera!
Special shout out to Andrew for sharing his group's boat ride! His trip gave us so much inspiration (Andrew "Cycling Sg to Malaysia" group)
More photos on Alan's post in "Cycling SG to Malaysia". You should join this Facebook group for your future cross-country cycling adventures!
Meanwhile, you may read about other cycling trips below:
– Cycle to Pekan Nanas and Legoland
– JB food hunt (3 hours 30km)
– Cycle to Forest City
– Cycle to Pontian (笨珍)
– Cycle to Elephant Rock (Bukit Batu Gajah)
– Cycling to Malacca
–2018 Cycling Hualien to Taitung (with two kiddos)
*Do follow our cycling adventures here -> https://sengkangbabies.com/tag/cycling
YouTube: 2 to 3 Hours in JB. Eat, see and Experience

YouTube: Chill at Pontian 笨珍

YouTube :Cycling to Forest City and boat ride (my best Johor trip yet)

YouTube: Cycling to Elephant Rock (Bukit Batu Gajeh)

YouTube: cycling to Malacca

YouTube:Cycling to Putuo Village

Cycling In Taiwan (250km from Hualien to Taitung)

ps.. images without SengkangBabies watermark credit my fellow cycling friends