At Ex Torrent RSAF Fighter Jets will be launching and landing on Lim Chu Kang road.
On Friday, I had witnessed how it took 48 hours to convert a public road into an operating runway (read post here)
Air Power Generation Command (APGC) is one of RSAF's commands.
Their mission:
-To generate and sustain effective, timely and robust air power to achieve the SAF's mission.
-To raise, train and sustain aircraft generation and airbase operability elements in each airbase to ensure continuous launch and recovery of aircraft.
To put it bluntly, planes on the ground are no help at all in protecting Singapore. In times of tension, we must launch as many planes into the sky as possible.
Without air cover, all ground troops and assets are rendered helpless and will be taken out easily.
People with ill intention (towards Singapore) will definitely target our runways to cripple our Air Force, thus the need for alternate runways. "Lim Chu Kang Road" Runway will complement Tengah Airbase's three runways.
~~~ Day 2 dry run ~~~
Lim Chu Kang road is ready, fire engine standing by.

Media, Photographers, Instagramers, Bloggers (with David from Life's Tiny Miracles) and audience are ready.

Moment of anticipation, this is IT!

Roll in the planes!

F16 gifs.

F15 gifs

Video link (turn on the Volume!).

Too fast too furious. We were standing mere three lanes away from the "runway"!
If you thought the F16 is LOUD, wait till the F15 rolls pass !
The engine shocks you, the heat wave from the twin engines will envelope you (just like a 4D themepark, only with much more intensity!)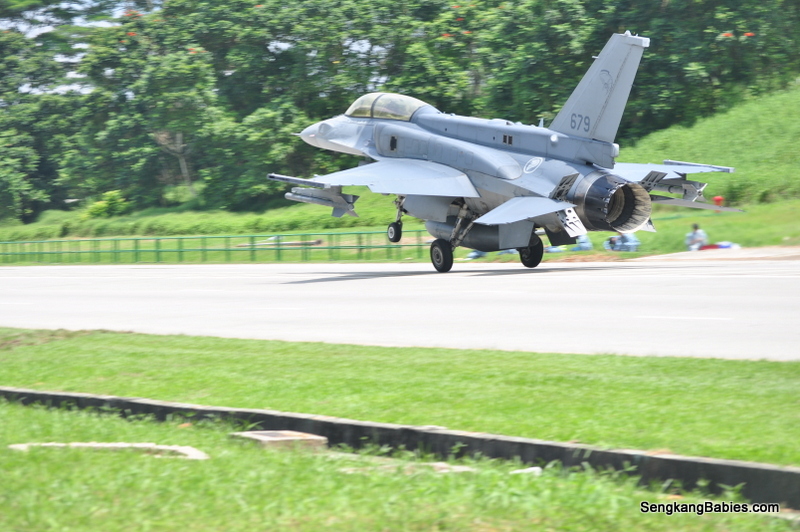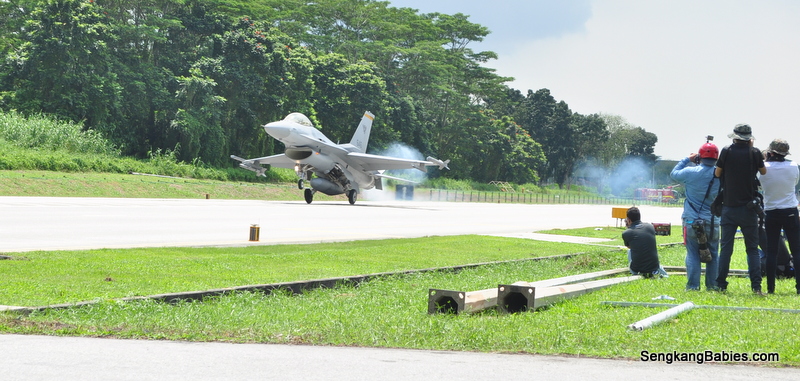 F16 arrested. Before that, ground crew had to lay the cable across (MAG).

Crew preparing for group photo.

Thank you for the invitation RSAF! To witness Ex Torrent RSAF Fighter Jets taking off and landing on Lim Chu Kang Road is a rare opportunity.
We can better appreciate what RSAF (and SAF) are doing to keep Singapore safe.

Do pop by our friends review (Life's Tiny Miracles) too. If you need more photos, #ExTorrent on Twitter or Instagram.
Read about the conversion of Lim Chu Kang (and photos) in our earlier post here, and photos on our Facebook.