While we Wow and Oooh about London Olympic Her Majesty's skydive, and Mr Bean single note performance, Vivocity has an army of hairstylists from Jean Yip, waiting to shave some 3,000 volunteers.
Read on to discover who inspires Daddy to shave.

On 28 July, Daddy was going to be one of the botaks. Kudo to the shopping spirit, a lot of shoppers decided there and then to just queue and shave !

=== === === ===
Through this symbolic hair-shaving event, organiser and participants hope to :
1. Create awareness of childhood cancer in Singapore
2. Show children with cancer and their families that they are not alone in their fight against cancer
3. Tell children with cancer that it is OK to be bald
4. Raise funds to help children with cancer and their families
5. Build a community of support for children with cancer and their families
=== === === ===
Whatever your reason, be it giving back to society, standing tall with cancer stricken kids, or just saying I-Care. Daddy hoped we did sent a loud message across last weekend.

It was heartening and inspiring to see the participants march up one by one, with all their beautiful crown, and flashing a BIG smile after the haircut !

Which hairstyle do you prefer? Mohawk in The last Mohican?


Some punk musician?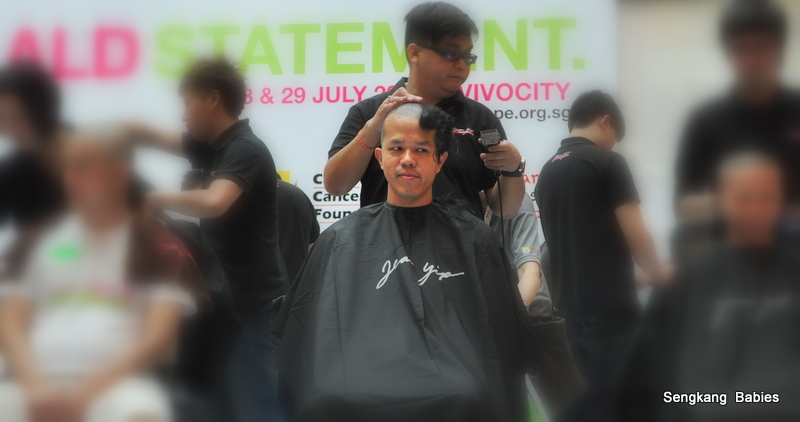 哪吒三太子?


It was all over in 5 mins.

You will not get to see this hairdo for the next six months keke :p

Daddy say we will be lucky if we touch is head. Very ticklish.

Oh, did I mention people will suddenly take an interest in your new hairdo? When you take the MRT or bus, your fellow passengers will be wondering, is he a convict, is he sick, something must be wrong yada yada.
Just a few days, and Daddy can feel the scrutinizing eyes from strangers.
Now imagine, how our little friends who are suffering from cancer are feeling?
Fighting the disease is already a hugh uphill task, society definitely can afford to show the less-fortunate kids, that we CARE !
More updates and details can be found at HFH website and fanpage.