[ Media Invite and Tickets Giveaway ]
School exams are finally over, we were thrilled at the opportunity to chill at The Rink JCube.
(Read on to find out how you might win a pair of tickets)
Once we spotted JCube building, Boon Xin asks "Is it Ice Cube or JCube? (it rhymes)". I told her we are going to play with Ice in JCube haha :p

Our previous experience was back in 2012 (read post).
The Rink is located on the third floor, and "skeleton" is only available during Halloween.

The first thing you need to do is to rent a pair of ice skating boots($3.50 per pair), helmets and gloves are optional and available for rental too, bring your own socks.
Do take note locker is for one-time usage only.

No worries if you are a beginner, there are penguins, snowman and seal (fees apply) to help you glide more gracefully! The seals are especially good for adults (I am one of them) to camouflage your clumsy balancing act :p


(Image on the left credit May from MM Littlee)
Family photo can be a challenge if you are amateur skaters. Getting everyone to stop together, posing and balancing is a huge task! Grab a friendly "Ice marshall" (those in yellow) to help you with some photos 🙂

Cute right?

After some warmup rounds, kids slowly dump their "animals" and went solo 🙂

Falling down is part of the learning curve. Just when you think you are confident and tries to go faster, BUMP!
But kids are generally fearless and quickly pick themselves up again.
I cannot balance well, and sucks at roller blading and skate boarding too. It would be embarrassing to land on my bum in front of the live audience haha 🙂

We have heard of Bumper cars before, but on ice? One third of the rink is "fenced" off just for the "cars". Fees are $10 for 8 minutes, and cars are only available on Saturday between 5.15pm to 9.30pm.
Kids still prefer normal ice skating compared to the bumper cars 🙂

It can be cold, tiring and sweaty at different phases. But FUN and Laughter always accompany the families!

Ice Skating rates (per two hours) and promotions.

Additional tips to enjoy your ice skating experience :
– wear a jacket and glove (cushion your fall too)
– long sleeve and pants can minimise abrasions
– kids like to tailgate, but they do not know how to stop during emergency. Remind them to keep a distance.
– Go in an anti-clockwise direction, center rink is for the professionals, and do not cut across the rink
– No selfie sticks for obvious reasons
– Address :
2 Jurong East Central 1
Level 3, JCube
Singapore 609731
– The Rink JCube Website and Facebook.
~~~ ~~~ ~~~ x3 pairs to Ice Skating tickets to giveaway ~~~ ~~~ ~~~
Thanks to The Rink, we are giving away three pairs of tickets.
(Each ticket is worth $17.70, inclusive 2 hours admission and skate boots rental).
1. Contest is on our Fanpage
2. Fans must first LIKE The Rink and SengkangBabies Fanpage
3. Leave your name and email on our Fanpage (or you can message email address)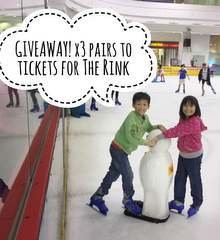 4. Share this page (refer step 3) on your Facebook Wall and tag @SengkangBabiesBlog
(so that we know you are participating)
5. Contest ends 17 Nov 10pm, and three winners will be randomly picked
Winners must respond within 48 hours or we may pick another one.
6. Terms and conditions of the tickets passes:
– Valid for 3 months from date of issue
– Valid Mon to Sun (except eve of PH, PH and Private/ Special Events)
– The Rink reserves the right to change the Ice Skating appointment (due to unforeseen circumstances)
*This contest is only for those with a valid Singapore address.