Instead of sleeping, we decided to visit Jurong Fishery Port (JFP).
It was a bewildering experience for kids (and adults too) to see fishmongers scale fish, lugging giant baskets around and a small mountain of prawns. No, we are not buying any seafood tonight.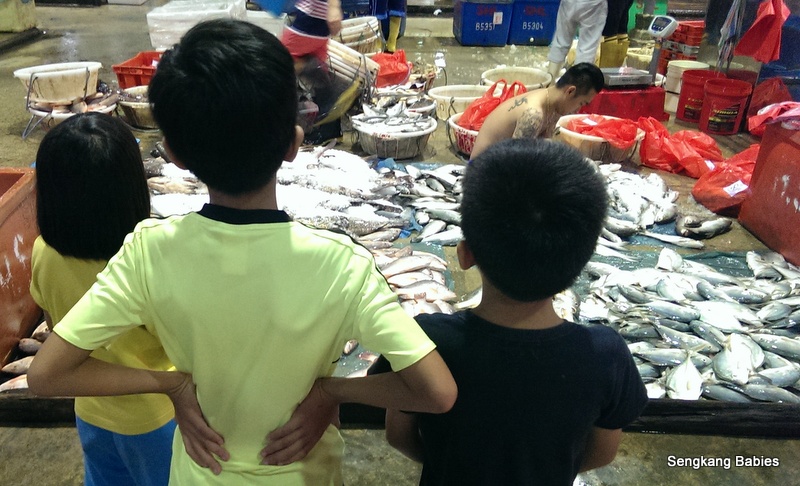 From the first whiff of fish, we know this JFP experience will be something which a classroom cannot deliver. The smell, the wide variety of catch which are hauled from the trawlers and the busy folks working during sleeping hours! We got Winston (BlogFather) and Edmund (EdUnloaded) to join us on our inaugural "fishing" trip 🙂

你要买魚吗? (Do you want to buy fish?) Fish, Crabs, Prawns and Squids.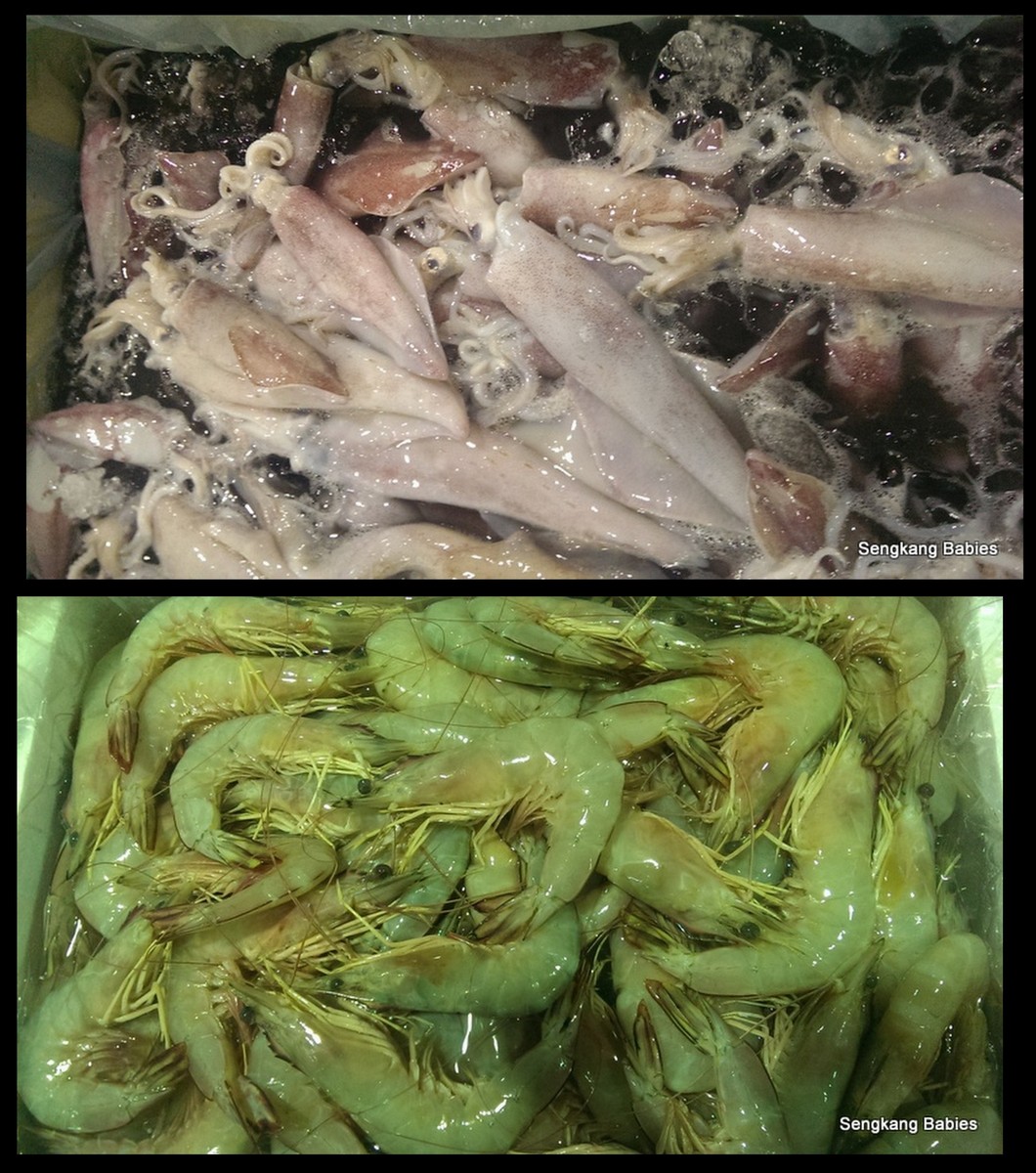 Pomfret (we like pan friend black), stingrays, sharks and even barracuda. I ran out of vocabulary to describe all the sea creatures.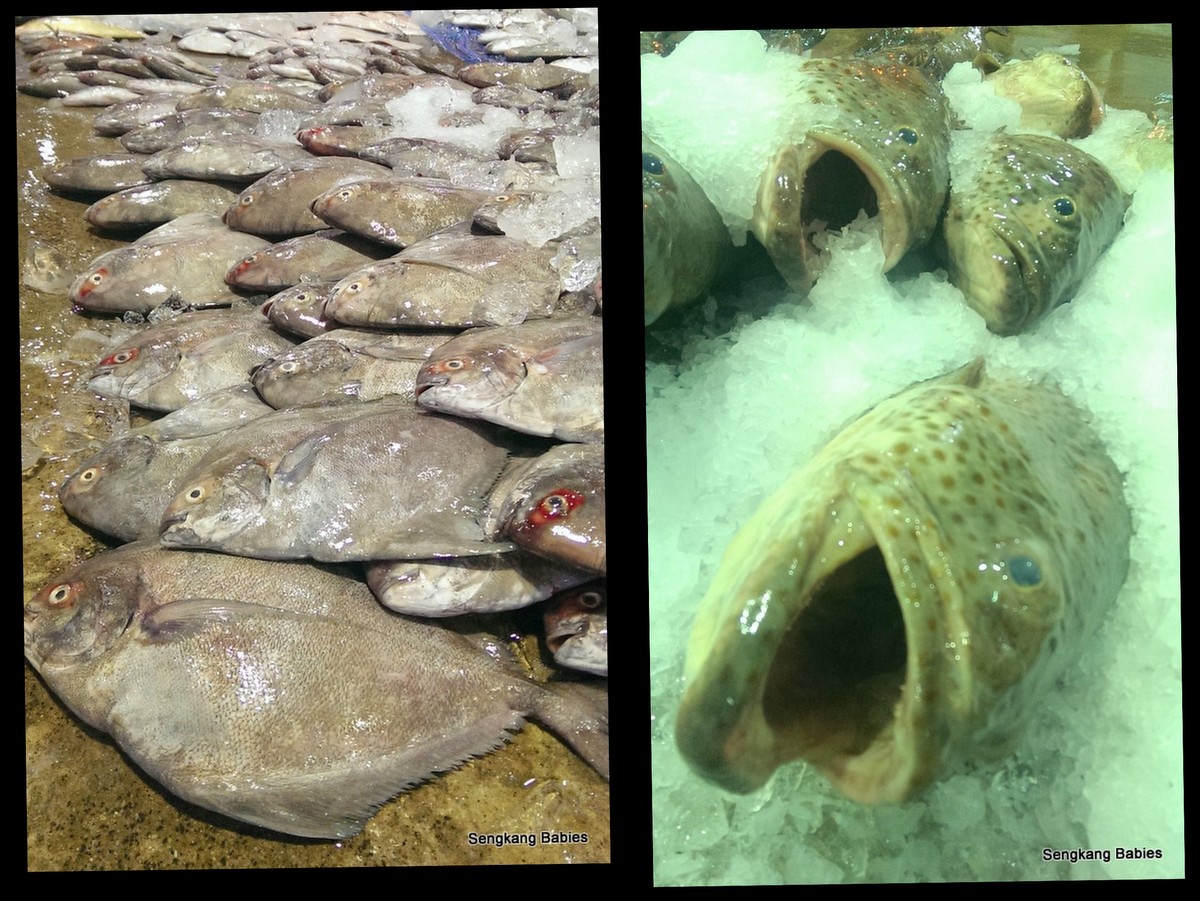 Not only did we have to get used to the lingering fishy smell in the atmosphere, we have to tell kids to avoid kicking the puddles of water!
The bloody scenes might be uncomfortable for some. Fishmongers gutting and scaling the fish, chopping the fins and heads.

Throughout the night, forklifts work non-stop to unload more crates from the trawlers. Boots and ice are everywhere.

Measuring scale, and the fishes are darn heavy! Some are longer than the kids!
At Jurong Fishery port, each "lot" would have a trader where fish bidding will be conducted.
Surprisingly, a lot of Indian foreign workers (from nearby dormitories) were also shopping for their seafood.

Some say market is fishy because fish are fresh. Well, I am not sure how much fresher can the fish gets 🙂

You should climb up the second floor gangway to grab a better view of the activities below.

Video (Link): So many actions everywhere!

Everything is laid on the floor. Some are labeled with price tags.
Seeing so much seafood on the floor, it hits me that we are consuming (killing) a lot of fishes.
Reminded the kids not to waste their food.

The activities will ramp up from 0130 to 0400, but it might not be advisable for kids to stand in the way of busy hawkers. We left around 0130. In a few hours, the seafood will arrive at your neighbourhood wet markets.

Not sure about the kids, but it was an enriching experience for myself. How many of us still scale and gut our own fish? We could see how Singapore imports her seafood, learn about fish bidding and distribution. Would have love to take a photo of the trawlers, but the jetty area is fenced up.
We have a few tips for you to enjoy your JFP trip :
– Bring NRIC and school pass, just in case we need to change pass.
– Jurong Fishery Port is free entry.
– No1 rule – do not block the workers! The passageway can be narrow and kids are often distracted by the seafood around them
– It will be wet, puddles will stink. Some puddles will reach your ankle. Suggest to wear covered shoe (boots better). Bring extra footwear to change before stepping into car. (our shoes took 3 days to get rid of the fishy smell)
– Kids will be rare around Jurong Fishery Port, everyone will be looking at you(like tourists haha)
– You can buy the seafood, but Fishmongers might not entertain unless you buy half a dozen :p
Jurong Fishery Port is located at Fishery Port Road, po619742 (Closed on Monday). GPS (1.309301, 103.723287)
Website – http://www.ava.gov.sg/explore-by-sections/fisheries/fishery-ports/fishery-port-services
Best time to visit – Adults should target between 2 to 4am, and kids perhaps between 1230 to 0130. It might be congested and the baskets/trolleys might accidentally bump into the kids. The other fishery port in Singapore is at Senoko.
More fishes have been uploaded into our Fanpage album.