A few Dads will be joining OCBC Cycle 2018 next week.
Let me share a few OCBC Cycling Traditions from the Dads :p
1.Most of us will be attempting 23km again (Two Dads will upgrade to 42km 加油!)
..but we will catchup again at the end point.
2.Wacky Dads performance, never mind about Dad Bods
Age is just a number, #DaddyMatters GO GO GO! (Facebook link)
2017 Coincidance
2016 (Boomerang link)
We can be quite creative and fun loving. We have Hashtag #OcbcUncle and we have a private chat #KahChiaMen (maybe use for OCBC Cycle 2018 )
We were toying with Ah-Pek singlets and even Good Morning towels too!
3.OCBC Race queens 🙂
We must take photos with them right. F1 got Singapore Girls, and OCBC Cycle got Race queens. Maybe they will be trying to avoid the bunch of Uncles this round haha.
We can count on David to lead the way :p
4.The only complain we have year after year is the JERSEY!
Iron man (2017) and Captain America (2016).  I suspect the designers are Marvel Avenger Fans! (and Infinity War is premiering 2018).
Unlike running tshirts, there is no reuse value for the bike jerseys, a bit too outlandish haha.
We love everything else about OCBC Cycle.
5.This is the second year I will be cycling with my boy. Hope to make it a tradition in 2019 too.
6.I need to plank or sleep on Benjamin Sheares Bridge.
For REAL, how often can we cycle or snooze on ECP!
What are your OCBC Cycle memories? Do share them with us too, or perhaps you wish to dedicate some cool dance moves for us? Do take note we are not young and tender like those Kpop hunks liao.
If we can motivate one more Dad, encourage one more parent to lead an active lifestyle, that would be an accomplishment for us.
=== === === === ===
I am sharing part 2 (belated) post for OCBC Cycle 2017 below. Part 1 was cycling with No3 and No4 under the Kids and Families category (Blog post).
11 of us participated in the 23Km Sportive category.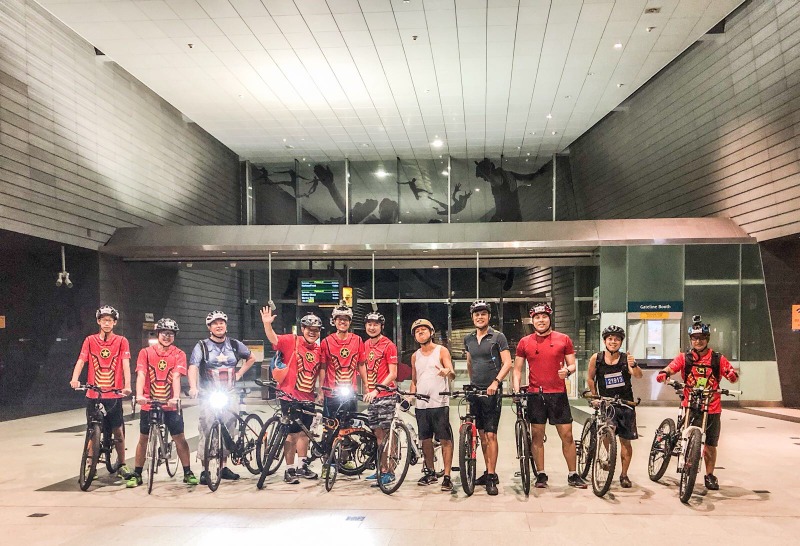 Day breaks, final wefie and off we go.
OCBC Cycle always let us enjoy Singapore's icons from another angle, the ROADS!
Tunnels, Bridges, Expressways YEAH!
Return trip to Benjamin Sheares Bridge.
OCBC Cycle Route will have a few photo points, for cyclists to enjoy some selfies. It is a good opportunity to catch our breaths too :p 
If you are not a regular cyclist, Benjamin Sheares Bridge will make you SWEAT and cramp.
Soak in the scenic panoramic view too. Marina Barrage, Gardens by the Bay, Flyer, Marina Bay and MBS.
Both sides of the bridge, one smiling and the other grimacing 🙂
Just wheel down at top speed and enjoy the breeze.

Water point and bike servicing is at the base of Benjamin Sheares Bridge (direction of Changi Airport). Recharge, repair and carry on.
Whole ECP is ours!
Does not matter your bike type, brand or wheel size. No bike can use Mobike haha 🙂
Golden Mile, going to be demolished soon…
Everyone will end at National Stadium. We feel like winners already.
Thank you for the memories OCBC Cycle!

We Dads hope to cycle more and add more memories to OCBC Cycling Traditions. We are still looking forward to nicer Jerseys :p
Credit to these Fun loving Dads (Instagram handlers) :
-Winston @blgfthr
-Nick @nickpan
-David @Doting_Dad
-Steven @thePerfectFather
-Randy Lim (Akido)
-Randy Lim (non Akido)
-Me and no1 @SengkangBabies
7.Finally, we always celebrate our sore bums and balls (cough) with Roti Prata Blk 8 🙂
SAY YES Bros.

Additional points:
a)OCBC Cycling 2017  with Yee and Xin (Blog)
b)OCBC Cycling 2016 (Blog)
c)Follow SengkangBabies cycling adventures :
Blog – https://sengkangbabies.com/tag/cycling
Instagram #SkbCycles
d)We heard about Nike Breaking 2 feat, those elite Marathoners must clock a speed of 21 kmh to run under 2 hours! I would be able to clock 50 or 60 kmh during my youth "daredevil mode", but I mostly clock 15 to 20 kmh on PCN now.
Eliud Kipchoge clocked 2 HR 25 Sec for his Marathon, MAN HE IS SUPER FAST!