This is our Changi Experience Studio review, and let us share why this new playground is a gem. I would even consider Changi Experience Studio (CES) as an indoor Virtual themepark.
Be it History, Technology or Innovations, there are so many interactive activities for the whole family. School going kids would learn through playing.
However, mention Jewel Changi Airport (Google map) and the following might come to mind first. Waterfall (Rain Vortex), the food (burgers and root float), Pokemon and the jumping nets (Canopy Park blog). Changi Experience Studio is more low profile.
Located on Level 4 (Lobby C).
Visitors will receive a "plain" Travel Guide before entry.  The magic is hidden within an embedded Rfid chip.
Once we move our Travel Guides, sensors will trigger various "digital popups". Expect Butterflies and music too!
You start with a blank card, but Changi Studio Experience will let you bring back fond memories! Magical animations await.
Kids were eager to hover their Travel Guide over all the exhibits. It is a novelty for us, and every exhibit brings out something new and interesting.
Sneak peek of Changi Experience Studio video for awesome cool stuffs

Guests can explore Singapore and Changi Airport's history, which is closely intertwined. We started with Seletar airport before upgrading to Changi site.
Terminal 5 will be ready in the next decade, dwarfing the other terminals. Passenger traffic capacity will raise from today 70 (or 80) millions passengers to 135 millions!
When Singapore has only 6 million residents, the air traffic passengers numbers are staggering!
Back to our Changi Experience Studio review.
Although we are indoor, flowers and foliage adorns every corner.
Read on as we share more fun interactions 🙂
Looking at the popup animations, we feel like architects reviewing the airport's blueprint for the next terminal and milestone.
Swipe, you can go to basement, Swipe, another hidden compartment.
Through various interactions, kids can understand how Changi strive to be the best airport in the world.
Amazing Runway is always popular with guests.
You can drive the Plane or Porsche, both are Fun and Tiring. This was a real race back in 2009. (Hint: aeroplane always win)
Follow the butterflies as we unfold more ingenuity and innovation. A simple plain "Travel Guide" serves as a popup platform for 3D performance!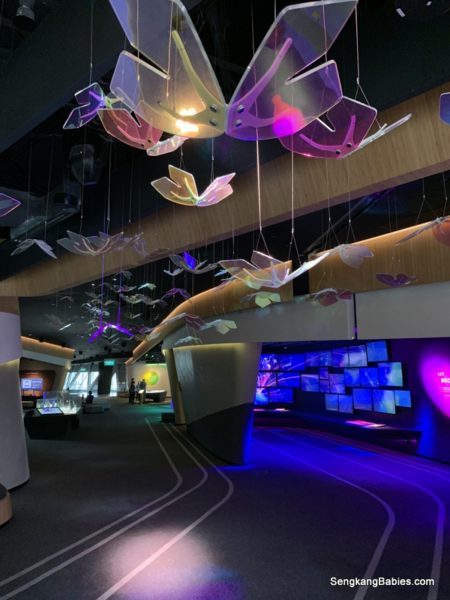 These screens simulate the connections to and fro from Changi Airport, 7000+ flights per week! Bringing the world to Singapore and vice versa.
Just imagine, tiny red dot 700 square km, plugged into the world. We can just clicked and book our preferred airline, and indulge in wanderlust one hop away from Changi Airport.
Fancy a customer facing job? Then work on your smiles 🙂
We were making funny faces and trying to see who got the saddest score haha. Hey, there is a leaderboard for the best smile too.
Besides learning about the airport functions, the interactive games also encouraged families and friends to participate in friendly competition.
There is a lot of replay value as kids are super competitive.
Changi Experience Studio offers a few vantage points to peep at the Rain Vortex and the vast glass ceiling.
Photo below, the skytrain seem to go through a waterfall shower. Do take note Jewel's skytrain is only available for transit passengers.
Be it zoom or wide angle, Rain Vortex looks fantastic from all angles.
Love the sight of water collecting at the top (funnel-like) or draining off below.
Watching the water gushed down this "plug" is therapeutic..
Rain Vortex looks fantastic from all angles, a piece of art and science.
We went backstage to role-play the efforts needed to keep Changi Airport operations running.
Video : Kids having fun at CES! We share our favourite corners
View this post on Instagram
Yes, visitors not only learn but get to hands-on too 🙂
The exhibits are highly interactive and have great replay value. Try collecting trolleys or x-ray spotting dangerous goods!
I will be patient with security screening in the future.
Visitors get to appreciate the unseen work behind the scenes and Changi Airport's development milestones.
Hey, directing taxis into the bays is not straightforward too. Passengers will grumble and scold you haha!
Who want to be the champion in the trolleys section? I might have accidentally bang down a few bystanders!
I suspect the kids are only here to disturb 捣乱, otherwise these junior interns would only wreck havoc in Changi Airport!
The points collected in your "Travel Guide" can be redeemed for discounts at the souvenir shop.
I forgot to mention that the Travel Guide can be customised with your name. Everytime before we start a game, we have to place our card down to "register".
We spend the most time in this corner.  I know kids can be captivated for half day easily at Changi Experience Studio!
You can also buy your Fun photos too.
Love the virtual butterflies floating on the ground. Follow them to explore more technology.
If you are a music lover, be amazed at Garden of Harmony.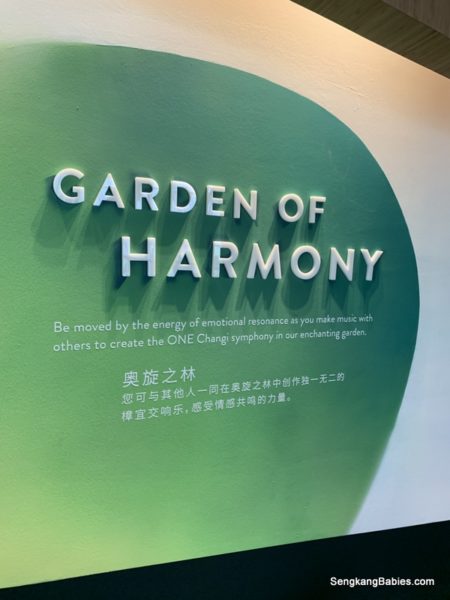 Our guide told us that the symphony here is like the whole of Changi Airport working together as an orchestra, putting up the best musical performance 🙂
It is all about teamwork at Changi Airport.
The landscape has a mystical feel, a bit like Avatar. Projections left and right immersed us in a musical forest.
With your Travel Guide, stand at different spots to play bassoon, flute, percussion etc. Everyone will start flapping their Travel Guide to ensemble an electrifying symphony. 
Marvelous performance 🙂
In the Finale, visitors took off to a destination is an outer-space space pod somewhere in the galaxy.
We caught a Virtual tour bird eye's view of Changi Airport from the atmosphere, with all the heat signatures traversing the globe.
Jewel Changi Airport raised from T1's carpark, establishing a lifestyle node within Changi Airport. So, space travel from Changi Airport might not be that far-fetched an idea :p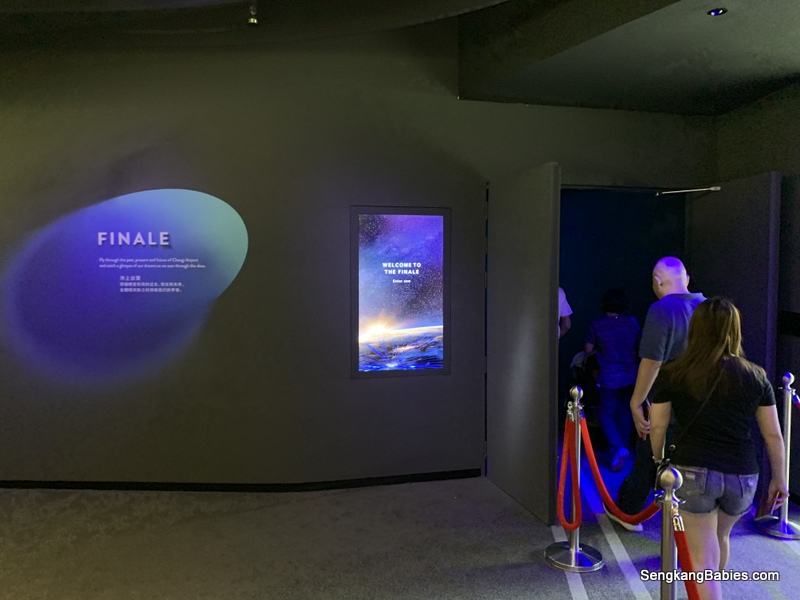 Many folk would first notice Canopy Park before Changi Experience Studio, just look at the social media postings. Canopy Park's play areas, the Instagramable shots are very visual and captivating.
However, I actually prefer the various interactions and learning opportunities within CES. There are so many booths which supports family participation.
We hope you our Changi Experience Studio review will be useful for your reference, and your family will enjoy CES as much as we did. More photos of CES (photos) and Canopy Park have been uploaded on our Fanpage.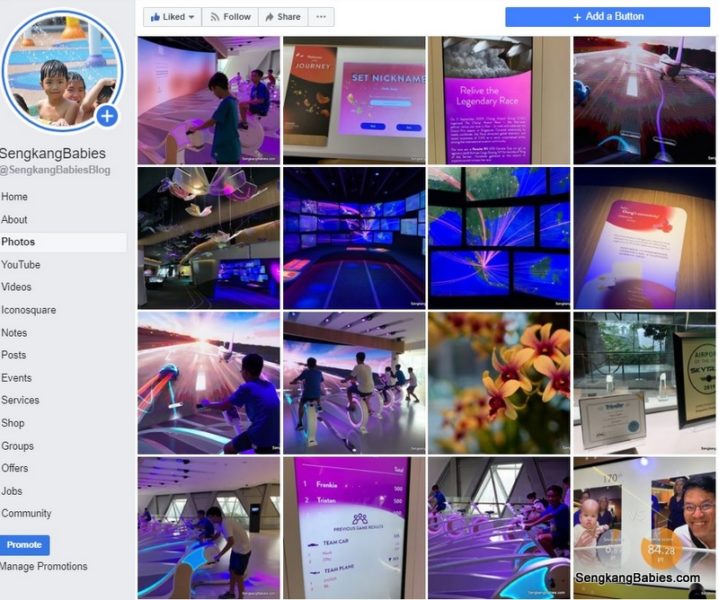 Click for Canopy Park photos.
Additional Tips for visiting Jewel Changi Airport:
-Do follow Changi Experience Studio website and Jewel Fanpage for latest updates
-CES opening hours is from 10am to 10pm
-Tickets pricing starts from $19 and $13 for adult and child/senior respectively. Visitors need to select their entry time-slot
-Parking fees in Jewel is more expensive. We park at T2 and walk over to Jewel. 4 hours parking costs at Jewel and T2 are $18.60 and $9.60 respectively.
Do pop by other Changi Airport experience on our blog :
-2019 July Canopy Park Fun!
–Crown Plaza staycation
–Changi Airport transit activities
ps.. We would like to thanks CAG for the fun invitation to Changi Experience Studio