For first timers to Forest Adventure (Bedok Reservoir), the first thoughts might be serenity, pretty obstacles among the woods, the flying-fox induced screams from other participants. It sounds like awesome Fun !

After securing her harness, climbing up the ladder in anticipation, Boon Xin realised the view from the top can be quite intimidating (for a 5 year old).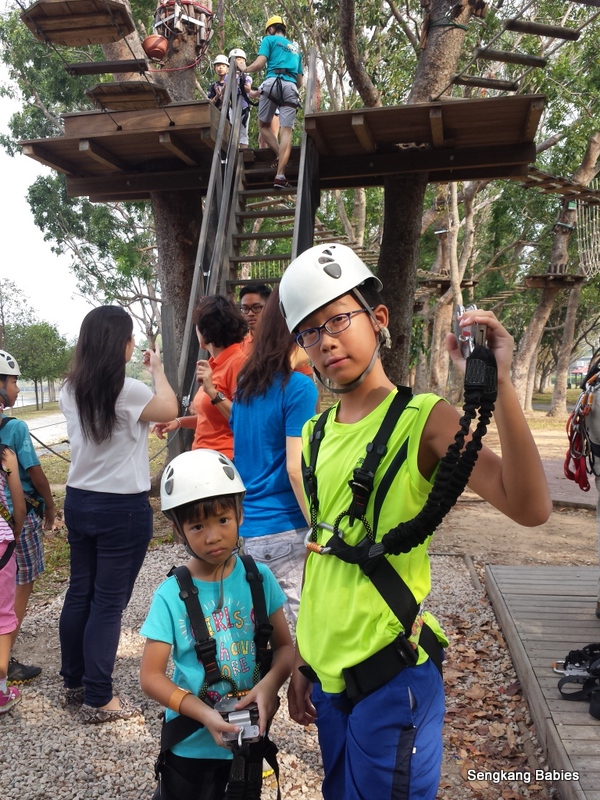 Boon Xin hesitated.
She is mature enough to understand her own limitations.
She is old enough to have her own inhibitions, and fear.
But most importantly, she has not found the opportunity to challenge her own limits. Her brothers are always around to tide her through any challenges.
Not today. Up there in the trees, she needed to push herself to take the first step. The fear of "Falling" will always accompany her.
Little wonder why she is not smiling throughout the course, poor thing 🙂

Daddy saw grit, determination, and fearless attitude from his little girl last Sat. So proud of Boon Xin as she dispatch each obstacle one by one, and to see her confidence grows.
Boon Xin has stepped out of her comfort zone at Forest adventure and conquered her fear today.
She has pick up one of the most important life skills, that is "Never give up!"

(disclaimer, this is the same girl who always dare Daddy to ride Legoland's Dragon roller coaster!)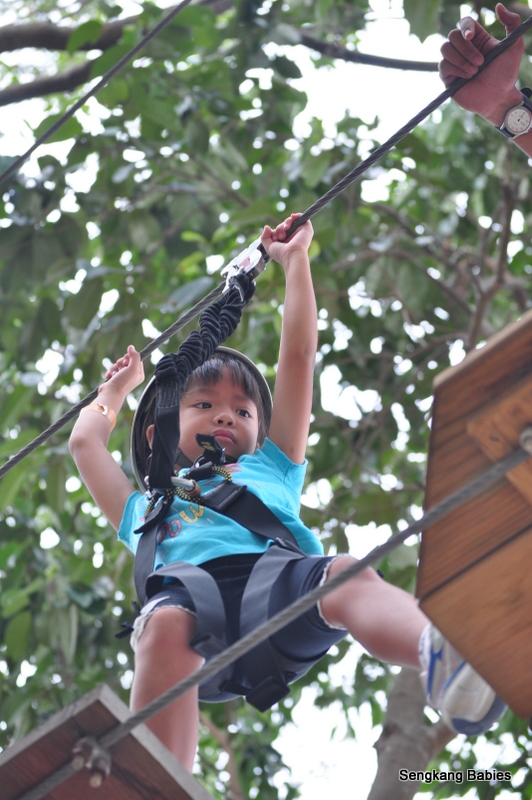 Boon Wee (No1) might find the course easier as he had attempted more challenging stuffs in his camp. This is his second attempt at Forest Adventure, read our 2011 experience with Boon Kang.
This young man displayed quiet confidence as he navigated through Forest Adventure's obstacles. But what impressed Daddy more, is Boon Wee standing up for his little sister.

"Kor Kor wait for me!" "Kor Kor wait for me!".
Daddy kept hearing Boon Xin's request for Boon Wee to slow down. Boon Wee gladly obliged and even encourage Boon Xin out of a few tight spots.

He is Boon Xin's pillar of strength! And Daddy is so proud of 大哥 (Big brother)!
Monkey see, Monkey do. Both kids got entangled for a while inside the net.

Her one and only smile, near the end 🙂

Everyone's reward at the end is a fast Zip yeah !

Boon Xin's smile says it all, this is one experience (and milestone) which she will not forget soon.
Video : Catch their garang moments in the Trees

Another video from FSaaM : See Boon Xin sliding down

Thank you Forest Adventure for the Fun Sat morning !

Let us share a bit about how Forest Adventure has improved their productivity through e2i.
Forest Adventure had tapped on e2i subsidy (through IGP) to improved their Zip line set. This investment has resulted in better efficiency for instructors and higher number of participants (per hour).
Click to read their case study here.
Find out more about how e2i is helping to create solutions for better employment and employability.
~~~ ~~~ ~~~
** Do pop by our Fanpage for more photos of event day.
** Click on link for our previous Forest Adventure adventure (Daddy attempted the adult obstacles, Fun, Fun, Fun !)
What can kids learn from Forest Adventure?

Gather more updates from Forest adventure website and fanpage.
* disclaimer We were invited to try out Forest Adventure's new zip system, no monetary compensation was received.