We were invited to a Chinese New Year food tasting session at 姑妈家 Gu Ma Jia.
Yes, our reunion dinner and Cny dishes was in December 🙂
Healthy and nutritious, Gu Ma Jia recipes are known for less msg, less oil and salt.
But the home-cooked style food is always delicious.
First Lo Hei 捞魚生 for 2019.
Refreshing, crab stick and abalone. All Cny dishes need to come with a Lo Hei.
I am sure the mood would be even more festive nearer to Feb 2019 🙂
We love the Lobster Cold Platter ($138).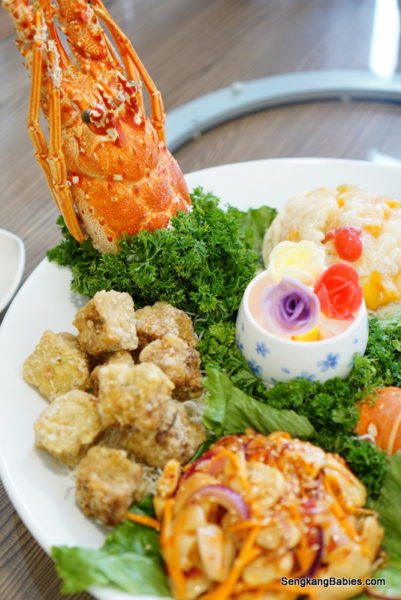 The platters come with fresh salad lobster, smoked duck, clams with onion. There is something for everyone.
The presentation whets our appetite, where should we start first.
Sweet and Sour Grouper with lychee.
Deep fried, crispy surface and tender meat. The lychee was an interesting mix. Crunchy dish, we could not stop munching.
Mrs comment that the sweet and sour sauce might have overpowered the fish taste.
Flaming Pork rib
This is one of the signature dish at Gu Ma Jia.  The entry sure was exciting, with flames burning hot!
Juicy and fragrant treat.
Assam Fish Head
This might be the most famous dish at Gu Ma jia. Spicy and Sour at the same time, we all love the assam gravy.
Although we were perspiring we just could not help but keep scooping the delightful gravy. I can savour this dish paired with white rice. Yummy.
Super fresh!

Enzyme drink to cool us down. This is a speciality healthy dessert from Gu Ma Jia, some of the benefits are :
-Relieve constipation and cleanses the digestive tract
-Detoxify and revitalize body cells
-Lower cholesterol level
The enzyme are extracted from fruits (combination of pears, papaya and apples), there is a tinge of vinegar in the concoction.
Each glass of goodness cost $5.80.
Yuan Yang Kai Lan
Hard to chew the stalk, just enjoy the "leaves". Crunchy texture.
Claypot sesame oil chicken
Ideal for Mums (and Dads) undergoing maternity phase. The ginger and sesame broth really titillates our appetite.
I felt nourished, just by looking at the broth.
This is definitely my comfort food, and I had at least three bowls!
Herbal chicken, with a lot of ingredients.
Cooling 雪蛤
Finally desserts, not sure whether English name is Frog egg (xue3 ge2).
Refreshing and cooling, but kids did like the "jelly" texture.
They are missing the good stuffs.
Chinese New Year is just two months away. If you are shortlisting for reunion dinner venue, Gu Ma Jia might be a good recommendation.
D0 RSVP your Chinese new year reunion dinner with Gu Ma Jia today.
Call 6285 2023, this are some more Cny dishes and reunion menu for your consideration.
ps.. we were invited to feast at Gu Ma Jia.