Before Legoland Water Park's opening, their HR was recruiting Junior Life Savers (life guards). Boon Kang is one of the lucky 7 (out of over 200 candidates).
We pop by last Sat for him to rehearse blowing the whistle 🙂

Boon Kang receiving his Lego model from Legoland GM Mr Siegfried, he is the youngest Life Saver. The next moment, Daddy saw them in the deep end of the pool.

Hard at work, these kids are constantly drenched, but hey no one is complaining. They learn various rescue techniques, and how to spot signs of dangers.

Thanks to Legoland and Boon Kang, our family was awarded Premium Passes for one whole year 🙂

We all know Life Guard are suppose to be serious, they help to save Lives, but they can rock too 🙂

Boon Kang in his float, look at his smile 🙂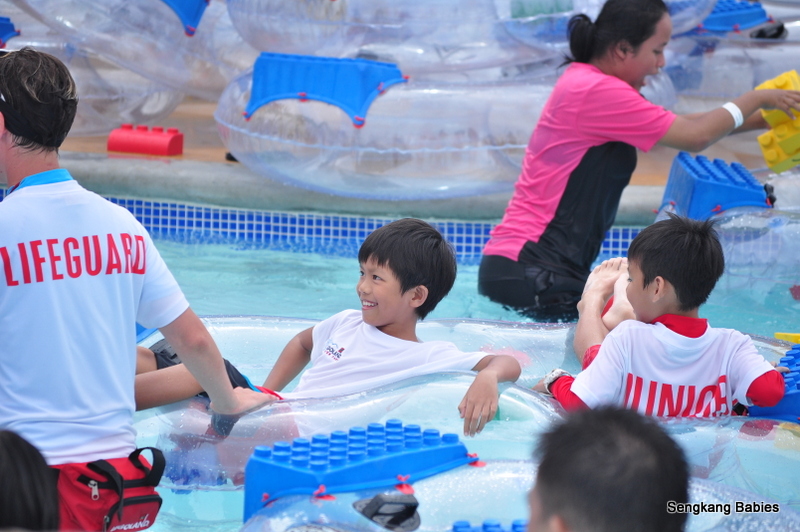 Before you can save others, you need to know how to jump in with your equipment first.

Life savers look serious, kids are very proud of their life saving profession.

Our Life Savers need to know about Legoland Water Park's various slides and pools too.
Their Tour of Duty 🙂
Daddy wondered what is going on in their minds. While they are working, they can see other kids having Fun frolicking in the water…

Hip Hip Hooray, Daddy thought the Junior Life Savers learn a lot of things today. We hope everyone gain a better appreciation of a Life Guard's important role.

Let us share more details about the various slides.
For those seeking more adventures, try Brick Blaster. There are two Bumps in the Funnel which threatens to TOPPLE your raft !

While waiting for our turn, we can often hear screams coming from Project-X or Dragons 🙂

We can compete in two.. head for Twin Chasers. Not really sure which one is faster, but adults always win the kids haha.

Or we can compete in six! Lego Slide Racers is Daddy's favourite as he will be able to challenge the kids to see who is the fastest. We need to lie down on the blue mat, go through a series of fast bends before you slide down 4 (or 5) storeys ! Really Fun for both kids and challengers.

Just three months ago, Daddy could not see any pool, there was only mud and sand. Things really transform Fast in Legoland ! Read about Legoland Water Park's construction.
Red Rush, the selling point for this ride is everyone (6 of us in SengkangBabies) can go down together ! You will not be tossed all over the place (unlike the earlier slides), this is family friendly, and the young ones will hold on tight to Mummy and Daddy 🙂
Chicken feet for the adventurous kids :p

and not forgetting the Wave Pool 🙂

Video : Water Fun at Legoland's Water Park

** The activities listed below will be suitable for everyone in the family.
Build A Raft at the Lazy River. The sights of the Lego Bricks bobbing on the water can send kids into a frenzy haha.

Try challenging each other to build the tallest wall, and withstand Neptune's fury (Spray) !

Junior Life Savers are after all kids, they cannot resist building Lego bricks too 🙂

For those even younger ones, Duplo Splash Safari is a wading pond Zoo. Besides riding the alligator and polar bear, parents should try going down the slide with their kid too !

We are confident the highlight for families will be Joker Soaker. A vertical maze, a BIG bucket, kids can play hide and seek. Adults can "ambush" kids with a sudden downpour !
The slides are adult friendly too, but the kids will be staring at the young-at-heart Uncle or Auntie haha.
Joker Soaker promises tons of Fun !

What is Legoland if we do not have Lego figurines? Ideal for portraits 🙂

We always love Legoland's cute figurine instructions.

Various Height limits for slides.

There are two cafes at Legoland Water Park, and Lockers are available at 20Rm or 40Rm.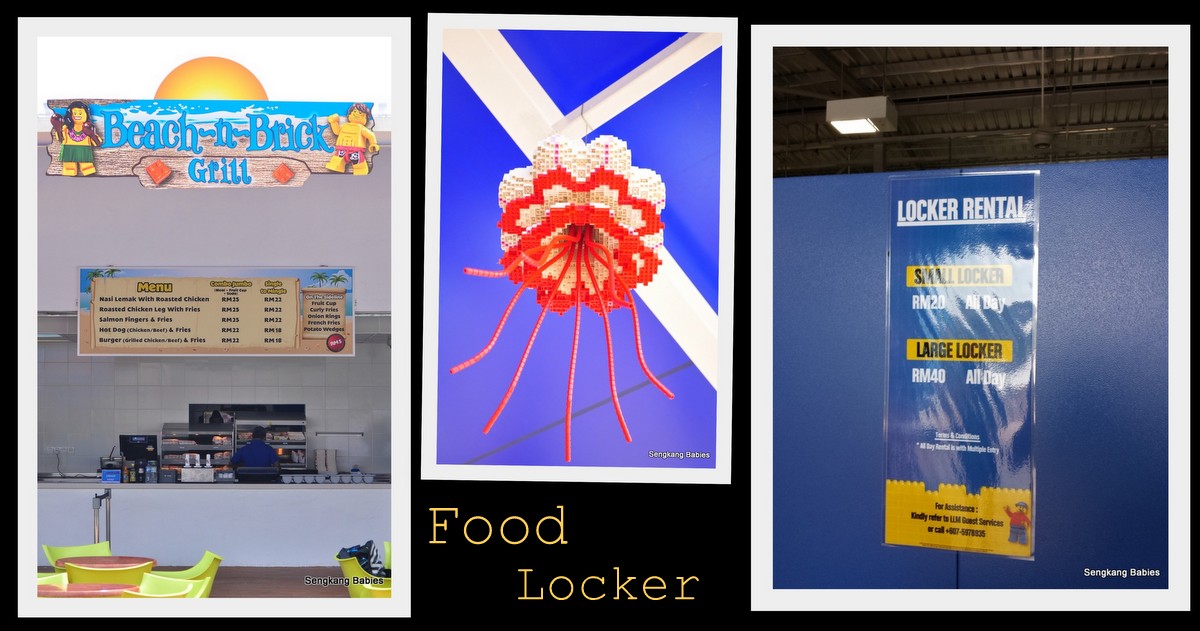 As we head out of Water Park, we know Legoland Hotel is beckoning soon 🙂

Thank you Legoland for hosting us, we look forward to more family fun at Water Park 🙂
We have more photos on our Fanpage album, and do pop by Legoland Webpage for ticket pricing details. Click for a list of SengkangBabies' Legoland adventures.
For latest updates, pop by Legoland Malaysia Fanpage, or Wiki Legoland Malaysia for history.
** You must pop by our friends Cheekiemonkies' comprehensive slides and experience breakdown 🙂
– Visit Waterpark's construction
– **updated 2013Dec – our 2D1N stay at Legoland Hotel rocks !
~~~ ~~~ ~~~ ~~~ ~~~ ~~~ ~~~ ~~~
** You might be asking Adventure Cove or Legoland Water Park?
– We felt Legoland's slides are more suitable for smaller kids and families , with minimum height limits of 102 and 107cm. (Most slides in Adventure Cove are 122cm)
– For those looking for thrills, Adventure Cove wins hands down. We love snorkeling at Rainbow Reef !
– Adventure Cove is more affordable (Adult SGD$36 vs 95RM, Child SGD$26 vs 75RM).
– Big Bucket power. Legoland's Joker Soaker WINS with it's 350m gallons Tub !
– Long queues are expected for both Water parks during school holidays. Imagine queuing 30min plus for a 1min slide 🙁
ps.. Follow our Instagram tag #SengkangBabiesJohor for more JB adventures