On our last JB exploration, we visited two new malls. Both R&F Mall and Midvalley Southkey are relatively new in Johor scene.
First, let us share more about our cosy Airbnb apartment.
View this post on Instagram
Apartment was spacious and well equipped. Comfortable beds and functioning kitchen.
Our apartment is managed by host Andrew, his response is prompt and friendly. You may visit more curated Airbnb units under Placefu.com .
The primary reason for choosing "Artsy Guesthouse" (GPS 1.462067, 103.769407) is due to the close proximity to CIQ, and we wanted to visit new corners in Johor.
R&F mall is just 5 min away, and CIQ (customs) 10 min on sheltered bridge. Refer Google Map link below. (Hiap Joo Bakery is the famous banana cake)
Our unit feels like an art gallery, so many paintings and posters. You can even scan the QR codes to discover the story behind the paintings!
Yup, paintings can be purchased too, some are 3D like and abstract. Andrew happens to be an artist 🙂
Our family always choose apartments, as hotels require us to book two rooms due to our family size.
Our Airbnb unit comes with gym and pool. We got to enjoy all these facilities for under $50 per night.
Playground and Pool on level 9 is always windy (and cold).
View from the other side of condominium.
We can see Senoko Energy's chimneys across the Straits.
Do go up to Skypark 33rd floor for more panoramic views, and splendid sunsets. We can spot the cars crawling over the causeway towards JB custom too.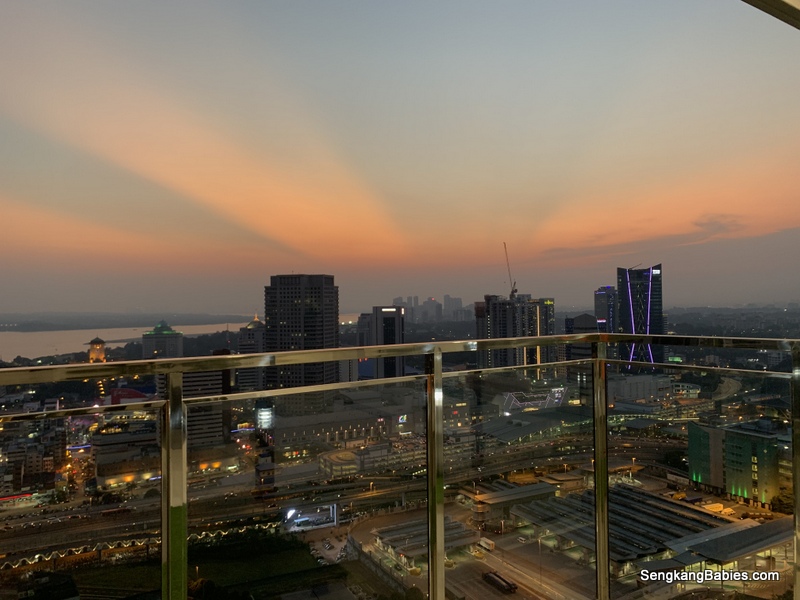 Sky Habitat (the white one) is just 5min across from R&F Mall.  Do take note this "shortcut" might not be safe for young families as cars can be fast especially at night.
Strollers or PMD users need to walk another 5 min to reach this traffic junction (Google Map here). There is an overhead bridge too.
For everywhere and anything else, we just Grab to our destination. Our trips seldom exceed RM11 (6 seater), 4 seater will cost RM5 or RM6 only.
We travel light for this trip, no luggage. Just pack and go.
R&F Mall (GPS 1.459579, 103.768219)

R&F mall is pretty new, we noticed a lot of shops are still under renovating.not open for business.
D SHANGHAI (大上海点心) for dim sum breakfast. Not bad, lesser crowd compared to KSL branch.
We caught a show at the new Emperor Cinema too. This is a new cinema chain in Johor, offering more atas (aka superior) experience (with luxurious seats).
A pity "Angel has Fallen" is PG18, so we chose the fireman show "The Bravest".
Delicious 士林炸雞排 anyone?
R&F dinner and supper options are still limited as most F&B closed by 10pm.
We had our supper at 24-hours At-Taqwa restaurant (GPS 1.460753, 103.768225). Prata is good, Nasi Goreng and Bee Hoon are nice too, but a bit spicy.
We would have love to visit Food Truck corner just downstairs of Sky Habitat. It should be chill to dine among the trucks and under the tree illumination.
For breakfast, we recommend Bak Ku Teh at Hwa Mei (GPS 1.460933, 103.767541), just 5 min walk away. Read our previous BKT blog post.
Yummy 🙂
Mid Valley SouthKey (GPS 1.501529, 103.777172)
MidValley is slightly smaller than Paradigm but less crowded. We can spend the whole day here, eating and shopping.
Half the mall is occupied by SOGO. We will be back soon.
Sushi King for lunch. Kids love the food variety.
Tired after all the walking, we went back to our favourite massage joint at Sabye Sabye (Taman Sentosa). Five pax (90min and 60min) came up to RM245 only.
Hungry after massage, our JB exploration Grab us to Pelangi area for our favourite cheesecake. (Cheelicious GPS 1.477584, 103.767890).
Hint : Neighbour Warakuya Japanese is very popular too
Original or Oreo cheesecake, all are delicious. (Below right) The pan-fried chicken is surprisingly good.
Bubble tea and deserts at 茶社 Chatto (GPS 1.478306, 103.766924).
"Chatto – Handcrafted Tea Bar"has some house brand, example 灰灰的又怎样, a grey oolong tea. We still prefer the unhealthy brown sugar tea :p
(bottom right) The 鲷鱼烧 (Croissant Taiyaki) fish-like snack is sweet and delicious, very addictive. Crispy with sugar coating on the outside, but the ingredients (can be chocolate or ham/cheese) simply melts in our mouth.
Time to head back. Our train is waiting for us.
Estimated 10min walk or 650m from R&F Mall back to CIQ.
We are sheltered from rain and sun.
Just follow the bridge and walk back to CIQ. Surprisingly, this path is not yet mapped on Google Map. I wonder why?
Just walk towards the Green building.
As you walk along the bridge, some sights look familiar. (Below-left) The low-rise blocks house Hwa Mei Bak Ku Teh.
(Below-right) Those driving or taking buses will identify with the "merging" lane for cars and buses on the overhead highway.
If you have time to spare, City Square has more food and shop options.
We caught the 1630 train, easy and fuss-free, no jams. We can see R&F mall out of the train window.
This is our 3D2N itinerary around CIQ, we hope you will have Fun exploring more of JB too. If possible, book the train tickets in advance as they sold out fast (especially weekends).
-Read our previous blog on Train Tips (link)
-All our Johor adventures are here ->  https://sengkangbabies.com/tag/johor
Previous Johor adventures
–Mount Austin
–Johor Food trail with GPS (eg Banana cake)
Follow our Instagram tag #SengkangBabiesJohor for more JB exploration
ps.. Our Airbnb unit is sponsored.