Jonker Walk Malacca (雞場街) is the place to be when you visit. The lane will be closed to traffic in the evenings and stalls will line the streets.
Do take note Jonker Walk night market is only open on Friday, and weekends.
Many tourists will meet at landmark 三叔公 (GPS 2.194958, 102.248342). This red building has a few floors selling local delicacies (土产).  
We would recommend starting your Jonker Walk Malacca trail at around 1800. It will be very crowded by 1830. It might be a good idea for kids to enjoy some light dinner (street snacks) beforehand.
Food, shopping, little bit of sight-seeing. Now that our kids are bigger, they are more adventurous when it come to new food and experience 🙂
We took our time to tour the night market, and pinched our dinner here and there.
Ear rings and accessories for the girl. There are a lot of toys to attract the kiddos too. Karaok anyone, you can peep inside the clan associations.
Jonker 88 (GPS 2.196664, 102.246669) would be one of the tourist hotspots. The iconic chendol would be a welcome respite from the merciless Sun.
YES, we are recommending you to visit Jonker 88 before Jonker Walk (market) opens at night, otherwise no seating space.
Jonker 88 is next to the muscle builder.
Food, drink, tidbits, something for everyone to enjoy. And we can still takeaway (打包) cheese tarts back to our accommodation.
A few stalls are selling watermelons! They literally use a "cream mixer" to mesh the inside for us to slurp. It took us a while to finish the whole watermelon. Fun novelty!
Some stalls will even make a sling for you to carry (just like handbag).
Some other interesting "food" eye candies along Jonker Walk Malacca.
These buns look cute, but taste-wise so so. The cute designs won us over.
Souvenirs anyone?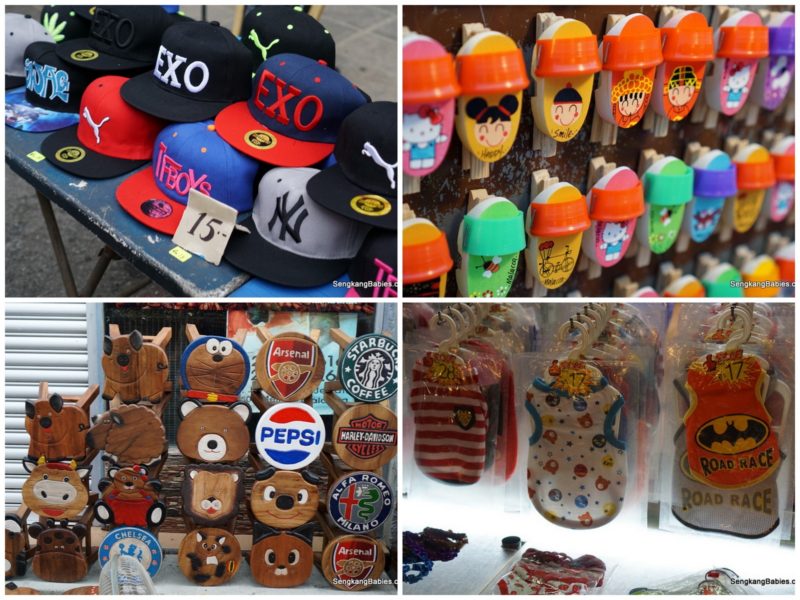 We spotted a static Golden Uncle. Drop a few spare bucks and Uncle will dance (moonwalk) for you. The gold glitters will rub off your shoulders too 🙂
The other entrance to Jonker Walk Malacca (GPS 2.197860, 102.245316). This stage will have some performances too. 
When the sun sets, the fanciful (and loud) rickshaws roam the streets!
Do pop by our recommended Malacca eateries in an earlier blog post too. More photos of our 2D2N trip uploaded on Facebook.
ps.. as with all night markets, try not to bring the strollers along. Plan for minimum 2 to 3 hours to enjoy Jonker Walk. Wear light as it will be crowded and hot.