On Day 2 of our Ipoh Trip (click for food itinerary), we head to the Lost World of Tambun. It is about 30min away from Ipoh center.
Lost World is quite big, you might need 5 to 6 hours to enjoy all the sights and water.

One will not get lost in Perak's themepark, but you feel like you are in Jurassic Park !
The green corridors, the steep cliffs. Love It !

The friendly and adorable racoons will greet visitors at the Petting Zoo entrance. When we bring our food nearer, the racoons will stretch out their hands, so Cute ! (see first Video below)

#Video 01: Look at the cute Racoons ! We love the peacocks enclosure too.

All sorts of creatures await your interaction, some you can stroke, others you better leave alone :p

Look, the goats are eating newspaper !

You MUST bring the kids into the Bird Paradise. Buy some feed and attract our feathered friends 🙂

Younger kids might be intimated by the flock of birds coming towards you, but they are pretty harmless, only very hungry. Our friendly ranger will help guide us with the birds 🙂

Daddy and Mummy are very impressed with this habitat, and we are sure the kids agree.

Awesome experience !

Boon Yee with his 140 year old snapping friend, please do not go too near !

Animal conservation and care, we can learn more about the creatures here.

We love the scenic Swan Lake ! The lake is surrounded by ridges and lush great foliage. The kids had so much fun and laughter feeding the carps and swans.
Our girl even got a welcome "peck" from the hungry Swan too, crying so loudly.
(heart wrenching scene capture on #video 02 below)

We pop over to the TIN valley to discover how Perak's history was linked to tin mining.

In Tiger Valley, a few Siberian tigers muscle around on their turf. Did you know wild Malayan tigers still roam the forest and plantations of West Malaysia?

Wherever you are, look up and around, you can definitely see a hill or peak, scenic surroundings !

We had a late lunch, we need to recharge before our adventure resumes with water activities 🙂

There are a few F&B outlet, but we chose the tent behind the pirate ship (Amusement Park corner). We do not have any photos of the food, but they are nice and affordable. We recommend the cendol or ice-cream pancake to cool down 🙂

We have almost two hours of water Fun in the afternoon. The slides are friendly for the smaller kids too 🙂

The older boys follow Daddy to attempt the slides on rafts 🙂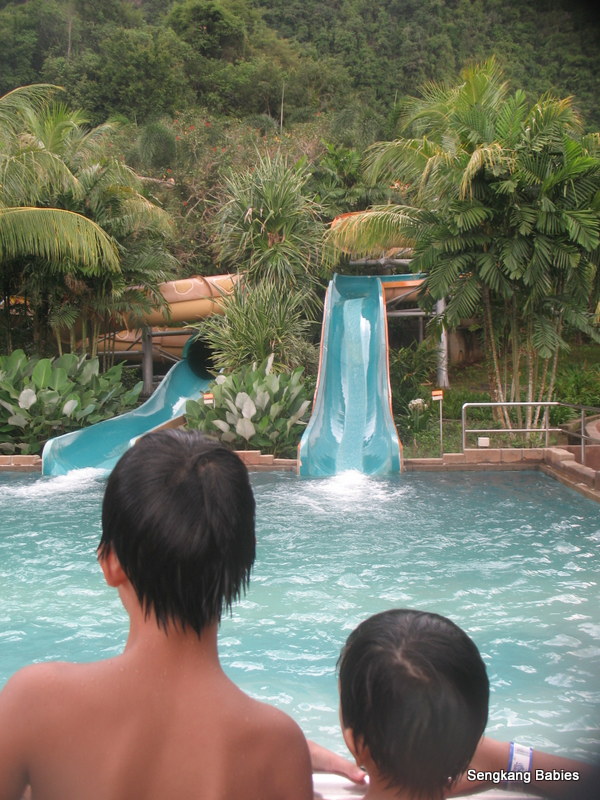 #Video 02 – Swan attack Boon Xin !, and waterplay in Hotspring

The other surprise for our family was the Hot Spring. Apparently, Perak is famous for Hot Springs.

If the Hot spring is too warm, head to the cool waves.

River rafting is fun, even when we did not capsized 🙂

It was drizzling when we started our Hotspring spa treatment, we love the cold rain and warm spa combination 🙂

Inside this cave, lies the hottest spot in Lost World of Tambun. We spotted geyser spewing out of the "volcano" too.

While we are waiting for our coach, lok lok should satisfy our hunger 🙂

Bye Bye Lost World, we would not mind dropping by again 🙂

Additional Lost World information :
– Adult 48RM, Children 41RM ( some hotels will offer Lost World of Tambun package)
– Lost World of Tambun Website and Fanpage
-GPS 4.625206, 101.154445
– we recommend families to complete the dry activities before dripping into the water. I would feel uncomfortable walking to the other exhibits in my swimwear
– The pool and slides are not tip top but still decent. The good thing about this park is it is not crowded, ie shorter queues
** More photos are available on our Fanpage album
=== === === Read our Ipoh posts below === === ===
— Malaysia Driving tips
— Day 1 – Drive and Food
— Day 2 – Lost World of Tambun