We just came back from our holidays in Penang and Ipoh.
Both are famous for street food. Penang's Asam spicy, and Ipoh tasty street food.
Click for our previous Penang and Ipoh itinerary.
We will share our Ipoh Good Food (map and GPS) in this blog post, which should cover your family for 2 days worth of breakfast, lunch and dinner. It will be easy to gain 1 kg in 2 days :p
We visited most of the food in 2013. First up, Cuttlefish Kang Kong!
We mention this dish from Ipoh Garden last year. It is that good 🙂

Breakfast or Tea break at Ipoh, Sin Yoon Loong and Nam Heong (南香) will not disappoint. They are just opposite to each other and both are always packed.

Egg tart – Sin Yoon Loong's egg custard is jelly-like (above pic), and Nam Heong's is freshly baked, with a crust to die for.

White Coffee – Daddy feels Sin Yong Loong's white coffee is slightly more bitter (aromatic), individual preference. Both are so Good!
Video (Link) : enjoying the Ipoh Old Town ambiance.

We will recommend the Char Kway Teow and Teochew soup noodle at Nam Heong too.

If you spot this carrot cake motorbike, order one carrot cake for breakfast!

Nam Heong – (scores 4.5/5)
Sin Yoon Loong – (4.25/5)
Carrot Cake outside Sin Yoon Loong – (3/5)
Nam Heong – N 04.5931, E 101.0770
(opposite Sin Yoon Loong) Both coffeeshop rocks !
~~~ ~~~ ~~~ ~~~
For lunch, drive 10 min to Jalan Yeu Tet Shin where two famous chicken stalls await.
Lou Wong (老黄) and Ong Kee (安记).

Besides the tender chicken, the famous side dish must be Ipoh's fat bean sprout.
Crunchy and juicy, it goes well with the oily chicken.
Lou Wong Ayam Towgay Chicken – N 04 35.632, E 101 05.049
(Ong Kee is opposite)
~~~ ~~~ ~~~ ~~~
After lunch, gulp down some cooling soya bean at Funny mountain. It will wash away the oil from the chicken too.

Cars are queuing up for the splendid soya beancurd. To look like a local, enjoy your bowl of 豆花 (beancurd) inside your vehicle! Just ask the kids to be careful. ( Rated 4.25/5 )

Funny Mountain is a 5min walk from Lou Wong Chicken.
N 04 35.683, E 101 05.064
~~~ ~~~ ~~~ ~~~
Snacks – There are a few 土产店 (souvenir and local delicacy) around the chicken restaurants. We recommend you buy some 3-in-1 White coffee and biscuits home.

Hungry after shopping? Walk 5 min to order a pack of Salted baked chicken (盐焗鸡) from Aun Kheng Lim. You can actually drive over, and just shout out your order 盐鸡一盒! (one pack)

Aun Kheng Lim – N 04 35.637, E 101 05.001
~~~ ~~~ ~~~ ~~~
This map will show the locations and proximity between three of the food joints listed above.
1 = Sin Yoon Loong and Nam Heong
2 = Lou Huang and Funny Mountain
3 = Aun Kheng Lim salted chicken

Dinner and supper, pop by Rainbow street. A 10min walk (North East) from Lou Wong.

Tang2 Sui3 Jie1 (糖水街) otherwise known as Dessert Street too. At least 3 stalls are selling dessert.

We recommend the mixed fruit bowl (bottom left photo), it comes with an assortment of fruits and jellies.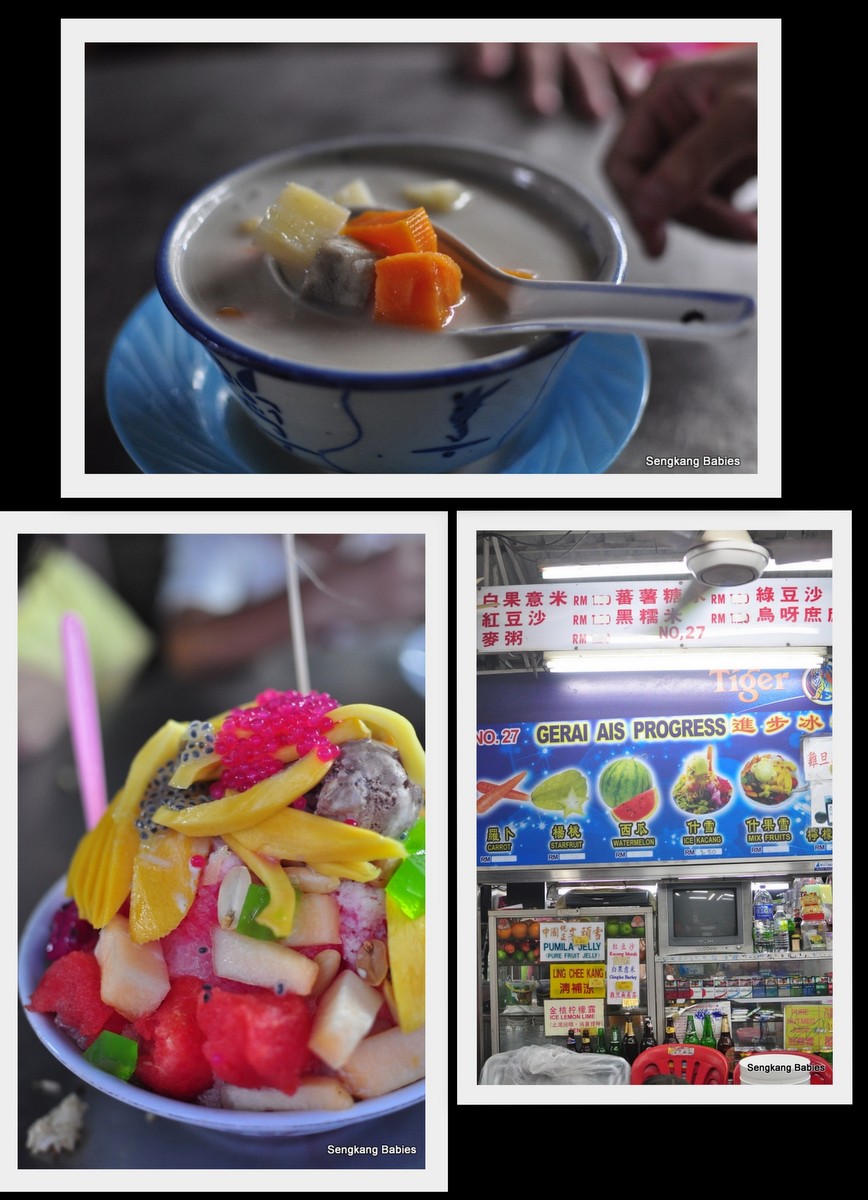 Rainbow Street – Decimal N 04.595333, E 101.087308
~~~ ~~~ ~~~ ~~~
Dinner at Ipoh Garden – all of Ipoh's good food under one roof. You must pop by Ipoh Garden if you only have one night in Ipoh. Refer to our first picture, Cuttlefish kang kong (4.5/5) will be on every table !

Ipoh Garden (only for Dinner and supper) and Woolley Food City (open till 5 or 6pm only). We rate Ipoh Garden experience (and variety) a score of (5/5).
N 04 36.663, E 101 06.629
Woolley Food City Breakfast – The soup noodles (3.5/5) and Wanton Noodles (3.75/5) are good !

Ignore Boon Yee's cheeky thumbdown, his western food (fries and hotdog what else) was popular with the siblings.

Before heading home, packet some snacks and buns from Pau LangKap 冷甲包. We love the Char Siew Bao and fluffy huat4 kueh4 (yes the huat-kueh used for Chinese traditions)

Too many varieties of Bao to choose from, the food court seems popular with diners too. The 大包 feeds two adults !

冷甲包 (Leng2 Jia3 Bao1) at Golden Point Food Court – N 04.62575, E 101.13151
Do pop by this article again, as we will add the latest findings and photos during this trip.
Click for our 2013 Ipoh Itinerary and Photos.
This round, we had flown to Penang and drove South 90 mins to reach Ipoh 🙂
We will leave you with Ipoh Garden's Video (Link) :

ps.. You might wish to explore our  Dec 2022 11D10N  Malaysia road trip too (link)