适耕庄 Sekinchan Paddy Fields (Google images) beckon to us, 鱼米之乡. Swaying stalks awaiting harvesting, Sundown and Sunrise casting a golden reflection across the horizon.
Take note there are only two Golden periods per year, during harvesting.
Our Sekinchan trip is dated 2016 May, read our 3D2N post here.
Sekinchan 3D2N Fun video (YouTube Link)  .. Got doggie escorts too

On the way North, we stop at Port Klang for Bak Ku Teh. Port Klang is famous for many other food (fish dishes especially) but we only got time for one restaurant.
Restoran Seng Huat Bak Kut Teh (Rated 3.5/5)
(GPS 3.043480, 101.448206)
Too herbal but aromatic. It was a good recharge before we proceeded North.Our favourite BKT is still Hwa Mei in Johor.
Google recommended nearby coffee shop for good Kopi and Toast too.
(Chong Kok Kopitiam 中国酒店, GPS 3.042634, 101.449485)
The best thing about road trip ids are we can stop and detour as and when we like. Refer map below, we always visit Kluang for 豆沙饼 too (Shop name at end of page)
As we are taking the coastal route, the rural areas present more laid back sceneries 🙂 There are many mosques along the way.
Reached "Container Hotel" . We have seen many F&B from Containers, but not much about accommodation.
I guess it is the novelty which attracted us. You have paddy fields all around, a short 10 minutes walk to nearby town (breakfast and dinner).
Comfortable bed for 6 pax. However, containers can be very warm during the day, we need to on aircon full blast.
Try to choose second floor for better view, and privacy. Do take note sound proofing might be lacking, we can hear kids playing trampoline on the roof.
Fortunately, roof is off-access from 8 pm onwards.
No4 Xin loves to bounce at the roof terrace. The roof also gave us a good view over the Sekinchan Paddy Fields horizon.
You can rent buggies or bikes to tour the paddy "avenues".
The concrete structure in the background houses the swallows.
Or you can rent a nostalgic ride from "The House of Ah Ma" souvenir shop too. Driver (and tour guide) included.
Kids wanted to chill at the mini swimming pool.
We drove nearby for some nice desserts.
Mamawe Cafe (rated 3.5/5)
(GPS 3.507446, 101.102887)
We ordered ice cream and snowy mango for the hot weather. Lunch was chicken chop and black pepper chicken (so so).
Go for snowy mango, cool and refreshing.
There is a mini Night Market at nearby Town Center (Same place as wet market)
We woke up early on Day 2 but could not catch the Sunrise. We did spot many friendly dogs.
Coffee and Toast for breakfast and we are ready to go home.
We bidded Sekinchan GoodBye, with one more round of paddy fields. Do not leave Sekinchan without tasting their mangoes!

Before heading home, we always detour at 居鑾 Kluang for some famous 豆沙饼 (Tau Sar Piah).
Traditional Nasi Lemak anyone? Kluang railway coffee
Kluang Rail coffee – original stall next to Train station
(GPS 2.033543,103.317584)
If Sekinchan Paddy Fields are too far away, there are some nearby in Kluang area (previous Farm stay blog post) . But the scale and beauty would be different.
Do pop by our Sekinchan Facebook photos, Day 1 and Day 2.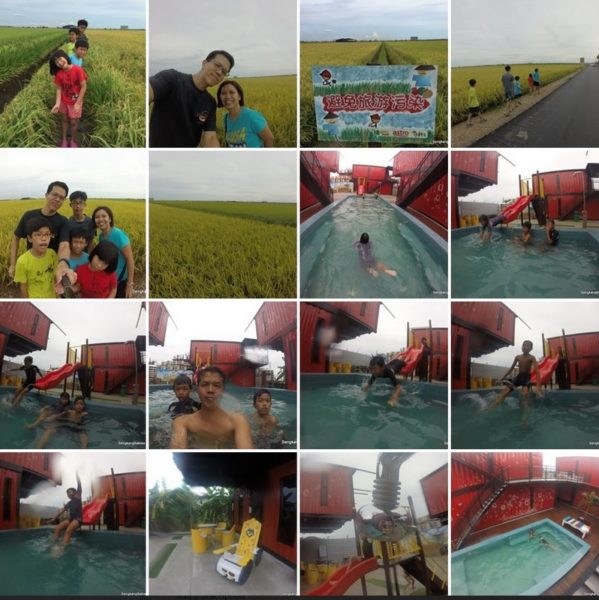 Our 3D2N Family itinerary is listed below (https://sengkangbabies.com/holiday/3d2n-sekinchan-family-trip)
.. read our 2018 Sekinchan Padibox stay