[ Media Invite ]
SportsHub PlayDay is organised every quarter, and this was the first time the games are held indoor. It provided an opportunity for everyone to trial different type of sports and lead a healthier lifestyle.

Community play day, families swamped National Stadium from 0900 onwards. SportHub Playday activities were available for the whole day till 1800.

Zumba greeted us loud and clear from the start, we heard a new National record was created for the most number folks doing Zumba together!

Not sure what to do or kids' preference? No worries, there is something for everyone. Sports catalogue or buffet, and we were spoiled for choices.

Speedminton was new to us, combine Badminton and Tennis and you get Speedminton. To add to the confusion, you have a squash racket haha 🙂

At one corner, Milo truck was always popular with SportsHub PlayDay participants, younger children might enjoy some sand art.

Family Fun Zone with many bouncing castles! Only our girl (7 years old) is interested, the boys are more interested in more contact sports.

Some other activities, Yee pretending to be a journalist.

Soccer is always popular with boys, based on the queues.

Net ball for the kids too, they are free to participate in any event. So happy to see many families out to enjoy some sporty family moments.

Dodge ball was hilarious as kids try to strategise and outwit their rivals.

Video (link) : Dodge the balls!

Watching Basketball team Slingers in action, we did not stay late enough to meet Lions (after 3pm).

Frisbee is easy to pickup, just throw and grip.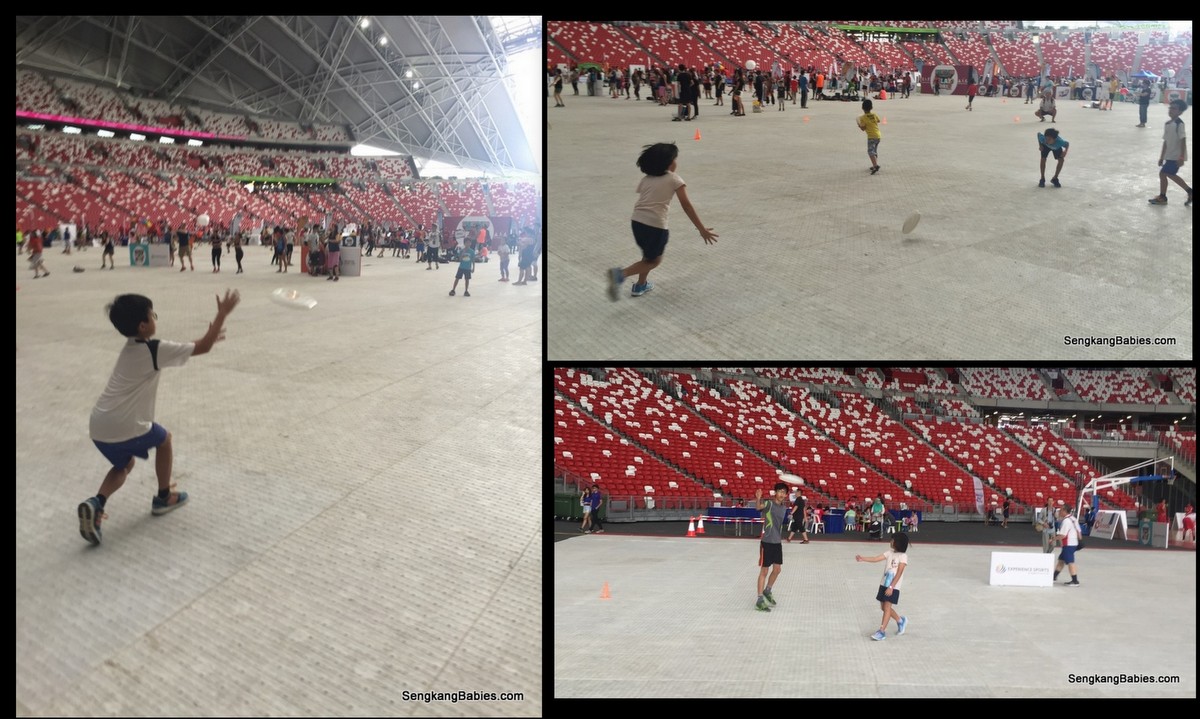 A lot of folks wish to clock their steps, we heard HPB has an interesting Step Challenge campaign.

We participated in another steps challenge, "Fun Steppers" sounds harmless and suitable for family, but after going up and down a few flight of stairs, you do feel your calves going numb 🙂

I thought it was a bit challenging to leave our "foot steps" around the stadium. Fortunately, we only need to cover one third of the stadium, which is still an intimidating 2088 steps.

Wei accompany me by climbing half the steps (1000 plus) before dropping off. The smaller ones ran "horizontally" after a few flight of steps!
An interesting experience for all 🙂

I am the only representative for SengkangBabies, there are medals and tShirt for finishers. FitBit went crazy charting the vertical route.

Anyone in the mood for a 100m dash? This is not part of SportsHub PlayDay, but kids always love to dash on the colourful track.

We are definitely looking forward to the next season of SportsHub PlayDay, water sports perhaps?
Follow SportsHub on their Website and Facebook for latest updates.