Our 8D7N Kyushu itinerary was the most challenging diy tour which I had planned thus far. We covered Northern Kyushu in 8D7N, which was barely enough. You will need two weeks to cover the whole of Kyushu.
*I can only add selection of photos in this blog. All our Kyushu photos have been uploaded to Facebook, links at the end of this post.
YouTube Video (8D7N Kyushu Itinerary)

This trip was meant as a Dad Son bonding trip. No2 Boon Kang is going to enlist very soon. Last minute planning, and we shortlisted Hokkaido, Tokyo, Osaka/Kyoto and Kyushu.
Kyushu did not disappoint.
The no1 challenge for me was public transport planning. Trains, trams and buses in the big cities were easy and predictable. But countryside buses frequency can be every 45 to 60 minutes. Miss one bus and there goes your "ideal" itinerary :p
In addition point A to B might only be 30km, but it can take up to 2 hours ( including bus waiting time). Fortunately, we engaged a private tour on Day two Mount Aso, otherwise much time would be wasted on transport.
Refer to Google Map below for our 8D7N Kyushu Itinerary, clockwise direction. Public transport all the way, except day 2 Mount Aso private tour.
In summary.
1) On average, this is our Japan expenses average (not including hotels, airfare, and day Two private tour). All in, we spent about SGD 2500 for our 8D7N Kyushu itinerary.
-Average daily 15,000 Yen for two pax three meals and misc (not including JR pass)
-If add JR Pass (Kyushu North 5 days), our average daily would be 18,000 Yen
–40 to 45% overall expenses on F&B
-15 to 20% overall spent on transport
-Balance on souvenirs, attractions entry tickets etc
-About 60% of my expenses were clocked on Youtrip card
-Did a 90,000 Yen withdrawal from Youtrip too
2)Accomodations
-2 nights Kumamoto (x1 near Mount Aso, x1 Downtown)
-2 nights Nagasaki
-3 nights Fukuoka
In hindsight, I would have opted for an extra night at Beppu or Oita and reduced Fukuoka to two nights.
3) Transport
Train and Bus for 90% of the itinerary. We booked a private tour of Mount Aso (Kumamoto).
My best experiences were around Mount Aso's volcano landscapes. Cauldron and valleys, active volcanoes and lush pastures, dotted with horses and cows.
The second best experience could be Nagasaki Atomic Museum and Peace Park or Nagasaki Bio Park. Both are memorable for different reasons.
The cute Amaterasu Railway stole our hearts and let us relive our childhoods.
4)no1 tip for First timers in Japan :p
Automatic bidet is soothing. But first timers might stress about which button (flow) to activate… 
Day 1 Arrival at Fukuoka
We took a 20 minutes shuttle from International to Domestic airport. Subway will bring us to Hakata station (Heart of Fukuoka).
You will not go wrong with accommodations near Hakata or Tenjin stations. Amenities, shopping, F&B are clustered around these two stations.
Hakata and Tenjin stations are themselves multi-storey transport and lifestyle hubs. You might get lost in the shopping "maze". There are plenty of food and supermarket options.
5) First order of the day was to pickup our JR Pass.
(JR stands for Japan Rail)
You may have to queue up to 30, 60 minutes to exchange your JR pass.
You can indicate activation date at the point of collection.
Example, we got a 5 day Northern Kyushu pass from Klook.
Once activated, the countdown will start. Even though we only use the pass for three days, it was still worthwhile for us.
Tips. Klook or KKDay JR pass might be cheaper than Japan direct. But you can only do "online seat reservation" if you buy JR pass direct from Japan e-shops. We always reserve our seats at the train stations (which might incur additional fees).
You may use JR Pass calculator to check whether JR Pass would be optimised for your trip. )Useful for budgeting purpose too)
Plenty of Train adventures await in Kyushu!
Below is iconic blue "Sonic", which can bring you to Beppu and Oita.
*Train lovers should visit our Enoden experience at Kamakura.
Train to Beppu (Oita)
Original plan was to visit a few Hot springs (Hells), ropeway or maybe even Yufuin.
I underestimated public transport options in Beppu.
Public buses come every 45 to 60 minutes. This is not my first trip to Japan, yet I am always paranoid about taking the wrong bus!
We only know later there is a Beppu Tourist bus (Kamenoi) which will bring you to nearby attractions. We had to skip the ropeway (to see snow) as fog forecast had reduced visibility at the summit to zero.
We enjoyed our hot tempura lunch (Bungo Chaya Beppu) and took another 2 hour train towards our hotel

6) master Google Map and public transport options
I underestimated public transport coverage in Kyushu.
You can plan 95% of transport on rail, but last 5% on bus will give you a shock!
Imagine. Train services are very accurate and available every 10, 30 minutes(for example). But bus frequency can be every 60 minutes!
Google Maps works for most big cities. But Google Maps failed us when we needed bus advice in Beppu and Kumamoto countryside.
Refer to screenshot below, the "modified schedule" could not predict or advise bus services for us. This is most stressful when you are rushing with two pieces of luggage.
This is why we recommend "Japan Official Travel App" for our friends and those who wish to diy their itinerary.
More precise train and bus inter-connectivity. You can even filter trains and buses by your JR-pass. We could easily estimate our transport fees (and more importantly routes) in advance.
Trains are never late. Eg below. If 0707 (am) Oita, this means the train will leave 0707 on the Spot, you better arrive 10 minutes earlier.
7)Sugoca card for Kyushu
JR Pass might cover the train mileage between prefectures. Sugoca card (also known as suica in other prefectures) will let you tap in and out of non JR trains, buses and trams. (You do not need to queue and buy your ticket everytime, or find the change or coins).
Every prefecture and city you go, download the transit maps and try to digest them. They will help you identify your most efficient routes.
8)When trains and buses do not suit your transfers, Taxis might be the only option left.
We faced this issue in Kumamoto when we wanted to transfer from hotel to Ferry Terminal. There were no trains, buses frequency was every 60 minutes.
We ended up taking a direct taxi from the hotel, cost about 3000 Yen.
*There was a free shuttle bus from city to Ferry, but we gave up after trying to get help from Ferry and hotel reception (too much risks, and miscommunications)
**Those who have tried taking public buses before might understand the stress factor.  Same "numbered" buses can appear, but leading to different venues. Buses timings are not as accurate as trains. We had to double confirm the bus and destination with the bus drivers! (who speaks limited English)
8a)By the way, Didi and Uber apps only work in bigger cities (Nagasaki and Fukuoka).
App was not available in Kumamoto and Oita!

day 1 evening – Mt Aso vicinity
Back to our itinerary. After 2 hour train ride, we reached Aso Station before 7pm. Waited for hotel pickup.
Took a photo of Usopp. You may be keen to find all 8 pieces in Kumamoto. I read somewhere that OnePiece creator wanted to create solidarity with Kumamoto after the earthquake.
Aso Plaza Hotel for one night. We chose this hotel because you can see Mt Aso mountain range from the pool! Unfortunately, the onsen pool is not so fantastic.
By the way, this is Boon Kang's first onsen experience.
Onsen and Ryokan worshippers must visit Kurokawa Onsen town.
Some say this is the best Onsen experience in Kyushu.
Take note rooms sold out fast and one night can easily cost $SGD 300+
Day 2 Mount Aso 阿蘇山
The best highlights of our 8D7N Kyushu are from Mount Aso. Self drive is highly recommended, as the attractions are spread all over. No trains here, only buses, and frequency can be every 45 minutes.
(Kumamoto 熊本 has two main parts, near Mount Aso and Kumamoto downtown).
I had initially wanted to take public transport for Mount Aso attractions, but gave up. Bad idea if you have time constrains. Too tough to plan the "connecting train/bus", and little room for mistakes.
We decided to engage agency Explore Kumamoto for a full day private trip. You will see their name when you google Kyushu attractions and tours. Helen (our guide) was friendly and highly knowledgeable.
Google Map below help me to plot our interests (Daikanbo, Kusasenri 草千里ケ浜, Takachiho Gorge, Amaterasu Railway)
Day 2 was a cool winter 12 degrees instead of 8 degrees, making our walks very comfortable. From the top of Daikanbo, we look down at the valley below.
Imagine. We are on ground level. Previous volcanoes activities have sunken the grounds infront of us!
We all know Japanese are friendly. I saw this mini Honda S2000 (look alike) and requested permission to take a photo. The driver exited the car and gestured me to go ahead!
So embarrassing and I kept nodding and "Konichiwa and Arigato" to him.
Kumamoto is famous for horse and cow sashimi! We opt out 🙂
But we did try fried horse croquette at a famous store (Aso Torimiya).
My own opinion. So so, I might have enjoyed my potato croquette more :p
The highlight of our tours are always about volcanoes and cauldrons. 17 volcanos to be exact! Including the mini volcano (Komezuka) in photo below.
One of my favourite spot was at
草千里 Kusanseri
. As you drive around, you will see grazing cows and horses on the dry brown pastures.
Imagine vast green pastures over the horizon during Spring.
The few photos of Kyushu Mount Aso attractions (in this post) do not do justice to the beautiful sceneries. Click on links (end of page) for the photo albums of each day.
Everyone knows about mystical Takachiho Gorge, but I felt Amaterasu Railway experience was better! (These two attractions are near to each other.)
You can smell Ramen extract during the ride. Relive your childhood memories, take more photos of valleys and old mining tracks.
(Trains only run 8 or 10 trips per day, 30 minutes to and fro)
You will see more of Mount Aso and nearby attractions on our YouTube clip.
Next, we headed to the famous Takachiho Gorge. Take more photos, the waterfall and the natural wall sculptured by years of seismic activities.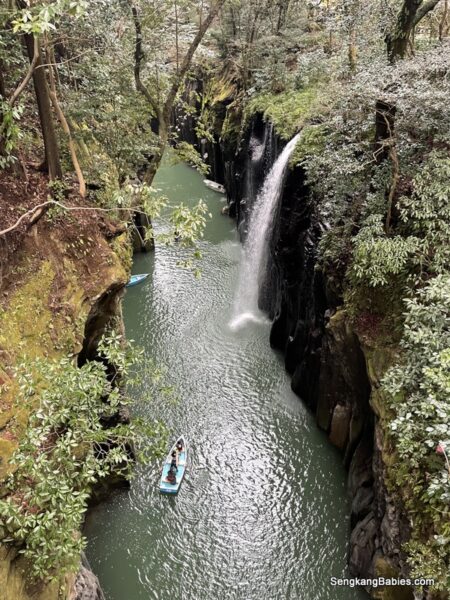 During peak periods, car park space will be limited. You might even need to book your boats in advance. Take note rowing experience will set you back by 4100 Yen or 5100 Yen (about SGD 50 per boat).
I would prefer to spend the money on food.
We noticed many "stickers" on these mini shrines. It seems like Japanese folks will paste their stickers to indicate the shrines/shintos they have visited in Japan. (quest)
Tips. For waterfall fans, you can try these three spots in Kumamoto. Easy to drive there but tough to reach with public transport. (Nabegataki Falls, Koga Falls and Harajiri Falls)
We bid Zoro (OnePiece) and Mount Aso farewell.
Kumamoto is famous for their Garlic Ramen. We love Kokutei 黒亭!
Kumamon home town is in Kumamoto, and this bear is promoting Japanese tourism. There is a Kumamon museum (Square) too!
Day 3 Kumamoto city
Stayed one night at The New hotel, Kumamoto.
We have a short morning to explore Kumamoto city.
Trams are the main transport option for the city. Nostalgia for tourists.
Kumamoto suffered from a serious earthquake in 2016. Many sites are still rebuilding. We see Japanese resilience in every corner
We walked around Kumamoto Castle (above photo), and noticed that many sections had crumbled during the 2016 earthquake.
Rebuilding is literally piece by piece and will take decades to complete. Gosh, the walls are high!
While researching for Kumamoto, I was impressed with citizen's resilience post earthquake. Video below was taken a day after the earthquake!
Authorities were deciding whether to postpone the launch of Kyushu Shinkansen, but decided to went ahead. All the folks along the line (all volunteers) came out to cheer the line, and themselves! (加油!)

You can also admire Kumamoto Castle's splendor from the 14th floor of Kumamoto City Hall (free entrance).
If time permits, I would have explored more of Kumamoto city, especially Suizenji park. But more things await across at Shimabara.
If time permits, tourists would normally stay near the castle.
Tip, you can visit two more OnePiece statues nearby, Monkey D. Luffy and Chopper. (Google Map walking directions)
9)Onwards to Shimabara (Nagasaki). By Ferry
Took a cab to catch our ferry (no trains and infrequent buses).
30 minutes ferry is the fastest way to reach Nagasaki Shimabara.
(Ferry schedules and ticket details here.)
If you only plan to visit Nagasaki downtown, you might consider taking train and loop North (about 3hr train ride)
Hungry seagulls greeted our Ferry ride from Kumamoto to Shimabara. I am not sure whether the seagulls are available throughout all seasons.
If you are taking the ferry, go outside and watch them fly alongside the ferry! You can buy feeds too. (Refer
YouTube
clip 8.30min for seagull feeding)
For those driving, you can roro from Kumamoto to Nagasaki too. Just ensure that you reach earlier (1 or 2 hours?) to onboard your car (and security checks).
10)Two cute attractions at Shimabara.
Try to get three
Shibas
to pop out of the holes! Unfortunately, they were snoozing when we dropped by. (Catch the three cute shibas on YouTube
here
)
Carps are swimming along some of the drains! Water must be so clear and clean. Shimabara area is a small suburb and we enjoyed exploring the neighbourhood. (More attractions listed on Google Map)
Shimabara Castle moat.
From Shimabara, we travel 1hr 45 minutes North then West towards Nagasaki station. If time permits, you might wish to grab a photo at a sea-facing station at "Omisaki Station".
Day 3 evening – Our first capsule stay at Nagasaki downtown.

First & Business Class (capsules) for two nights.
First Cabin Nagasaki. This is an upsized capsule hotel. You get a bit more headroom but width is the same. If you book online directly, you can choose "First Class" for more space.
Photo below, Kang got a normal "Business Class". He does not look impressed.
Capsules are different from hostels. In Japan, guests are not supposed to make any noises inside the capsules or corridors. (What about alarms or snores?)
Guests are encouraged to mingle at the pantry area.
11)Let us talk about Food options and pricing in Japan
Most affordable food (and still delicious) are bentos and options from convenience stores. (7-11, FamilyMart, Lawson etc)
300 to 500 Yen Bento set

Craving for McDonald's? 700 to 1000 Yen for a meal. In previous posts, I always mention that you should try pork burgers overseas 🙂
Cafes or restaurant meals (and cafes) will cost 1000 to 2000 Yen.
I love the quaint and friendly cafes in Japan. The staff and bosses are mostly friendly and accommodating (even when they are not proficient in English).
(photo below from cafe'平井)
Wagyu beef 4000++ Yen (Yakiniku pure)
Unagi 3000 to 5000 Yen. (魚荘)
Those indulging in Omakase can expect to foot 8000++ Yen for the experience.

Those visiting Fukuoka can try Yatai cuisine (street food). Tiny stores, packed with customers and yummy food. Take note it is not street food price, each meal can easily cost 2000++ Yen (not including liquor).
Day 4 Nagasaki city tour
I actually prefer Nagasaki to Fukuoka. It is not your usual traditional Japanese city. But you can definitely feel the lively vibes within the city.
In fact Nagasaki was one of the first cities to open to the world (trade and culture exchange through Meiji and Edo period).
I just cannot pinpoint why I prefer Nagasaki to Fukuoka. (Try to find the heart shaped stone at Spectacles Bridge).
I suspect there are too many temples, shrine and shintos in my itinerary 🙂
Those in Japan will notice these cute K cars zipping around. Maybe it is a lifestyle option, or perhaps Japan families have shrinked.
Each K car is worth 1,000,000 Yen about SGD 10,000) (Still not enough to cover SG COE, so sad)
You will hear Pork belly buns and Castella cakes are famous in Nagasaki. You can find Castella cake in most Kyushu souvenir shops too. (we got it from Fukusaya Main Store)
Coming from Singapore (or Malaysia), the pork belly is meh ( overated). Our 扣肉包 (kong4 bak4 bao1) is more juicy and fatty. Castella cake is like butter cake, but fluffier.
Our second onsen at Fuku no yu (稲佐山温泉). Imagine soaking and enjoying a night city view as you soak. (but the glass panel always mist up.)
Free shuttle buses are available to pick you up the hill.
Our Nagasaki photos are on our Facebook albums. Refer to the links at end of blog post.
Day 5 Atomic Museum and Peace Park(rated 4.5/5)
We stayed two nights in Nagasaki. On the last day, we covered Atomic Museum and Nagasaki Bio Park.
You can see how we travel North from Nagasaki towards Bio Park, Saga and towards Fukuoka on our Google Map link.
Below photo is hypocenter of the atomic bomb. The top of the "black pillar" was where the bomb detonated.
Peace statue. Conveying Nagasaki and Japan's wish for Peace (and nuclear free) world. Those who study history would know Hiroshima was bombed, before Nagasaki.
The museum at Hiroshima is more crowded, but people who have been to both museums prefer Nagasaki museum's intimate touch points.
You will see doves (symbolising peace) everywhere.
The valley of old Nagasaki where the bomb wrecked devastation. Everything within was flatted.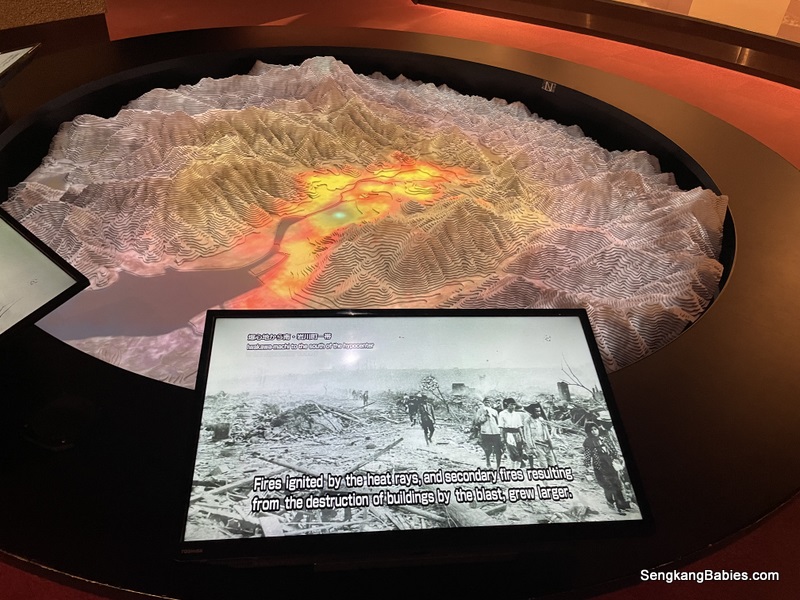 Replica (and cross section) of the Atomic bomb which fell on Nagasaki.
Visitors will see photos and documentation of devastation across the city.
I remembered one before/after photo of Nagasaki city.
The landscape was flattened after the bomb.
The stories of lost and torn families moved me to tears. Poems of remaining families…..
Day 5 Nagasaki Bio Park(rated 5/5)
If you love animals,
Nagasaki Bio Park
will keep you engaged for half a day. No need to visit any other pet cafes.
Location is a bit off if you do not drive. There is a free 20 minutes shuttle bus from
Huis Ten Bosch station
(reservation needed).
We were there for the adorable capybaras, who are supposed to have their own hot springs! Many enclosures allow for close interactions.
Photo below, we highly recommend you to buy ticket for Zoo + Paw 2,300 Yen (adult fee).
Super adorable capybaras! They really enjoy their onsen, and they have a  personalised heater too! (YouTube video link and Facebook photos)
Guests can feed the always-hungry capybaras. Each feed costs 500 Yen.
For smaller kids, the PAW enclosure will be FUN!
Imagine touching and feeding endless guinea pigs, rabbits, cats, dogs and many other small creatures!
After Nagasaki Bio Park, we headed towards Fukuoka for our last stop (city).
You will bypass Huis Ten Bosch theme park (next to station with same name). This is popular with families and famous for night illuminations.

12)For those who drives, refer below Google Map for attractions in Saga, Kurume and Yanagawa (boating and best Unagi).
I would strongly recommend Yūtoku Inari Shrine. This is one of the most iconic shintos in Japan. Refer our Google Map for more details.
*13) I would strongly recommend fruit picking near Kurume and Yanagawa. This Fruits picking link shares farms and fruits availability based on seasons.
Day 6 Fukuoka
Fukuoka 福岡 for 3 nights.
After checkin in, we walked to the famous Ichiran building. No queues outside, but expect the queues to go up to 4th or 5th storey inside!
r
Please pay and queue 45 mins for the Ramen.
Bought some Donki souvenirs. Some Donki branches are open 24 hours.
In between two hubs (
Hakata and Tenjin stations
), easy access to Nakasu neighbourhood. The other lifestyle hub would be at huge Canal City Hakata.
Compared to the other prefectures, Fukuoka exudes sophistication and offers plenty of shopping and experiences. Imagine, all the best food of Kyushu can be found in Fukuoka
day 7 Fukuoka breakfast
Our hotel is famous for their breakfast. You will see from the photos below. We enjoyed superb hospitality at the hotel too. Super friendly staff and a 7×24 complimentary pantry!
Complimentary Coffee or chocolate after a cold walk is always appreciated.
Simple yet elegant fare from our hotel. Using fresh produce from Fukuoka, you can try to follow the template for the perfect "plating".
I enjoyed my breakfast, even though I could not understand most of the ingredients. Thank you.
On day 1, we landed in Fukuoka and went clockwise to Beppu, Mount Aso, Kumamoto, Shimabara, Nagasaki and back to Fukuoka (3 nights).
Many take day trips from Fukuoka to Beppu or Mount Aso. Kagoshima is 1hr 45 minutes by Shinkansen. Airport is only 15 minutes + away from Hakata station.
You would notice there are many Koreans in Fukuoka!
Busan is only 3 hours away by boat.
Day 7 DazaIfu
Woke up early and headed to Dazaifu (太宰府). There are too many Guan Yin and Buddha places of worship in Fukuoka. I chose Dazaifu as it was the most popular, and there is an interesting street food. (you might prefer the sleeping Buddha Nanzoin)
The old trees(centuries old) and red bridges are also attractive and instagramable.
Do take a 10 minutes detour to visit the glass facade of Kyushu National Museum. Love the green hilly reflections.
I mentioned street food. You will see an iconic Starbucks (queue too long). Try the Mochi red bean, and optional chicken burger.

You can spot more Dazaifu and Fukuoka photos in our Facebook albums (here and here).
Day 8 Fukuoka food food food shop shop
Fukuoka is the capital city of Kyushu. So naturally, every prefecture's famous dishes are also represented in the city.
They even designate a whole fifth floor on Canal City Hakata for Ramen stores!
14)You would notice that every Fukuoka itinerary will have a Canal City stopover.
If you are clueless where to go, Canal City can keep you busy for half day easily. Shop, Eat, Experience.

Photo above is from Umaya (Canal City).
Below Sushi train is from  Kura Sushi (くら寿司 博多中洲店).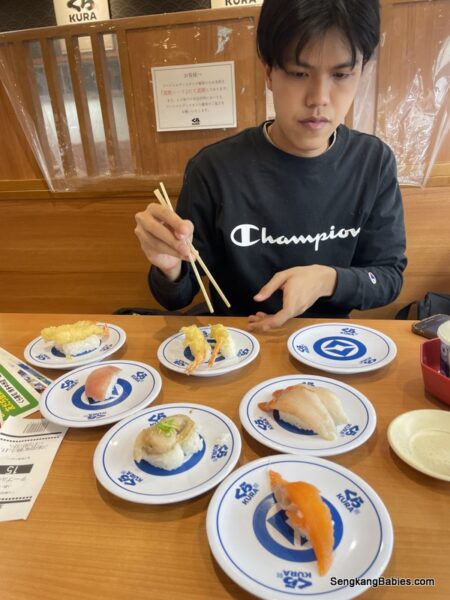 More cafes hopping. Muji 無印良品 was a surprise treat.
We visited a famous Tempura Hirao chain too. Fresh ingredients and delicious cuisine.

Google Yatai and you will see concentration along Nakasu(5 minutes walk from Canal City) and Tenjin station.
I have only listed 50% of our Fukuoka food hunt, everything else is in our Facebook albums 🙂
Below Gundam photo was from their regular fountain feature show.
Fukuoka sightseeing led me to the most happening manga and cosplay shop at MANDARAKE. Three storeys of toys, comics and weird costumes (LGBT too).
Japanese are very accustomed to all queer stuffs, but tourists will be very curious!
Those who visit Lalaport are there for the large Gundam statue! There are lifestyle shopping and cuisines too.
I did not visit Gundam Park due to time restrictions.( Gundam fans please do not repeat my mistake.)
Fukuoka is well designed for walking. Many attractions are close to each other.
Tochoji Temple looks grand and the wooden Buddha is imposing.
This mask at the entrance of the shrine (Kushida Jinja) is meant to welcome the new Spring.
Weather is too cold for me to cycle or jog. I did the next best thing, brisk walk to Fukuoka Castle ruins and Ohori park.
Fukuoka Castle is a popular site during the Sakura season. Ohori park is just a normal park, packed with joggers, cyclists and families.
*Best Sakura spots in Fukuoka.
–> https://www.facebook.com/reel/601913908179631
Additional Kyushu tips
15) (Updated Apr 2023 Japan will remove all Covid border measures on 08 May 2023)
Visit Japan Web – Covid and Customs online declaration. Please fill in this form before you arrive in Japan. (updated as Feb 2023)

16) Japan Official Travel App
16a)If taking public transport, download Japan Official Travel app. In countryside, GoogleMap might not be helpful (or accurate) for bus navigation.
*17) Additional Google Map tips and hacks
Plotting your own itinerary is fun and tiring. You can cluster nearby attractions together. Refer to our clockwise Kyushu Itinerary map here. (viewing experience is better on Desktop)
You may pop by our previous post about Google Map hacks here. https://sengkangbabies.com/holiday/google-map-hacks
18) YouTrip debit card (or Wise)
-Withdrawal from ATM (Master or Visa friendly). Admin fee applies.
-Take note different ATMs might have different withdrawal cap (some might limit to 50,000 Yen only)
-Just topup amount needed, YouTrip can do auto conversion for you
Payment (and withdrawal) with YouTrip card is generally cheaper than credit cards.
(Recommend to LOCK your Youtrip card when not in use)
19)eSims or wireless wifi
I used eSim from icard (icc) website. Cheap, easy to setup and I can reload for future trips. Only families and groups might still prefer wifi-router.(some countries eg Malaysia might cap at 2Gb per day only).
20)Weather forecast
Snow or storm, forecasts will help you plan your journey.
Accu Weather is useful for us, use the Radar function to estimate wind and rain directions.
Although we visited Kyushu during Winter, there were still patches of rains around the island.
Weather forecasts (and fog) might determine your ropeway and Ferry trips Go or NoGo too.
21)Japan Echo App for luggage
It is very inconvenient to lug your luggages wherever you go. Rolling down train stations (or trying to find the lifts) will take up a lot of time and efforts too.
The best option is to leave your luggage in a locker. But lockers (especially for big pieces of luggages) are always in short supply. Try Echo App to hunt for alternate luggage storage nearby.
Take note each luggage might cost 600 to 800 Yen per storage. This will add up substantially after a few stopovers.
*22)All our itinerary and points-of-interests have been added to our customised Google Map (Google Map link)
We hope to Hike or Cycle Kyushu in the near future.
Our 8D7N Kyushu Itinerary YouTube video

Click for More photos from our 8D7N Kyushu itinerary:
– Day 1 Fukuoka to Aso
* Day 2 Mt Aso and Takachiho Gorge
– Day 3 Kumamoto city, Shimabara Nagasaki
– Day 4 Nagasaki and Atomic Museum
– Day 4 pm Nagasaki Bio Park
– Day 5-7 Fukuoka
– More Fukuoka photos
ps..
Read our previous Japan itinerary here:
– Kamakura Day trip (from Tokyo), and Enoshima Island
– Gokart (Mario Kart) in Shibuya!
– Sento (bath house)
– Tokyo Itinerary