Hiking Kranji Forest was on my to do list. First, we heard about the accidental clearing by JTC's contractor, then I saw Brice's awesome drone footage!
You may follow my Google Map GPX for the North route.
How can this be Singapore!
The opportunity finally came when I gathered with my friends to hike Clementi Forest. I proceeded to walk 17km to reach Kranji Forest.
Click to read my Clementi Forest and Green Corridor hike posts.
On a side note, walking is one of the best ways for me to clear my mind. Just walk and reach the next checkpoint, detour when you feel like it. Take some photos and enjoy nature.
Even when you are lost, there is a sense of liberation! Sense of freedom, getting away from day to day mundane duties 🙂
First tip for Green Corridor. AVOID weekends!
Just head North all the way. It is very hard to get lost. You might detour a bit, but you will likely be on a parallel track.
Example, the stretch behind Hillview Mrt is still not ready.
Walk about 300m along Upper Bukit Timah Road until you hit GPS 1.365542, 103.766719. Turn left and continue along the green rustic canopy.
(Take note Hillview side of Green Corridor will be closed till q2 2024)
14km point is near to Mindef Gombak.

Walk towards Junction 10, and you will spot Bukit Panjang LRT zipping across.
Old KTM structure.
Cross Choa Chu Kang Road, and I landed on Pang Sua PCN.
I suspect the authentic path should be to route East of Junction 10 and walk towards the Heavy vehicle carpark (GPS 1.381487, 103.758940). But Pang Sua PCN is more scenic 🙂
I would recommend Junction 10 for your rest stop or toilet break. As you head North towards Sungei Kadut (another 4km), it is harder to find coffeeshop, 7-11 or petrol kiosks.
Cool treats to reward myself, 17km is not exactly a walk in the park. You will be surprised how ice cream can motivate your brain to go further 🙂
Imagining myself in a temperate country's wood lands, but alas the humidity got to me.
Walking under KJE.
Nparks just announced a new bridge to connect to "Villa Verde Park" .
Heavy vehicle carpark at Stagmont.
As you walk along these bushes, listen for all the weird insect buzz and birds crooning. Rail corridor is so ALIVE!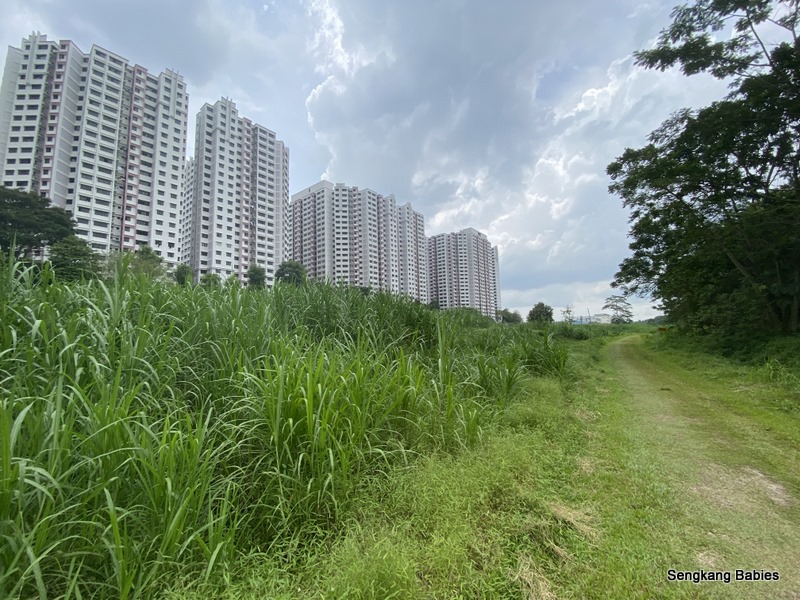 18km point, this kilometre marker starts counting from Tanjong Pagar terminal.
Refer Google Map below. Point 1 is start of Pang Sua PCN, next to Junction 10.
As you depart from Pang Sua PCN (near to point 3), and head North towards Kranji. You are walking in parallel to the "lesser developed" Pang Sua river (between Point 3 and 4).
Had seen Min Desmond enjoying his kayaking there. Looks cool!
Spotted many free roaming chickens and chicks around this stretch! Feels like a Malaysia Kampong backyard.
You will notice the trail gets more rustic as we leave the HDB blocks behind.
Watch out for heavy vehicles at the bend along Sungei Kadut Avenue.

Familiar Mandai Shell station, cyclists will know this point.
How rustic do you wish to get? Mud and mangrove galore 🙂

About 1km from end-point, the rain could not wait any further…
Actually, the rain had been creeping up on me since Hillview area. Felt a bit guilty about that extra 15 minutes of ice cream indulgence time :p
Train from Kranji station heading towards Yew Tee.
Quicken my pace as dark clouds loom.
Kranji Forest looks magical.
But take note many fallen branches line Kranji forest. Be alert and try to go with a partner. This place is too isolated.
The track is a cycling heaven for mountain bikes (MTB), but foldies will struggle (mud and terrain). One fine day (not muddy), I will bring my Crius Master to cycle in reverse direction from Kranji Forest to Tanjong Pagar Terminal (Spooner road).
The only shelter along the trek North to Kranji Forest would be under MRT viaduct or the bridge structure below.
I took a short break here for 5 minutes, but decided to proceed as the rain will only get bigger.
Although the blog post is titled Hiking Kranji Forest, this stretch is only 600m!  But it does look like a scene out of a fairy tale.
The mist added to the mystery aura. So Enchanting!
We can see the boarded sections along Krangi Woodland Forest. This section is close to Kranji Close entrance.
Fortunately, I had decided to hike on, as the drizzle became a downpour. I would be stuck if I had decided to stay at the shelter.
Take note Kranji Forest can be flooded as the streams on both sides will overflow. (Take note the toads will be super loud too!)
Exit Kranji Forest junction totally drenched but super ecstatic.
Changed and took a bus to Woodlands Interchange (do take note the Bus stop location is slightly off on Google Map).
Rainbow Bridge would be another 600m from here, but I will have to wait till another day. Take note Rainbow Bridge opening hours (0500 to 1000, and 1700 to 2200).
Video: Hiking Kranji Forest from Green Corridor (YouTube)

Second clip, it is raining!

Click for the trail route from my Google Map GPX. Checkout more photos of Hiking Kranji Forest from our Facebook album.
If you love nature, do pop by the following posts:
– Hiking Green Corridor
– Clementi Forest (photos)
– Kranji Forest (photos)
– Bukit Brown and Avatar trees
Do pop by our Clementi Forest Video and blog.