Taiwan Giant bicycle rental is straightforward and easy.
We will share the steps in this post.
Scenic 花蓮 Hualien!
The first impression when I reach Hualien is the mountain ranges all around. Maybe this is the feature for Taiwan East Coast, townships are always squeezed between mountain and sea 🙂
October temperature is starting to turn cold (nearer to Autumn) and rain is minimum. We were very lucky to get 25-28  degrees during our rides. (avoid cycling between June to Sep 30+ degrees!)
Hualien Activities
This is part 2 of our Hualien activities, read the first part here. Highlights:
-Arrive Hualien and lunch
-Checkin to minsu, 東之戀民宿 (8 min walk  from Train Station)
-Bike collection (Giant)
-Warmup ride to Qi Xin Tan beach
-Back to minsu after 20km
-Pack and send our luggage to Taitung (train service)
-Night Market dinner
Hualien Taitung Itinerary
Before we share more about 捷安特 Giant Bicycle rental, let us share our Google Sheet itinerary first. We have added the GPS and proximity of attractions, F&B near to train station.
Our Google Sheet itinerary is at this link.
Due to time limitation, we would need to visit gorgeous Taroko Gorge next time. Trip requires a 2 hour transfer from Hualien City, full-day trip recommended.
錐麓古道 Zhuilu trail sounds interesting.
Hualien is a good base to explore nearby attractions too.
–清水斷崖 admire the sheer cliff drops! (and Pacific Ocean blues)
–翡翠谷 Emerald Valley (need to walk 10 minutes in), 鯉魚潭 Liyu Lake
–雲山水生態農莊 anyone?
Taiwan Giant bicycle rental
The first step to cycling would be to rent a bike.
捷安特 Giant Hualien is one popular option (next to Hualien Train station).
Three Easy steps to book your bikes
Step 1) Contact 捷安特花蓮站 on Facebook or giant.d21134@msa.hinet.net
*Bicycle booking details and FAQ ( link), Google (map).
Step 2) Tell them your Start and End point, and cycling dates
Step 3) Choose your bicycles (mountain bikes or racers). Electric bikes available too but limited by battery life (every 50km need recharge)
Giant accept credit card payment, and you only pay after bicycle collection.
Bicycle rates are only SGD $15 to $20 per day!
Bikes will come with panniers, and lights (for tunnels).
We would recommend your own GoPro.
We always target to reach our destination before 5pm. Sun sets around 5.30pm and it gets dark around 6pm.
As we did not wear cycling shorts, INVEST in a thick cushion seat!
Your bum will Thank you.
Helmet is most important safety gear.
Not inclusive in Giant package, rental fee is NTD 100.
Other protection would be gloves, sunglass, arm-sleeve and sun tan.
*Take note Giants shops are closed on Thursday.
What to pack for your cycling trip?
Image below is a reference, every family would have different needs. Packing and unloading will become easier after a few tries.
Only heavy thing we had was our notebook, we need to backup our photos.
Anything extra will be sent via luggage to destination. Taiwan train services offer this service all around Taiwan. And it is very affordable too NTD 50 (one piece SGD 2.50 only).
*This is a lifesaver service, take note "delivery office" close at 8pm.
** Do waterproof your items, and get a raincoat for yourself. Rain is quite common in Taiwan, but we were lucky
Before we set off, we recommend Taiwan Tourism's cycling ebook too.
Warmup Cycling around Hualien
After collecting and equipping our bikes. We went for a short 20km warmup round.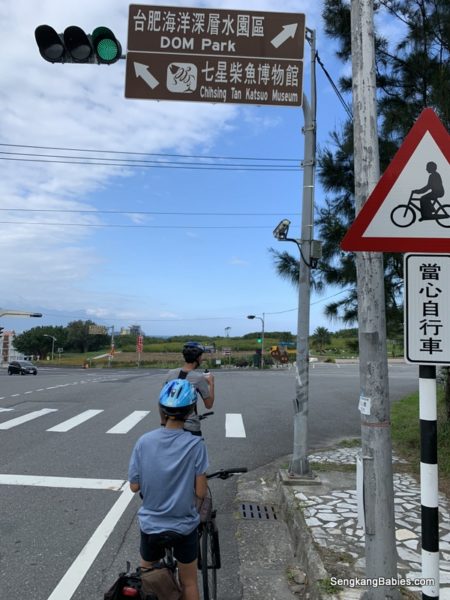 We have highlighted these spots in our 4D3N Cycling Summary post, 七星潭, 四八高地 and 奇萊鼻燈塔.
Beautiful and scenic coastal area. Just take note there are a lot of dogs in Taiwan (both pets and wild). Most only bark :p

Hualien Night Market
Dinner at 花蓮東大門夜市 Dongdamen Night Market.
No 3 Yee and his 滷肉饭. I could count the number of meat pieces! Yee loves his rice but I found it miserable :p
炸蛋蔥油餅 (4/5) (stall in market)
Best! Super oily, but the egg will melt into the dough.
Google Map tells us there are two other authentic stalls 🙂
蔣家官財板 (4.5/5)
Imagine French toast, with 20 choices of ingredients!
Choose the correct stall, there are three in this night market!
Accommodation, booking dilemma
Comfortable bed, friendly host. We set off early at 0700 the next day. We could keep our bicycles in the hall.
The dilemna with a daily change of minsu (homestay), on a cycling tour. How do we estimate the mileage and plan for next rest point? There are plenty of dynamic factors, when we are on the road 6 to 8 hours a day.
For example. Starting at 花蓮 Hualien (Highway 9), should we rest at :
-光復 Guangfu Town-50km. Or stretch it to ..
-瑞穗 Ruisui-70km
-玉里 Yuli-92km
Do we have the Stamina? If we are over-ambitious and book too far away, we might rush through our journey.  This can be dangerous as we might lose concentration, and also opportunities to discover local attractions.
What happens if rain or punctures delay our trip?
Where/when do we want to take our rest and meals?
What happens if we are forced to cancel our minsu (lose the deposit?)
Very often, we could only confirm our stay 24 (or even 4 hours) before we reach. Since Oct is not peak-season, we had plenty of options (plan A, B, C etc).
Which town has more amenities and food? In above example, Yuli and Ruisui confirm more happening than Guangfu 🙂
Our short stay did not do justice to Hualien. We would like to come back again and spend more time exploring the mountains.
Stay tune for more adventures and photos.
Do follow our IG Story too #sengkangbabiesTaiwan #SengkangBabies花東
You may reference our Taiwan cycling posts at this tag SengkangBabies花東 : *Google Sheet itinerary (GPS inclusive)
*4D3N Cycling itinerary and summary
-Day 1a-Hualien-Taiwan Railway Online booking
-Day 1b-Hualien-Taiwan Giant bicycle rental and Hualien attractions
-Day 2-Cycling Hualien to Ruisui
-Day 3-Cycling Ruisui to Yuli, route 193 is SO beautiful!
-Day 4-Antong to Donghe (Attractions along Highway 11)
-Day 4/5 – Surfing at Dulan
-Day 5 – Taitung top attractions, Kaohsiung, Home
Video: Cycling Hualian to Ruisui

Video: Cycling Ruisui to Yuli (so pretty!)

Cycling Highway 30,11 Yuli to Taitung

ps.. Do follow our Cycling adventures on Instagram hashtag #Cycling
We enjoyed some discounts from our Giant bicycle rentals