Singapore celebrates its 49th Birthday this year.
The theme for 2015 is "Our people, Our Home".

Life is good in Singapore.
We complain about delayed train services, flooding, P1 balloting, and even LGBT issues. We do not have to worry about threats or life and death issues on a daily basis.
We have so much time to bicker and pull each other down.
Nobody cares about difference of opinions anymore, it is either My view or Your view.
Voices are getting more vocal and less tolerant.
Daddy cherish our way of life (the peaceful one).
We can walk in the evenings without fear of muggings.
Kids go to school and do not worry about being gunned down.
Food and transport is relatively affordable.
All our complains are so insignificant compared to real World issues.
Perhaps this National Day, take a step back, and count our blessings for Singapore.
Is Singapore perfect? No.
Are we gracious? No.
Can we make Singapore better? 100% YES!
Enough ramblings, we are supposed to blog about our 2014 National Day Parade first full-dressed rehearsal.
We started our Day with a cruise down Marina Bay. Not any normal cruise, but our RHIB (rigid hull inflatable boat) can reach 30 knots!
eBrake, splashes, getting wet and acting cool is part of the itinerary.
Have you seen our exhilarating boat ride already? (click for RHIB link)

Those without balaclava (ie Andy, Boon Wee and Kelvin) are bloggers, not Naval Divers :p

Checkout this link on how SAF helps to fight piracy at Gulf of Aden (part of an international task force).
Video : If you ever get an opportunity to ride a RHIB, Go for it!
Waves at 40s caught our DSLRs by surprise.

We tour a parking lot too. The kids love posing with the hardware from SAF and Hometeam.

Kids were reluctant to dismount from the Terrex, they can play remote targeting (gun mounted on turret), and Terrex got aircon too!

We supposed the view from the top of the 10-storey Ladder should be splendid.

Milo and snacks for the hardworking performers and volunteers, and (cough) media group too.

** This NDP Rehearsal is part 2 of Mindef and NDP's bloggers engagement programme, we also visited Paya Lebar's to witness how F15SG pilots prepare for their NDP flypast (click link)


(image credit Mindef PR)
At around 4.30pm, we collected our NDP tickets and oh-so-vibrant colourful Funpacks. Seated at the Yellow sector, a Big TV greeted us.

This is the first time that MINDS is participating in NDP Parade. Drums away!

Everyone is in a party mood, even the weather is nice to us. The haze in 2013 had disrupted some rehearsals.

SAF's Military Band and Precision Drill squad lead the way.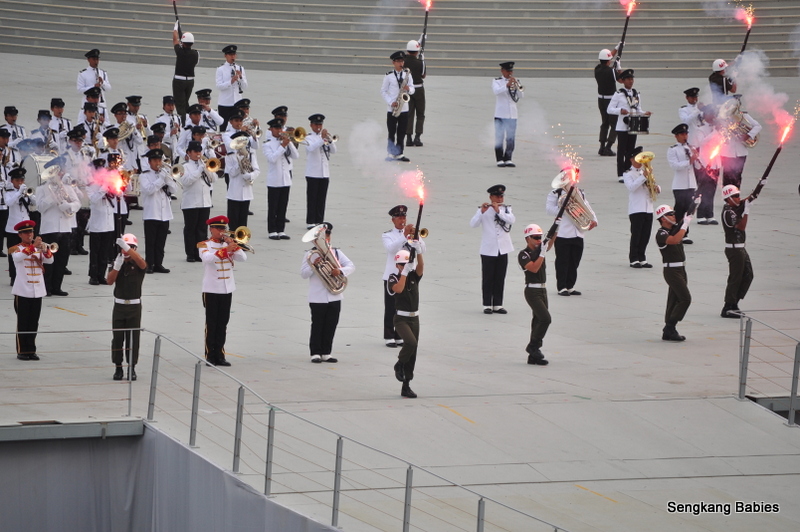 As the contingents start to form up, we can spot the 25-pounders floating by. They will be giving the President a 21-gun salute.

We spend almost 11 hours at the NDP area, no wonder the little ones might be a bit overwhelmed with the full suite of activities!

Catnap spotted.

Red lions and Chinooks (with Singapore Flag) are always crowd favourties!

Everyone "woke up" and sang Majulah Singapura with gusto.

Our Happy Family in Red and White.


(photo credit David from OurPrincessDana)
Try to spot the 25 pounder's ring.

Dynamic Display kept everyone glued to their action-packed routine.

Contingents marching off into the crowd, everyone waves bye bye. Thank you to the hardworking participants!

Video : The highlights of NDP 2014

When the sun set, everyone took out their light sticks.

More Singapore Stories unfold on the stage. The drizzle could not stop us from enjoying the SHOW !

Fireworks cap the evening.

We love the songs for 2014 NDP. Yesterday's favourite melodies tell the stories of how Singapore is growing, the music video talks about family, respect, love and care.
Daddy got some goosebumps in some of the scenes.

Thank you Mindef PR for the invitation, there is no better platform for families to express their Love, patriotism for Singapore! Thank you to all the performers and volunteers for your sacrifice!
More updates about NDP can be found on their website and Fanpage.
NDP 2014 will be the last National Day Parade at Marina Bay's floating platform.
2015 will be at Padang (with mobile column), followed by 2016 at the new stadium.
– Do pop by our NDP 2013 experience
– 2014 F15SG NDP preparation at Paya Lebar airbase
– and more photos of NDP 2014 full dress rehearsal on our Fanpage
Singapore, we have a lot to be proud of for our 49th Birthday! We love Singapore !

** Ch5 and Ch8 News are giving away a pair of NDP tickets every evening
*Thank you Accord for the tickets!