Pelepah Waterfalls is one of the cool Johor waterfalls. Situated in Kota Tinggi, I had visited  Pelepah Waterfalls in Sep 2018, read the fun review here.
Our hiking Fun is in this video (YouTube) 🙂

We make a slight detour to Kiang Kee Bak Ku Teh 强记肉骨茶 (GPS 1.827193, 103.958769).
A=Kiang Kee, B=Pelepah Waterfalls trailhead
This is a popular pitstop for those heading North East to Mersing.  And Kiang Kee is now officially our best Bak Ku Teh in Johor (replacing Hwa Mei 华美肉骨茶  )
Must top up our energy before exercise, many families were here early to enjoy the herbal goodness too.
Yummy! Our table dishes came up to 80 ringgit only.
After a 30 km drive, Pelepah Waterfalls trailhead is just in front of Kota Tinggi Waterfalls entrance.  The carpark is just 20m ahead, a side entrance on the right (no need fees).
After parking the car, we backtrack and went under the bridge.
Kids were a bit hesitant about getting their shoes wet so early, but there is no ESCAPE haha.
You will only walk 30m before turning left and climb up to the gravel road.
10 minutes from the bridge, you should see this pond on your Left (below photo).
Alas, the trail markers (aka ribbons) have all been removed! Otherwise, hikers could just follow the red/white ribbon to the waterfalls.
We would not recommend first timers to explore this trail yourself, you could accidentally end up at Gunung Panti (Our 2016 blog, many steep climbs)!
No permit or guide is officially needed for Pelepah Waterfalls trekking.
You should go with someone who knows the way, or follow a Meetup group.
We had a friendly guide dog. But do not pet the wild dogs as we noticed its eye was infected.
5 minutes from the Pond, you will cross this stream.
10 minutes from the stream, you will hit a Y-junction. Turn right and walk up a small slope.
We only had two day bags. Do pack whistle, head torch, first aid pouch, water (we had 2 x 1.5l) and snacks.
Turn left over the small gap, and turn left to go down the slope.
You will see this "bridge" after about 10 minutes.
Remember the Y-Junction earlier, we took the wrong left-turn and nearly hike up to Panti! (Do not follow the yellow tags and signboard unless you are going to Gunung Panti )
Back to our trail, my first pair of Kampong Adidas.  I should have worn a pair of socks, my toes felt uncomfortable when walking downhill (lesser grip). Flat road and uphill no problems.
Once you see this pond, the way ahead is straightforward. And Beautiful!
Just be careful with your steps. Rocks (green algae) can be slippery, you should "tap twice" to make sure the surface is not slippery.
Make sure the water is clear (not murky) before you step down, you could accidentally slip and twist your ankle.
Be vigilant, go slow and everyone should be safe.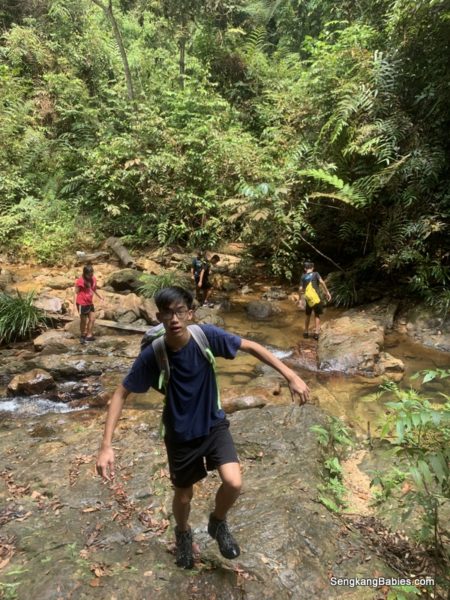 The rock wall is the first Major obstacle. Grip the ropes and slowly pull yourselves up. The stronger one can station half way and give a supporting hand.
This would not be a challenge for the kids, but Mommy need some reassurance. The climb looks intimidating but can be overcome.
On the other hand, I keep reminding kids to grip tight. One slip and you can land badly.
After 5 minutes, you will see this mini waterfall. Take a short break here and dip in the cool water.
There are ropes to mark the "deeper pool" areas.
Picture below (left side with ropes), this is the 2nd rock face.
Go slow, step properly, get a firm footing and you should be ok.
This rock faces is tough for Mommy as she never participates in a lot of outdoor activities. But it is super easy for those who have attempted Gunung hiking before.
5 minutes from the 2nd rock wall, a corridor of cool water awaits.
REFRESHING! Water can be up to 1 metre at some sections.
Climb up this ladder at the end of the 80m corridor.
Another waterfall awaits. This is the 2nd waterfall and we had our "lunch" here. Kids had fun trying to trap the fishes too.
The fallen logs demonstrated the power of nature. The trunks might have fallen during a thunderstorm.
If there was a heavy rain beforehand, you might want to avoid Pelepah Waterfalls (or other Johor Waterfalls hike). Water might suddenly gushed down.
There is actually a third layered waterfall, but we decided two waterfalls for the day is enough. The Mrs had struggled after two rock faces hee hee.
We had taken 2 hours to reach the 2nd waterfall.  If you are relatively fit, you should be able to reach the 2nd waterfall in under 1 hr 30min (estimate).
You may visit the 3rd waterfall in my previous Pelepah Waterfall blog.
Heading back.
More water fun and chills.
By the end of our trek, kids would prefer water walk over sand trail anytime!
Scenic water bodies.
We scored A for Team effort!
We need to look out for each other.
Someone topo (navigate) infront.
We swap the load around.
Pull each other across obstacles.
I had to play the Chief Motivator Role.

Mommy's smile says it all. Although she is not athletic, she is willing to try  everything with the family. Kudos!
She even brought back a leech souvenir to the car park.
Our trail was roughly 2 hours, super slow and easy pace.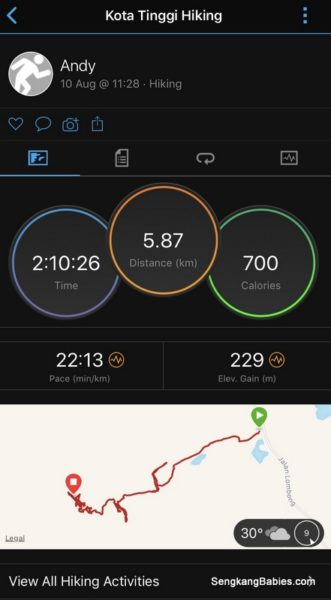 AllTrails App recommendation
I would like to recommend another hiking app, AllTrails (Android and IOS)
-App allows us to Record our path and we can simply follow steps back , if we should be lost
-App offers trails recommendations from fellow hikers, with photos too. This would be good when I am traveling to a new place.
-Free version of App serves my purpose
-You only need mobile signal, 4G not needed
-GPS will drain faster, prepare extra power bank for phone
-Trails galore in Singapore, imagine the fun when I bring this app to Malaysia Gunungs
Johor Waterfalls mural at Kota Tinggi town.
We had wanted to enjoy famous Kota Tinggi Wanton noodle but shop was closed. Yap Fong Noodle House 叶芳面家 (GPS 1.727552, 103.899047)
Additional tips:
-More photos from a previous trip (blog)
-All our Hiking trips are listed here https://sengkangbabies.com/tag/hiking
-Do take note part of the track is on private property, if caught, please say sorry and do not argue
– Do not leave any rubbish behind, bring the rubbish out of the forest to bin
-Hikers can shower at the Kota Tinggi Resort (nominal fees). Small tap
-Permit and guide is not needed, but we strongly recommend you to follow someone up to Pelepah Waterfalls
– If you need reference for Malaysia Guide or permits, do drop me an email andy@sengkangBabies.com
-Although it is a day trip, I always pack emergency equipment like whistle, compass and night torch (just in case we are lost)
-Do take note of these emergency contacts:
a) 999 or 112-This will activate Police or Ambulance
b)994-Bomba (Emergency Rescue)
-If my Johor Waterfalls path suggestion is longer or wrong, please share the correct path with us. Thank you.
ps.. Follow our Instagram tag #SengkangBabiesJohor for more JB adventures