It is FairPrice Walks With U, but kids must have mistaken it to be Fairprice Runs with U! Together with our friends from Heng Family, the kids were dashing every few 100 metres.

Pretty energetic Saturday morning.

Marina Bay was a sea of Blue today.

Smiles everywhere, from Promontory to Marina Bay Sand to Gardens by the Bay to Marina Barrage.

Plenty of opportunities for us to pose with the landmarks.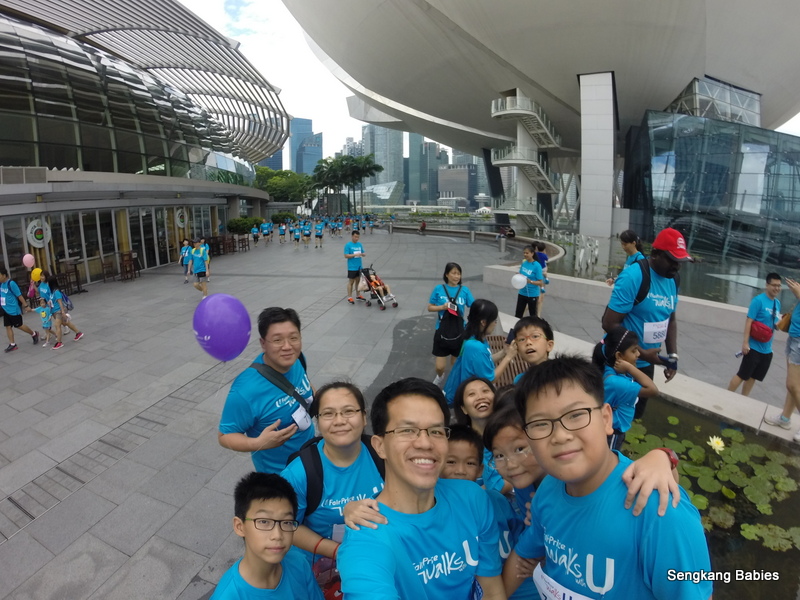 Or the buskers and cosplayers.

Hooray, we have reach the top of Marina Barrage after 45 min slow walk.

Yeah, halfway point and felt so happy that we perform a cheerleader jig too.

Video : We love Fairprice Walks with U !

Marvelous blue skies, with cooling wind, and the Sun was not too harsh. Prefect for a family day out 🙂

We always have time to enjoy the lilies and fishes under Art Science Museum.

Xin is not impressed by the sexy samba gals. The drums are too loud 🙂

We did it, nobody complain during our 5km route. Proud of the kids !

Games and more drinks await participants.

After we had our lunch, we went back to Gardens by the Bay's Children Garden to cool down. Read our previous preview here.

Thank you NTUC for the invitation! Besides a fun day for families to get together, NTUC Fairprice also presented a cheque for $1 million worth of food vouchers for less privileged families.
Do pop by our Fanpage album for more even photos. Click for our 2013 Walk.