There are not many 7 seater SUVs (sport utility vehicle) out there in the market.
You cannot miss Kia's Sorento, as this SUV is HUGE from every angle.
If you catch one in your rear view mirror, descriptive like Masculine and Power comes into mind. Go nearer, and Sorento's sporty front grill, and the headlight leds will compel you to take a second glance.
We got to test drive the Kia Sorento for one week because we won a photo contest.

1) Driving experience
We own a Honda MPV (which is much lower), and with the Kia Sorento, we have to literally climb up our ride. Like most SUVs, the driver and passengers sit higher, giving us a commanding view.
Press the button, hear the engines purrs. Daddy always joke that we are in a cockpit, and our aeroplane is taking off.

Daddy always make sure that everyone is properly secured because he knows what is under Sorento's hood. The (Euro V Diesel) 2.2l engine delivers maximum power of 197ps at 3800 rpm, and maximum torque of 436Nm at a low 2500Rpm !
We can definitely feel Sorento's raw power when we overtake.
Sorento offers three steering modes (Standard , Sports, Comfort) to suit your driving feel, control, and grip. Daddy felt that the steering is a tad too light, even for Sports mode.
We need to adjust to Kia Sorento's hugh dimensions.

Maybe Singapore's carpark lot is too small, one side of our door is always near to the neighbour's car. Do watchup for the hugh side mirrors during manoeuvring as we do not wish to scrap the wall or pillars. It will be challenging to wriggle along Geylang's narrow streets for supper !
2) Safety
Within the tensile steel chasis, the driver and passengers should feel safe. Touch wood if there should be any impact, the Sorento comes equipped with rollover sensors and six airbags (1 each for front row seats, and curtains for front two rows. Third row no airbags.)
IsoFix (also called LATCH system) is available to secure our baby seats. More info about how to secure baby seats to Isofix system is available here.
There are images of air-bag and Isofix system at US Kia website.
Kia Sorento comes with the standard sensors and rear view camera. If we are not confident to parallel park, watch how Daddy engaged Smart-Parking-Assist-System (SPAS). Do take note SPAS is not available for vertical parking, and there is no auto-system to help you manoeuvre out of a tight carpark lot 🙂
Video : SPAS, we just have to watch out for blind spots and control the brakes.

3) Design
The Sorento sports the same grill design as the Cerato. Maybe the designer is from Audi, Sorento displays eye catching style from near or far.

The console comes with a host of features which will delight gadget freaks. Bluetooth hands-free which supports voice activation, auto cruise, audio control, just plug in your iPhone or android system. More specifications here.

We all love the paranomic sunroof. Kids demand that we go topless whenever we are driving. When it rains, we love the sound of the raindrops pelting on our roof.

If we are going to purchase a new car, Daddy suspects the kids will make sunroof a priority !

4) Comfort
We have ample space in the front two rows, but we suspect the last row might be a bit cramp for adults. We have no problem fixing two child seats and one booster.

The 7 seat combination (image from Kia website).

If all seats are fill up, the Sorento will not have much boot space left for a decent luggage. Big families might need to invest in a roof rack system to store their bags.

The standard 19″ wheels and soft suspension will snuff out any potholes on the road, ensuring ride comfort for the passengers. Although the diesel engine rumbles louder (compared to petrol engines), the passengers within the cabin are well insulated from the engine sound.
Driver and passenger have independent air con controls (Dual Zone).
5 ) Fuel Economy
The 2.2l Diesel engine outperforms most 4 cylinder and v6 engines. We know it is fast, but "Euro V diesel" standard has improved emissions (exhaust) and fuel-economy too.
Sorento's six speed auto transmission allows for smooth tranmission during gears shifting. There is even an Active-Eco button to help improve fuel economy.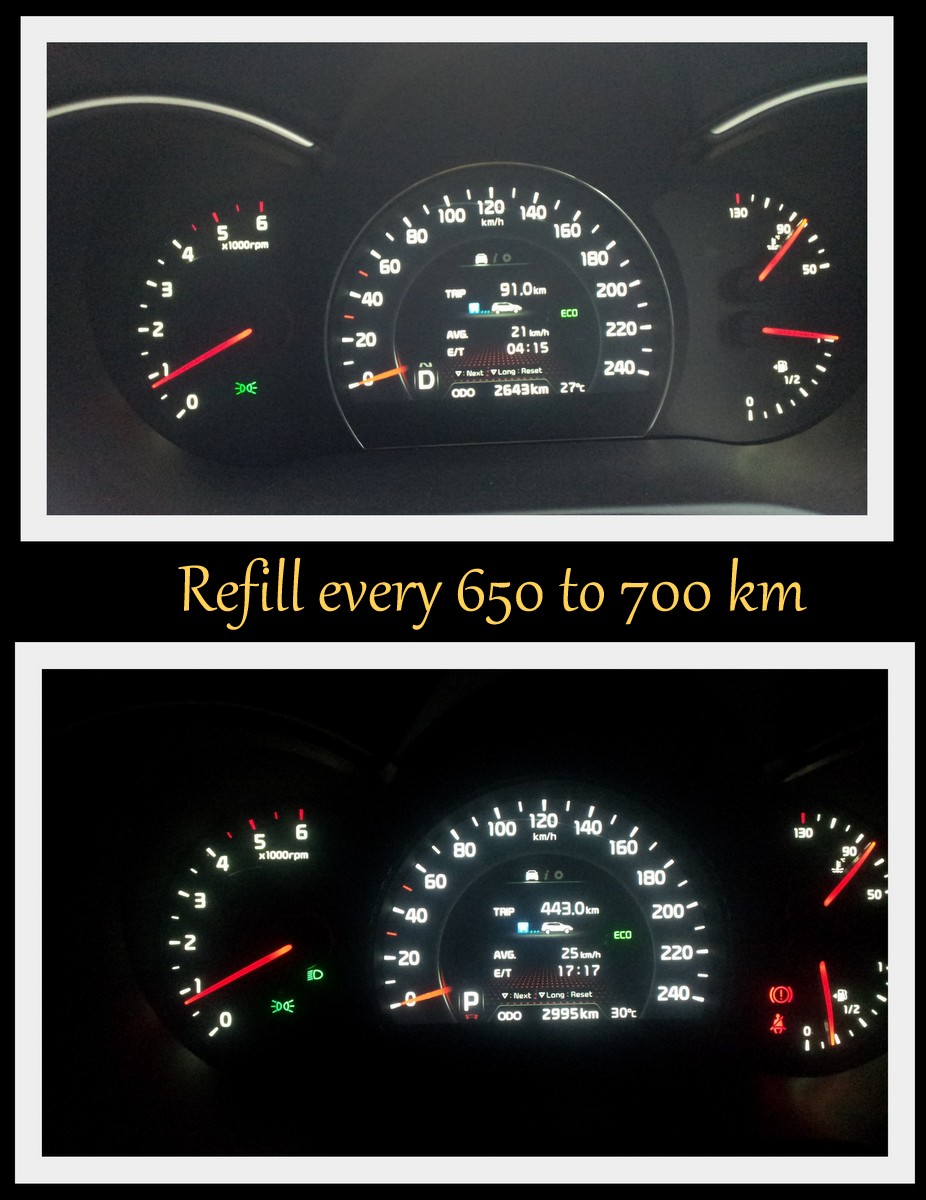 LTA has tax rebates for "Green cars".
Fuel mileage is rated 6.8litre per 100km. With a 70l tank, it means we can clock 700Km without refilling ! Fuel economy is impressive for a 1700 Kg car, and we clock 500km of fun before returning our Sorento.
6) Kia Sorento Fun stuffs
We drove the Sorento to Punggol beach, Coastal road, and even Lorong Halus just to try and find some off-road conditions (something like this). It would be cool if we can spot airplanes flying over our roof at Coastal road, but we missed the timing.
On our last weekend, we brought the Sorento to CBD for some photo shoot. Daddy thought it would be cool to capture some skylines in our photos.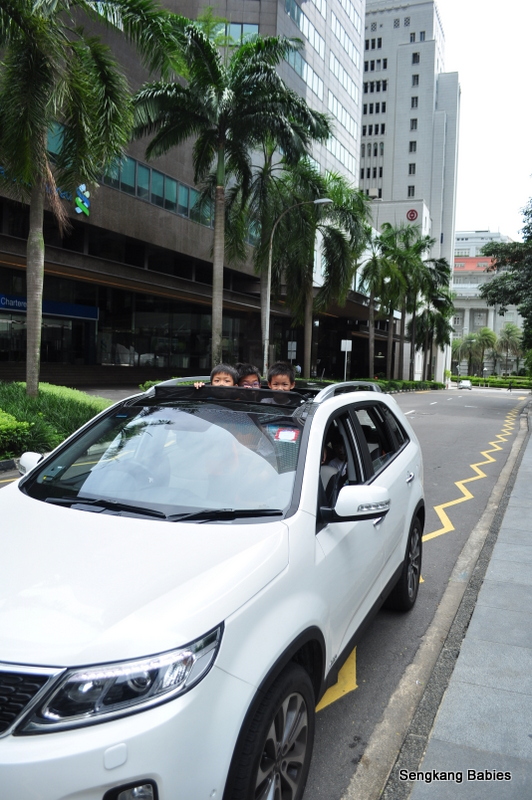 Bye Bye Sorento, we will miss you.

When we mention Korean brands and exports, we hear Samsung, K-pop, beefs and even Kim Chi. Kia has defintely come a long way, with Cerato, Optima and Sorento helping to restyle it's image 🙂
Video : Checkout Kia's slick commercial

Interested to test drive your own Kia?
– 239 Alexandra road (159930) – 64278888
– 22Ubi Road 4 (408617) – 67462000
=== === ===
Additional info :
– Kia webpage and Fanpage
– Click to read more about Diesel and Singapore's Green tax rebates.
ps.. we reviewed Subaru Exiga in 2010 too