Round Island cycling done! I have finally covered Singapore on two wheels.
Depending on your route, it can be between 110km (without Tuas) to 160km (Including Tuas and Lamp Post 1). Duration could be between 8 to 12 hours (including breaks), fitter cyclists will complete faster.
If you cycle on the road instead of pavement and PCN, you will shave off more time. Pavement requires one to detour more and watch out for uneven grounds, and other obstacles like bends and bus stops. Road is faster but also more risky.
YouTube link
*Refer to our Google Map (GPX) or Strava link too.
We took some sightseeing detours to Rainbow Bridge and Kranji Forest just for FUN and mud. Thanks to buddy Randy for leading the way and companionship.
0600 : Set off from Legend Sengkang (is it really Legend now, closed permanently?)
We did our Round Island cycling in Singapore anti-clockwise.
I would say the toughest segments would be Neo Tiew (slopes) and Tuas (dust and sun). TMCR (Tanah Merah Coastal road) is relatively easier, although it is 15km.
环岛追追追, our journey took us through the following areas.
=== ===
Sengkang-Canberra-Admiralty Rd West-Woodlands Jetty-
Admiralty Rd-Rainbow Bridge-Kranji-Lim Chu Kang-
Jalan Bahar (Boon Lay Way (Jurong Central Park & Boon Lay MRT)-
Safra Jurong-Safti-Joo Koon MRT-Gul Circle-Tuas Crescent-
Tuas West Road-Tuas Link-Pioneer Rd-Jalan Buroh-Pandan Reservoir-West Coast Park-Labrador Nature Reserve-Keppel Road-Marina Barrage- East Coast Park-TMCR-Changi Village*Home
=== ===
You may refer to the visual guide from below Youtube clip too. His path does not include Woodlands and Lim Chu Kang, Tuas, but it does show how you can cover most of SG on PCN and pavements.
It is tough and boring to do Round Island solo. We push each other along the way and keep our spirits up with jokes and gossips :p
Bucket list ticked, on to more cycling adventures!
Perhaps cycling from Singapore to Malaysia after borders reopen.
0720 : Reach Woodlands Jetty in 90 minutes.
Totally empty stretch near Woodlands Custom, vehicles used to jam all the way up to Woodlands Road.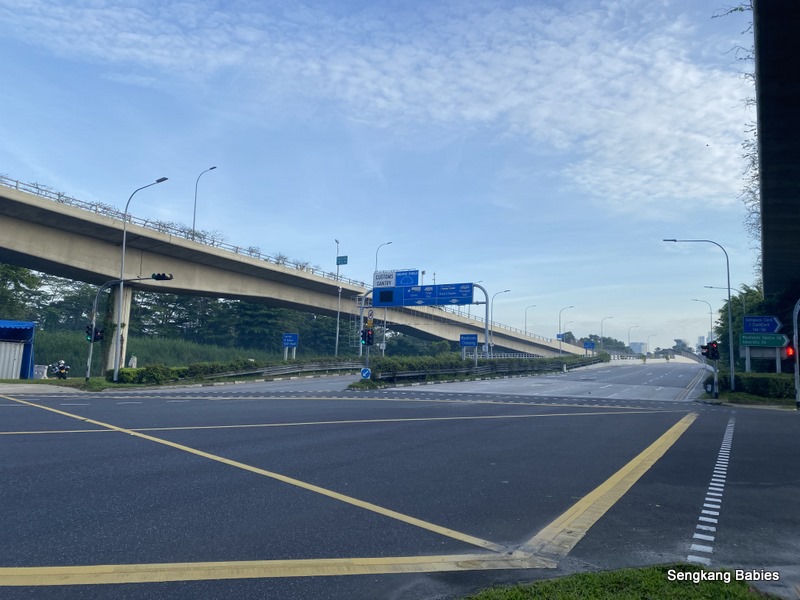 Take note opening hours of Rainbow Bridge is 0500 to 1000, and 1700 to 2200.
[Detour alert] I am adding these alerts so you can choose to focus on the real route and conserve some extra energy 🙂

Both Rainbow Bridge and Kranji Forest are not part of Round Island cycling. We detour to these segments just for fun.
Who knew my foldie would survive the muddy trails. I definitely had a lot of fun navigating through the soft grounds.
From here (Kranji Close), you can cycle 20km along Green Corridor and end at Spooner Road. Trail will be easier (green patch) and the other muddy section would be near "Sungei Kadut and after Hillview MRT". See the photos from my previous hike (blog post).
Enjoy scenic Kranji Forest and take some photos before we head to countryside "Kranji and Lim Chu Kang".

My poor Crius Master and new Schwalbe Marathon tyres. Coated with a layer of mud. But I will gladly go through this experience again!
SG is building more RIR (round Island Route). One day, it will be more fun (and safer) to cycle along Lim Chu Kang, Neo Tiew and Tuas.
First timers to Kranji and  Lim Chu Kang should attempt weekend, lesser traffic (especially trucks). Personally, I am more worried about packs of cyclists who travel in groups and overtaking closely, more than passing vehicles.
0850, almost 3 hours to reach old-school bus stop. The stretch ahead (between 8 to 10km) will have no shelter.
We turn right at Jurong Central Park junction and headed towards Joo Koon direction.
1000, 4 hours to reach Joo Koon MRT and FairPrice Hub building.
From here, you are about 9km away from Raffles Marina (or the more famous Johor Straits Lighthouse). Just follow MRT stations in map below, Gul Circle, Tuas Crescent, Tuas West Road and Tuas Link.
Tuas is good for cycling during weekends, when there is lesser traffic and dust. At Tuas West Road MRT, you can cycle an extra miserable 15km (one way) to Lamp Post 1, refer IG post (just follow Tuas South Ave 3).
1030, cycled almost 30 minutes from Joo Koon MRT to reach end of MRT line at Tuas Link.
Do take note Raffles Marina (and Light house) entry is blocked during heightend Covid 19 measures (until 13 Jun 2021).
Can you spot Tuas Custom below? We want to go JB massage, shop and eat!
You may read our Cycle-West post for more attractions in the West too. Considering we are at the West point of Singapore, we now have to cycle to the East side!
Although the hardest segment Lim Chu Kang and slopes are over, it is little consolation that we still have 80km to go. 加油!
Stopover at SPC Jalan Buroh for quick refreshment. Seems like this is a popular pit stop for both cyclists and truck drivers.
1200, reached Pandan Reservoir. Supposed to feel relaxed with water body but we felt so WARM! No thanks to Merciless sun.
[Detour alert]
But Pandan Reservoir view can be scenic. We heard Pandan Reservoir will be infested with midges during certain time period too.
Take note this reservoir is a detour from our RI loop ok.
Shades along West Coast Park. 
1239, reach iconic Haw Par Villa for photo stop. We have been on the road for 6 hours plus.
Tabao Nasi Ikan (fried rice) from Macik. Told Auntie "little" chili but the spice was potent! I had to cycle until East Coast Park (a bit exaggeration) to wear off the spiciness, lucky no stomach upset.
Disclaimer: Nasi Ikan is tasty, just that cyclists should avoid spicy oily meals (perhaps) :p
[Detour alert]
Cycling through Labrador Nature Reserve and Keppel Bay segment.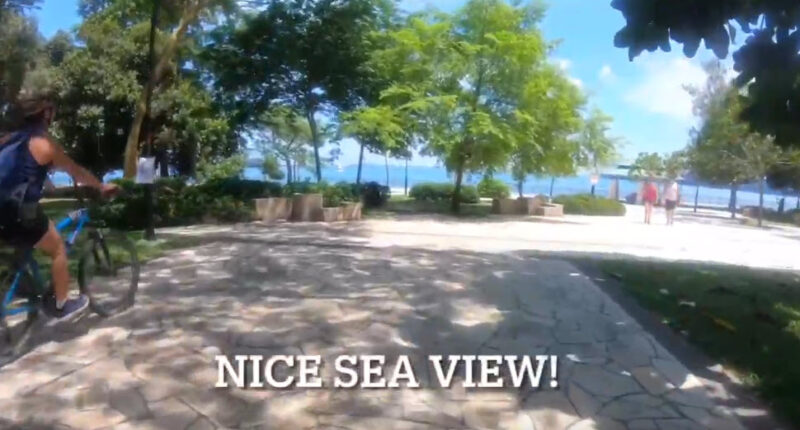 Take note some segments are not bike friendly, there are notices for cyclists to dismount and push. Regulars will cycle under West Coast Highway towards Tanjong Pagar, and experts will cycle along viaduct.
The sea view and shades at Labrador are worth the detour.
Time check 1415, cycled through Tanjong Pagar and behind Gardens by the Bay. Some would prefer the scenic views around Marina Bay, but we chose a remote detour (less crowded).
1500, 9 hours on the road. We have already clock 105km at this point.
Man, I desperately need an ice cream reward, 7-11 at Cyclist Park.
We are in no hurry, so we cruise along to enjoy the shades at East Coast Park before getting scorched along TMCR (Tanah Merah Coastal Road).
1550, torture time, 15km to go before Changi Village. No slopes (unlike Lim Chu Kang), but just straight boring route.
Boring lor, no view, no shelter.  You know the worst is over when you reach beautiful Changi Beach Park.
1620 Bandung time. We are getting indulgent but we just want to give ourselves a pat on the back. Well Done.
You have no idea how refreshing bandung (or Sugar cane drink)could do wonders to charge your spirit and energy!
11 hours to complete our Round Island cycling in Singapore. We cycle mostly on PCN and pavement. It will be faster if you go with companions and travel on the road.
RI Mission done, achievement unlock!
Special mention to my cycling buddy. This chap is super fit and really powers through his Marlin MTB! If he drops his 6kg+ backpack, he will FLY!
Thank you for bringing me to see and experience all the corners of Singapore.
This sounds weird, but I will remember the DETOURS more than the RI route itself. All are good memories.
This is the longest trip submission for my OCBC 2021 mission. I have only  registered for the 42km category, guess I should aim for 100km category in the future.
Updated 2022 May. Refer Google Map GPX for RTI inclusive LP1, total 170km.
Meanwhile, read our bike adventures:
-Cycle 70km East, TMCR (link)
-Cycle 80km West,Lim Chu Kang(link) (LCK slopes are tougher than TCMR)
-Cycle to Woodlands and back for 50km (link)
-Cycle 50km to explore 3 Reservoirs and 3 parks
-Completed Round Island 140km!  (Click for GPX routing)
-Cycle 20km to Green Corridor (or Marina Bay and Sportshub)
-Click for Instagram SengkangBabies #skbCycles
*Read my previous posts about MTB\RoadBike\Foldie selection, & Foldable bike shortlisting
-Previous OCBC Cycle trips for families
-More details and landmarks about Park Connectors (PCN) at nParks link
-Follow my family's cycling experience here .