Many tourists can identify with 西門町 (Xi Men Ding), but few know about 永康街 (Yong Kang Street).
Maybe Yong Kang Street will ring a bell when you mention 鼎泰豐 (Ding Tai Feng), 永康牛肉麵 (Yong Kang Beef Noodle) or even 师大夜市 (near an University).
In this blog post, we covered some of the attractions on Day 8 of our Taiwan trip. Read our 10D9N Taiwan itinerary here.
Earlier in the day, we made plans to visit a few nearby attractions. It was nice to wake up at 10am, and we took our own sweet time to plan our itinerary. Our family's style is to travel light and our itinerary is always flexible.
We will cover Xi Men Ding and Yong Kang in this post, next post will cover 饒河夜市 Raohe Night Market, 五分埔 Wu Fen Pu wholesale market and 象山 Elephant Hill.
We took the train towards Yong Kang Street, Nearest MRT is 東門站 Dong Men MRT.
We would choose Yong Kang Street over Xi Men Ding any day. The crowd at Xi Men Ding can be overwhelming 🙂
Maybe our family is less happening, but Xi Men Ding would appeal to youths and fashionistas. Fancy shops and eateries attract a hip crowd.
Center Black Box demarcates Yong Kang Street and neighbouring streets. The famous Night Market is only 15min walk South.
At Yong Kang street, we can walk leisurely on the street, enjoy good food and hip cafes or shopping. There are famous desert stalls too. Just look out for the queues.
As I had mentioned, Yong Kang street has many cafes and restaurants rated above 3.5 stars! We are curious about the number of 台南 Tainan noodle stalls too.
This Mango dessert is a local landmark at Yong Kang Street. The crowd never cease here, and you can chill, enjoy your Mango dessert and marvel at the street activities.
Smoothie House (吃冰 experience rated 3.75/5) (GPS 25.032531, 121.529808 )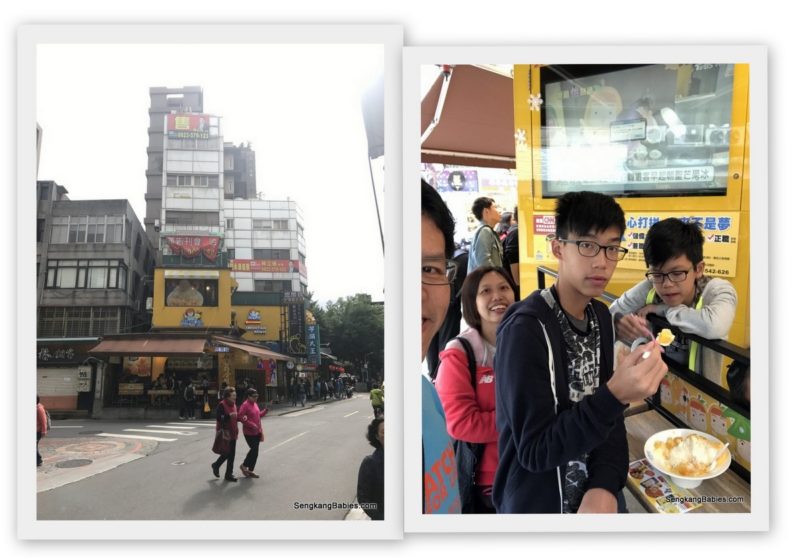 Like I say, CHILL 🙂
Brunch at 好公道金雞園  (GPS 25.030663, 121.529475 )
Delicious local Taiwanese food,  a bit like Dim Sum style. Famous for 小笼包 Xiao Long Bao (sweet and succulent), we ordered another serving.
Price is very reasonable and value for money, we would rate 金雞園 (4/5)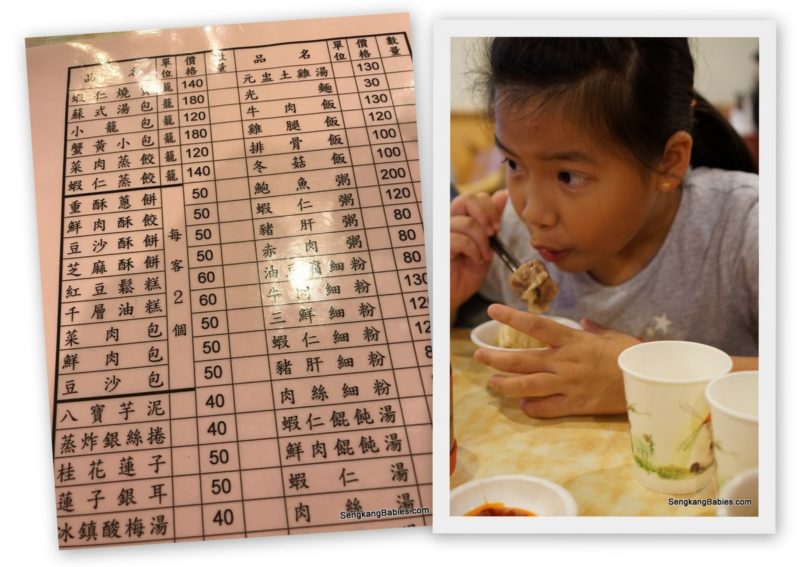 Leisurely walk, there are more pedestrians than vehicles.  Seems like every corner at Yong Kang Street has something new to entice us.
Some bespoke shops, souvenir shopping 🙂
After spending a good part of our morning at Yong Kang street, we hop from 東門 to 西門.   
Xi Men Ding MRT (GPS 25.042241, 121.508242 )
西門町 Xi Men Ding is a huge contrast to Yong Kang.
Always buzzing, always crowded, and there are malls, cafes and shops 360 degree around (literally).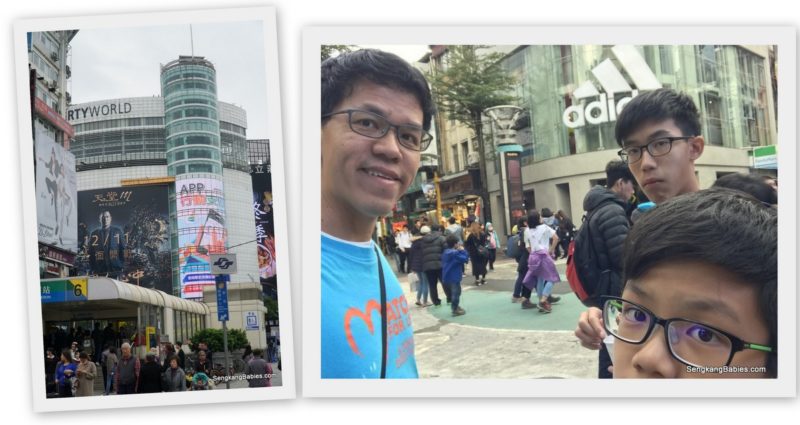 Photo above, Taipei's KTV hub "Party World", and below, the iconic red house. There is something for everyone.
When in Taiwan, follow the queue. And Fried Chicken will be one of the longest, no matter where you go. there are many weird restaurants in Xi Men Ding too (Toilet Restaurant yucks haha)
More food photos uploaded on our Facebook album (link).
If you are clueless on what to eat, let Google suggest popular eateries for you. Read our Google Hack post for more tips. We shared how you can Google for nearby popular food options.
Photo albums :
–Day 1 Aowanda, Cing Jing
–Day 2 Cing Jing
–Day 3 Xitou Nature Education Area, Monster Village, Sun Moon Lake
–Day 4 Taichung (Zhongshe flower, ShengXin station, Cycling, Fengjia)
–Day 5 Taichung (Animation Lane, Rainbow, Miyahara)
–Day 6 Keelung 基隆
-Day 7 Ruifang, Jiufen and Shifen
–Day x Taipei HomeAway and Neighbourhood
–Day 8 永康, Xi Men Ding, 象山, 饒河 Raohe
–Day 9 and 10 北投 Beitou, Toyshop, 士林 Shilin
Blog posts :
** Taiwan Itinerary for families 
–Day 1 Google Sheet, Aowanda, Cing Jing
–Day 2 Cing Jing Farm
–HomeAway Recommendations for Taiwan
–Day 3a Xitou Nature Education area (溪頭)
–Day 3b Monster village 妖怪村 and Sun Moon Lake
–Day 4 Cycling Taichung 台中 
–Day 4a 台中 Taichung  attractions
–Day 5a 台中 Taichung food Ice cream and Bubble Tea
–Day 5b 台中 Taichung Fengjia night market
-Day 6 基隆 Keelung
–Day 7a Jiufen attractions
–Day 7b Shifen attractions
–Taipei Neighbourhood around our HomeAway Vacation Home
–Day 8a Yong Kang Street and Xi Men Ding
–Day 8b Raohe Night Market, Wu Fen Pu and 象山 Elephant Mountain
Instagram #sengkangBabiesTaiwan