We stayed one night to visit 基隆 Keelung attractions, we had wanted to explore neighbouring Ruifang (Jiufen, Shifen etc).
But the RAIN never stopped…
By the way 基隆 Keelung has same pronunciation as "鸡笼 chicken coop". affectionate nickname for the county 🙂
Earlier, we had took the HSR (High Speed rail) from Taichung to Taipei, before transiting from Songshan Station (not Song Shan domestic Airport) to Keelung.
We bought our tickets online from Klook, which was about 20% cheaper.
No need reservations unless you have smaller kids and must sit together. Trains arrivals are very frequent. We just need to QR code our vouchers to exchange for tickets at the HSR counter.
An Adult ticket is about 25 SGD. It is very affordable and took us only 55 minutes from Taichung to Taipei. It saved us precious time on travelling. Infact HSR would be faster than driving. (Checkout my Klook Japan services too)
On a side note, taking the trains in Taiwan was a good teaching moment for the kids, the trains are never late and folks keep the train clean.
Yes, although we tabao (package) the famous 铁路便当 (train bentos) onboard, everyone make an effort to keep train clean 🙂
And YES, Bentos are both economical and delicious!
Sights along the journey. As we travel further from Taipei, the cities get older and more laid back. We heard Keelung is one of the most underdeveloped county.
Even before we reached Keelung, it started to drizzle. Bummer.
基隆 Keelung is a port city, and commonly nicknamed as 雨港 Rain port "now we know why the rain never stops". It is a popular day trip destination out of Taipei (45 minutes by train).
Keelung is underrated. Many visitors will actually bypass Keelung on the way to Jiufen or Shifen. But based on online reviews,  those who visit Keelung always lament that they should spend one more day to explore the area.
I loved the old quaint infrastructure and feel around the neighbourhood. Things are slower here compared to main cities and you will noticed more old folks around.
Wherever you walk or commute, you are not far from the coastal view.
We only decided on Keelung at the last minute. The original plan was to stay one night at Ruifang. Our itinerary was to hop to neighbouring towns from Keelung or Ruifang, and I thought Ruifang would be too quiet at night.
Keelung has a famous and buzzing night market, so the choice was easy for us 🙂
Our accommodation was at Just Live Inn (享住旅店, GPS 25.129990, 121.746089). We chose this hotel due to its proximity to night market (6 minutes walk), and good reviews.
Funky decoration and friendly staffs, we were happy with our stay.
There is a small bathtub too. When we travel, we just need a bed to rest and we do not need any fancy amenities.
Shopping malls and eateries are just round the corner, although most malls would close by 9pm.
Previously, we mentioned that sports gears are cheaper in Taiwan (read our post). And we are confident that Taichung and Keelung's sports outlets will garner you the best shopping experience.
Sales staffs (compared to Taipei's outlets) are extremely friendly and accommodating. Thumbs up!
Some of the famous Keelung attractions are easily accessible via bus, duration between 1 to 2 hours are common.
-基隆崁仔頂 Fish Market Midnight tour would be No1 on my list, a pity I only found out after we left Keelung (check out this blog for more photos, GPS 25.129465, 121.741025)
–和平島 Peace Island (GPS 25.160152, 121.764064)
–象鼻岩 Elephant Rock (GPS 25.135420, 121.824452)
–忘憂谷 (Scenic sea views and valley, plenty of green fields at 八斗子 GPS 25.146005, 121.797613)
–野柳 Yehliu Geopark (GPS 25.206067, 121.690246)
–金山, behind Yang Ming Shan (Famous for rural settings, hot springs)
-You may read about my previous solo travel and hiking at scenic 鼻頭角too
* We will cover 九份 Jiufen 十分 Shifen in next post.
The rain never stopped during our Keelung exploration! And we ended up spending more time than planned relaxing in our room .
Just an excuse, we could always do with some body-maintenance (aka recuperation). 
Introducing 基隆廟口夜市 (Keelung Night Market), the most famous Keelung attractions.
Rain of shine, we must still eat and explore. The signature yellow lanterns at Keelung Night Market.
Boon Yee looks cool right 🙂
Picture below, this is how the night market "基隆廟口夜市"got its name, "Temple Entrance".
Because of the rain, the crowd was significantly smaller and umbrellas were everywhere. It meant we had more space and time to enjoy our dinner and night snacks 🙂
A different set of experience for our family, exploring Night Market in the rain.
Soup, bean curd, Shiok! Anything warm and soupy is always welcome.
Seaport must have a lot of seafood right.
Soft-shell crabs and prawns and squids please 🙂
Please try the "nutritious sandwich". Not sure about the nutritional factor, but it was simply delicious. You might find similar stalls in other Taiwan night markets too.
A hot bowl of 滷肉飯 (again!) to warm our stomachs.
Massage anyone? I Googled and 大力水手 Popeye (GPS 25.128545, 121.742830) seems to be a famous one. In case you are interested, it is at one corner of night market.
Arcade attractions, we found the smallest train track in Taiwan!
Before we left, we grab some of the famous yam pastries from a traditional bakery, 連珍糕餅店 (link , GPS 25.128684, 121.741964).
Their yam cake is famous in Keelung and Taiwan. Another signature is their Sun cake, but we found the crust a bit too thick for us.
The Keelung sign illuminated in the evenings.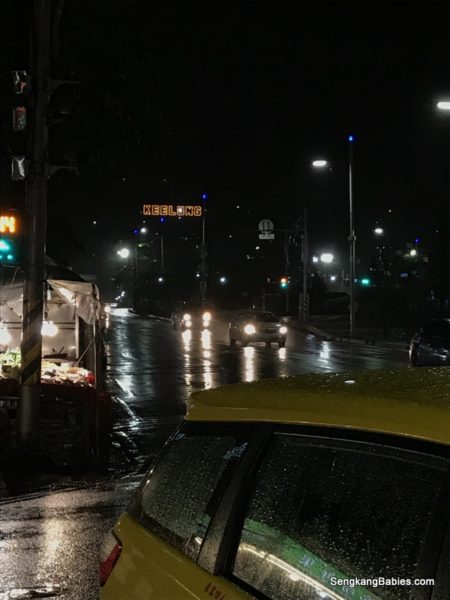 We have a Google Map of the areas around Keelung (Keelung attractions) and Ruifang. Keelung is "C". It will give you a perspective of the relative distance between each attractions (Google Map Link here)
If you are visiting Keelung as a day trip, we would recommend that you leave your heavy luggage in Taipei train stations. Or you can consider Luggage storage at Keelung Train Station too.
Travel light in Keelung,  our Instagram below, do swipe to view our Keelung experience.
Do pop by all our Taiwan photos and blog posts below.
Photo albums :
–Day 1 Aowanda, Cing Jing
–Day 2 Cing Jing
–Day 3 Xitou Nature Education Area, Monster Village, Sun Moon Lake
–Day 4 Taichung (Zhongshe flower, ShengXin station, Cycling, Fengjia)
–Day 5 Taichung (Animation Lane, Rainbow, Miyahara)
–Day 6 Keelung 基隆
-Day 7 Ruifang, Jiufen and Shifen
–Day x Taipei HomeAway and Neighbourhood
–Day 8 永康, Xi Men Ding, 象山, 饒河 Raohe
–Day 9 and 10 北投 Beitou, Toyshop, 士林 Shilin
Blog posts :
** Taiwan Itinerary for families 
–Day 1 Google Sheet, Aowanda, Cing Jing
–Day 2 Cing Jing Farm
–HomeAway Recommendations for Taiwan
–Day 3a Xitou Nature Education area (溪頭)
–Day 3b Monster village 妖怪村 and Sun Moon Lake
–Day 4 Cycling Taichung 台中 
–Day 4a 台中 Taichung  attractions
–Day 5a 台中 Taichung food Ice cream and Bubble Tea
–Day 5b 台中 Taichung Fengjia night market
-Day 6 基隆 Keelung
–Day 7a Jiufen attractions
–Day 7b Shifen attractions
–Taipei Neighbourhood around our HomeAway Vacation Home
–Day 8a Yong Kang Street and Xi Men Ding
–Day 8b Raohe Night Market, Wu Fen Pu and 象山 Elephant Mountain
Instagram #sengkangBabiesTaiwan