Many folks know about 妖怪村 Monster Village but not Xitou Nature Education Area (溪頭自然教育園區). The pristine woodland is just 5 minutes walk from Monster Village, and offers visitors a good workout (More photos already in our Facebook album)
Two of the highlights must be the lovely bamboo forest (竹林) and sky corridor, we did mentioned earlier that the mist made our trip even more memorable (and mystical).
We enjoyed the crisp fresh air up at the canopy, refer  link to Instagram video below, 2nd picture is our hiking video.
Monster Village features in many tourist brochures but I thought Bamboo Forest (in Xitou Nature Education Area) is more authentic.
GPS for Monster Village Post Office is "23.673491, 120.795960", just walk 5min up the slope to reach Xitou Nature Education Area "Carpark 2".
Fees are estimated, adult NTD160 and child NTD120.
Noticed the "before and after" effects of mist. With the fog, visibility is sometimes less than 50m 🙂
Do take note many Nature Reserves in Taiwan require a lot of walking, there are plenty of slopes and steps.
I would classify our trip as a mini hike rather than a garden walk.
The attractions are easily 1 or 2 km away but the slopes are strollers friendly.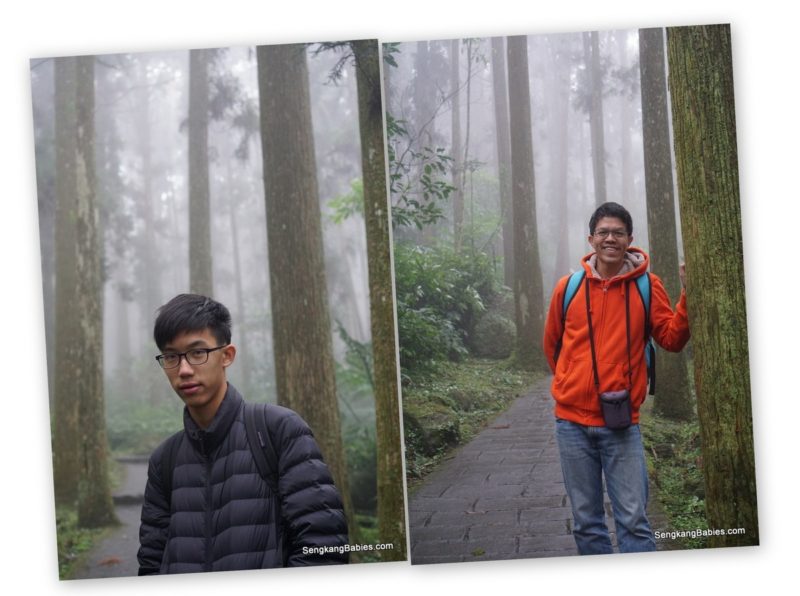 We would recommend walking up the slopes and downhill via steps.
This should be easier on our joints (Tried and tested).
The folks at the information counter sent us up the more challenging route, and the kids almost rebelled halfway !
No wonder a few black faces in photo below!
(now with our tips, you can bring your family up the friendlier road, you are Welcome)
Referring to map below, entrance is between 1/15 (carpark 2). The upward path should be along "4", to "Sky Walk", then head north towards 神木 Shen Mu. Turn left and walk back towards  "5" or "6".
If time permits, then you may visit point "10" University Pond (and bridge).
Recommended path, follow red line in, and Yellow line out. You will see tons of Bamboo in the "blue box".

Road markers are at every corner, so it is hard to lose our way.
Love the bamboos and pine trees (is it?) lining our paths. The mist would blanket off the canopy such that sunlight struggled to pierce through.
We heard there are a few accommodations 飯店 around this area. I would love to wake up to fresh air, but I am not sure family can do without 7-11 convenience or shopping in the forest :p
The cool 11 degrees and low humidity did made our hike more comfortable and enjoyable.
We took 45 minutes slow walk to reach the 神木 (sacred tree)… but this 神木 is actually lying horizontal 🙂
Pit stop, take a break, enjoy an ice cream or sweet potato (best for cold weather).
Rich flora and fauna, we spotted many bushy squirrels roaming around, they are not afraid of humans.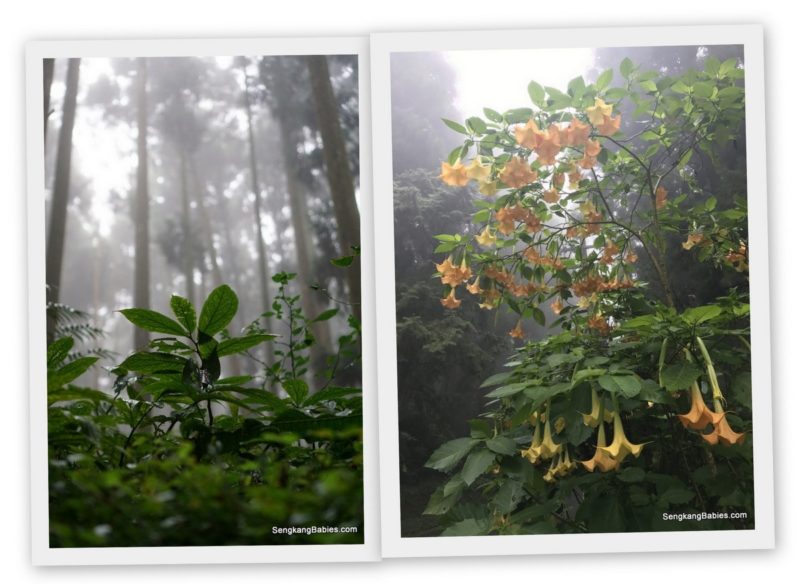 The other attraction for us would be the Sky Walk 天空走廊 (GPS 23.664020, 120.793628).
Imagine Gardens By The Bay's Cloud Forest, only higher and more "porous". We were literally walking among the canopy.
View from the top and bottom.
Visited the "famous" arching bridge at University Pond.
There are many more such forests and bamboos in Taiwan, hidden from tourists.  One just had to Google harder 🙂
We have three more recommendations below, all within 60 minutes drive.
Alas, we spend too much time at the forest and had to skip :p
–車埕 Che Chen (集集 line, Nostalgic train station, GPS 23.832674, 120.866106). Locals call this location "水里".
–貯木池 Chu Mu Chi (Scenic old mill by the pond, GPS 23.834374, 120.865935) . Just behind 車埕.
–忘憂森林 (also known as 水漾森林 Shuiyang Forest, GPS 23.648708, 120.794236). Some recommend a 2D1N stay to fully enjoy the sunken forest
Would recommend minimum 2hours at this spot and another 1 hour at Monster Village (for lunch). Nature lovers can easily spend half a day at Xitou nature Education Area.
You can cover Xitou Nature Education Area as a day trip (1 hour+ transport duration) from either TaiChung or Sun Moon Lake.
More photos on our Facebook album. With the mist, every shot seems to be more magical.
Photo albums :
–Day 1 Aowanda, Cing Jing
–Day 2 Cing Jing
–Day 3 Xitou Nature Education Area, Monster Village, Sun Moon Lake
–Day 4 Taichung (Zhongshe flower, ShengXin station, Cycling, Fengjia)
–Day 5 Taichung (Animation Lane, Rainbow, Miyahara)
–Day 6 Keelung 基隆
-Day 7 Ruifang, Jiufen and Shifen
–Day x Taipei HomeAway and Neighbourhood
–Day 8 永康, Xi Men Ding, 象山, 饒河 Raohe
–Day 9 and 10 北投 Beitou, Toyshop, 士林 Shilin
Blog posts :
** Taiwan Itinerary for families 
–Day 1 Google Sheet, Aowanda, Cing Jing
–Day 2 Cing Jing Farm
–HomeAway Recommendations for Taiwan
–Day 3a Xitou Nature Education area (溪頭)
–Day 3b Monster village 妖怪村 and Sun Moon Lake
–Day 4 Cycling Taichung 台中 
–Day 4a 台中 Taichung  attractions
–Day 5a 台中 Taichung food Ice cream and Bubble Tea
–Day 5b 台中 Taichung Fengjia night market
-Day 6 基隆 Keelung
–Day 7a Jiufen attractions
–Day 7b Shifen attractions
–Taipei Neighbourhood around our HomeAway Vacation Home
–Day 8a Yong Kang Street and Xi Men Ding
–Day 8b Raohe Night Market, Wu Fen Pu and 象山 Elephant Mountain
Instagram #sengkangBabiesTaiwan