Cycling Taichung 台中 was the best family activity from our 10D9N Taiwan itinerary! We also mentioned before that we prefer Taichung to Taipei.
When we were researching for Taichung attractions (and there are plenty!), cycling caught our attention. I knew we had to cycle through the railway tunnel!
東豐綠色走廊 and 后豐鐵馬道 (Dongfeng and Houfeng, with 鐵馬 Iron Horse referring to trains) are two popular tracks for Cycling TaiChung.
I had actually Googled for Dongfeng entrance, but our driver sent us to Houfeng.
Go and Google Map "隧道口烤肉租車中心" (GPS 24.299679, 120.735695) for estimated bike rental location.
We rented our bikes and cycled South to 九號隧道 Tunnel No 9. Trains used to run through the tunnel!
I would recommend Tandem bicycles and motorised bikes for those less fit adventurous.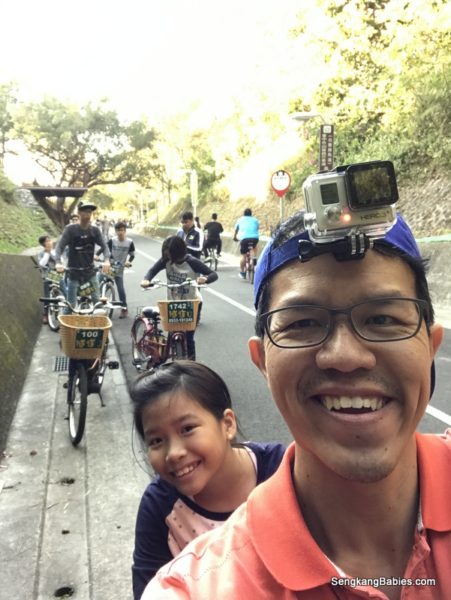 The famous no 9 tunnel entrance, many folks will stop to selfie here, slow down.
The tunnel is long and straight, very windy, we kept shouting to hear our own echoes haha.
(take note the tunnel is quite narrow, one lane in each direction, and overtaking requires some skill, kids should be good at balancing)
This iron bridge (花梁鋼橋) await you once you exit the tunnel, we would love to admire the 360 degrees scenery ( and waterway below), but the bridge might be too narrow for us to linger longer. We did not want to block  other cyclists.
It was only 5pm, but Sun was almost ready to set.
HouFeng (Purple) and DongFeng (Yellow) are two popular cycling paths in Taichung. If you have 2 hours, go for HouFeng (estimated 8 km to and fro), 3 hours+, go for DongFeng (estimated 14 km to and fro). Dongfeng track is famous for the "golden" Shigang Dam. Tunnel itself is about 1.5 km.
The highlights for both routes are the old train tunnel and iron bridge. We saw many joggers along the route too.
Looking at the map below (imagine it is inverted 180 degrees), we started nearer to the ranch and cycle "South" towards No9 Tunnel (九號隧道) and the "iron bridge" 铁桥 in the direction of Dongfeng.
Refer to our Google map for the points estimation.
(A=Houfeng Rental bike area, B=Entrance to No9 tunnel, C=Iron Bridge, D=Intersection of two bike tracks, and rental for Dongfeng, E= Shigang Dam)
Only Happy faces, the boys manage to look out for each other. And we do not cycle in jeans normally :p
As the track is one directional, you will not get lost. We can ask impatient kids to cycle infront and wait for us. We always emphasized that Road Safety is No1 priority.
There are a lot of shades along the route.   
Why did we enjoy the cycling trip so much?
It was a fun activity which the whole family can participate together.
Electric bike allowed some of us to chill and enjoy the scenery, rather than worry about peddling.  Where else can you cycle through a tunnel!
Video : Cycling Fun (YouTube link)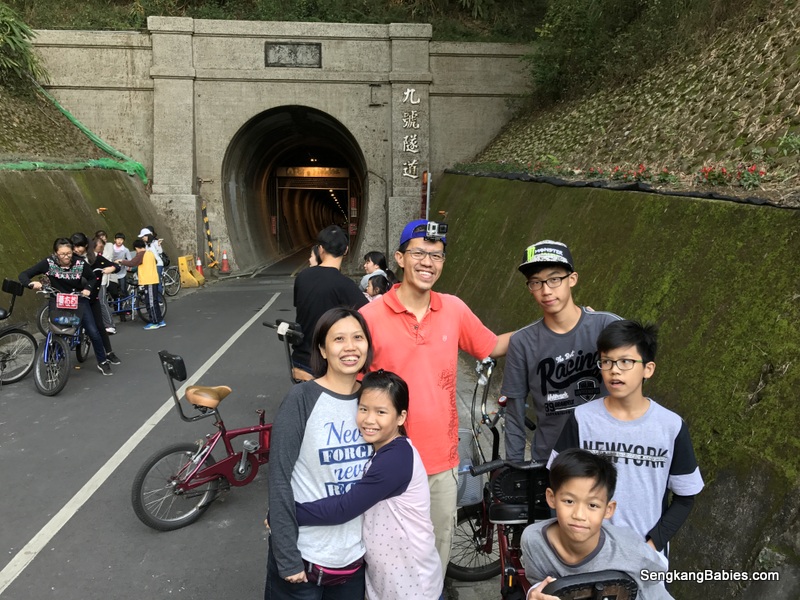 === Additional Tips ===
-First question, are you going to start at Houfeng(Gps 24.299679, 120.735695) or Dongfeng(Gps 24.272623, 120.740969)?
We started at Houfeng (and some call this track Houli Bkeway too, since this area is 后里 Houli district.)
-Bicycle track are easy to navigate, but it is challenging to avoid those taking selfies! Try not to selfie inside the narrow tunnel or at the bridge!
-The cooler 15 degrees weather in December Taiwan is ideal for sports, it can be chilly when the wind blows.
-There are many other scenic cycling spots in Taiwan, example Google "Sun Moon Lake 日月潭, Hualien 花蓮, Furong 福隆 etc). Taichung Gaomei Wetlands 高美湿地 should offer spectacular sunset routes too
*We did mentioned in this post (with Google Map reference) that Taichung is big and train network not as mesh as Taipei's. It will be more time consuming to travel by public bus. Do plan your trip such that attractions are near to each other.
– Nearest station to Houfeng bikeway ( 后里 Houli station), and nearest station to Dongfeng bikeway is (豐原 Fengyuan station)
-Once you reach your "start point", be it Houfeng or Dongfeng, many bike shops would be competing for your business
-If you are unsure of bicycle skill or fitness, go for eBikes (aka Motorised)
-Estimated bike rental rates is NTD400 and normal bikes NTD300
-Buy extra mineral water (just in case), there are bikes with baskets
Our kids wanted another round of cycling after our Taichung experience. We guaranteed that Cycling Taichung will me a memorable activity for your family in Taiwan.
*Updated 2019Oct – We cycled 250 km from Hualien to Taitung. Super Fun !
Do pop by below photo albums and previous Taiwan posts to view our Fun itinerary.
Photo albums :
–Day 1 Aowanda, Cing Jing
–Day 2 Cing Jing
–Day 3 Xitou Nature Education Area, Monster Village, Sun Moon Lake
–Day 4 Taichung (Zhongshe flower, ShengXin station, Cycling, Fengjia)
–Day 5 Taichung (Animation Lane, Rainbow, Miyahara)
–Day 6 Keelung 基隆
-Day 7 Ruifang, Jiufen and Shifen
–Day x Taipei HomeAway and Neighbourhood
–Day 8 永康, Xi Men Ding, 象山, 饒河 Raohe
–Day 9 and 10 北投 Beitou, Toyshop, 士林 Shilin
Blog posts :
** Taiwan Itinerary for families 
–Day 1 Google Sheet, Aowanda, Cing Jing
–Day 2 Cing Jing Farm
–HomeAway Recommendations for Taiwan
–Day 3a Xitou Nature Education area (溪頭)
–Day 3b Monster village 妖怪村 and Sun Moon Lake
–Day 4 Cycling Taichung 台中 
–Day 4a 台中 Taichung  attractions
–Day 5a 台中 Taichung food Ice cream and Bubble Tea
–Day 5b 台中 Taichung Fengjia night market
-Day 6 基隆 Keelung
–Day 7a Jiufen attractions
–Day 7b Shifen attractions
–Taipei Neighbourhood around our HomeAway Vacation Home
–Day 8a Yong Kang Street and Xi Men Ding
–Day 8b Raohe Night Market, Wu Fen Pu and 象山 Elephant Mountain
Instagram #sengkangBabiesTaiwan