Our Hong Kong Family Itinerary (香港) is packed with awesome Fun factor
Our Hong Kong trip could very well start with " Once upon a time, we went to a place called Pearl of the Orient (东方之珠), Hong Kong is a dreamland. We saw sleeping-beauty and snow-white …. "
We are not only talking about egg-tarts and Char-Siew-Bao or that juicy goose-drumstick (yummy!). It seems like every street corner got a Micheline chef !

Kids love their animal friends and adventures at Ocean Park. 小叮噹 Doraemon stole our hearts 🙂

We try every transport system (ferry, train, tram, parachute, cable car, roller coaster), but why Hong Kong so few motorcycles? And who say Disneyland is for kids only?
奶奶 (Grandma) and Auntie had so much Fun driving Autopia !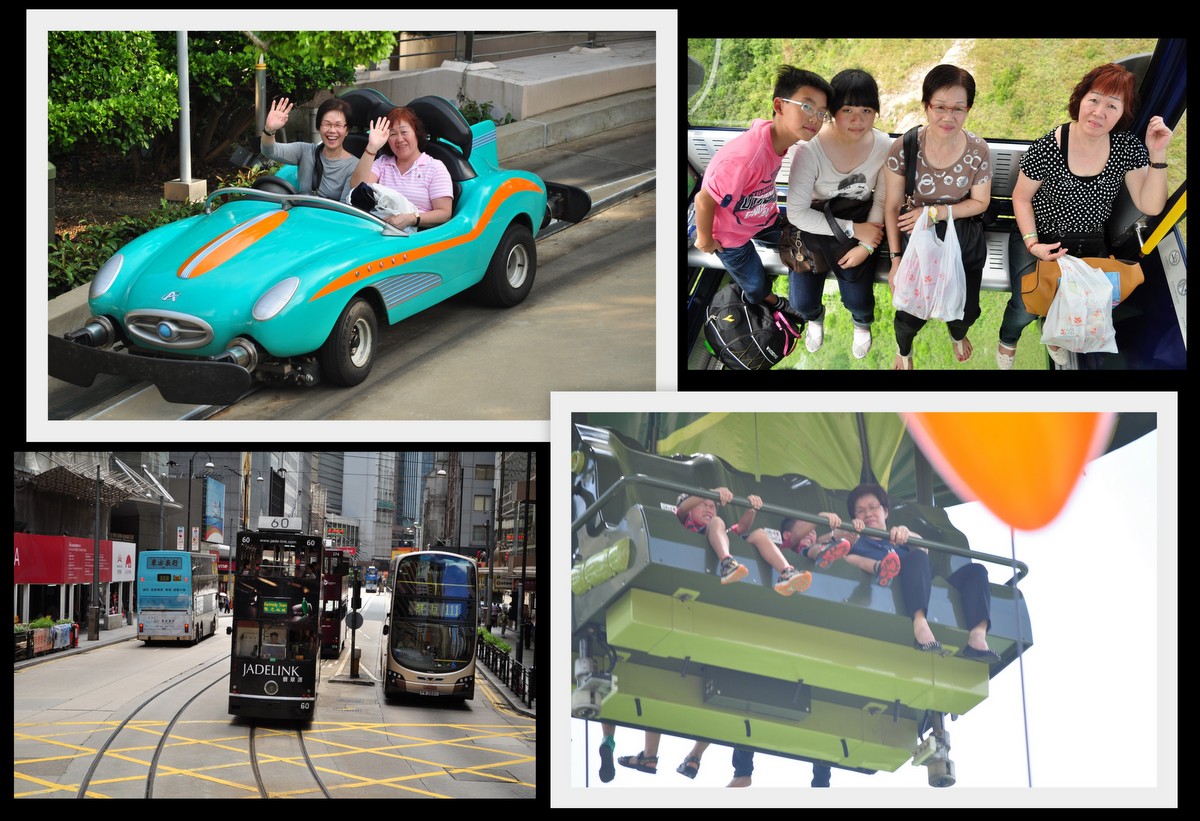 The Ferry and Tram are classics, must try 🙂

We rub shoulders with the rich and famous like Andy and Leon. Obama even ask Boon Xin to dabao (takeaway) Mango pudding !

It is not all play for us, we worship Buddha at Lantau.

HE did not tell us the Ngong Ping's crystal-cabin (昂坪水晶) is so CooL !

As the Sun sets in Hong Kong, the city never sleeps. You still see people everywhere. Does the double-decker buses ever stop? This city is so FULL of life ! And we are not talking about SOHO and Lan Kwai Fong yet :p

We spend the last two days to cosy up with Mickey and Friends 🙂

Boon Yee kept shouting for his idol "POoh Bear, PoOh Bear" while waiting in the queue. And we did not know Minnie's hairband is unisex 🙂

This is THE only restaurant (Disneyland Hotel) where parents will not scream when kids skip breakfast. Even the adults scramble to hi5 Pluto, share DimSum with Daisy and touch Goofy's whiskers. All the kids love super-friendly Mickey 🙂
Maybe Boon Xin is not used to seeing her cartoon characters so BIG, she got a bit intimidated hehe. Truly a Magical experience !

Stay tune as we invite you to tour Hong Kong 6D5N with us 🙂
Do pop by –> http://www.discoverhongkong.com to research anything and everything about Hong Kong.
Our friends BPDG (Heng family) was in Hong Kong too, do pop by their albums for more sights (Sky100, Lamma island).

~~~ ~~~ ~~~ ~~~ ~~~ ~~~
–> Our 6D5N Hong Kong Family Itinerary summary
Day 1 – Dim Sum, Ferry, Goose
Day 2 – Doraemon!, Tram, Ladies Street
Day 3 – Ocean Park
Day 4 – Buddha, ThePeak and Madam Tussauds
Day 5 – Street food, Disneyland !
Day 6 – Breakfast with Mickey, DisneyLand (part ii)
All photos from Day 1 to 6 are available on our Fanpage:
–Day 1 photos
–Day 2 photos (Doraemon)
–Day 3 photos (Ocean Park)
–Day 4 photos, and Buddha lantau
–Day 5 photos (Disney)
–Day 6 photos (Breakfast with Mickey)