From now till end of October, families can enjoy Halloween at Legoland Malaysia. You can expect additional Brick or Treat Party Nights over Fridays and Saturdays.
As a bonus, children with Halloween costume enter for FREE for the whole month of October.
While parents check-in, it is not hard to spot the "scary" Halloween decorations all over Legoland Hotel lobby and corridors.

Skulls, Cobwebs and giant spiders, and plenty of pumpkins.
Do take note of Legoland Hotel daily activities.
Thanks to Legoland's invite, we got to enjoyed 2 nights in Adventure room. The Lego Witch is part of their Halloween package 🙂
We visited Legoland Water Park and Legoland Themepark the next day to soak in the Halloween atmosphere. We have more photos of Hotel and  Water Park at the end of blog post.
Read the brochures or check online for the different types of activities and schedule (venue). Shortlist your family's favourite events.
In between these "Halloween themed" activities, other Legoland attractions are open till 8pm (only on Friday and Saturday).
1)Castle of Grim at LEGO® Kingdom is where families will enjoy a concentration of activities.
Do take note Halloween-themed "Brick or Treats" Games, carnivals and "events" at this castle is only for Friday and Saturday, from 5pm to 8pm.
*Tickets pricing for "Brick or Treats" is only RM88 for 5pm to 8pm slot.
** Visitors who came in earlier are welcomed to stay later for the Halloween activities
There is a maze inside the Castle, but it was not scary at all. There might be one or two humans pretending to be statues, waiting to ambush families :p
Legoland is still designed with young families in mind, we do not want to scare the little ones away 🙂
Lego Bricks galore for kids to explore their creativity. The Halloween themes would be monsters and pumpkins, but feel free to build your own imagination.
On our way to Monster March, we spotted a scary female cosplay next to the Roller Coaster. I would not want to bump into her at NIGHT!
2)Monsters' Parade at 4pm @Lego City
This parade confirm not scary. Infact some characters are too cute to be part of Halloween entourage haha. But we will give full marks for the entertaining factor.
Many Legoland characters came out to greet the crowd 🙂
Hello Lord Vampyre 🙂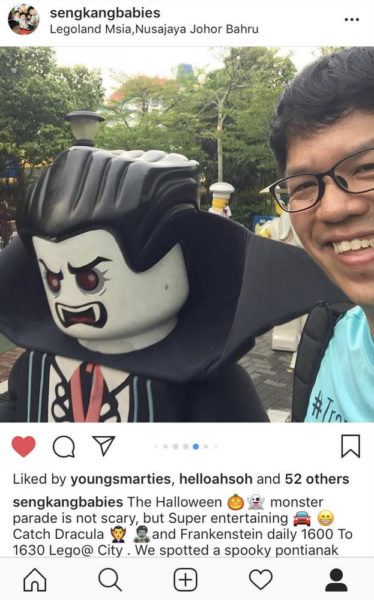 Monsters come in all shapes. Tall ones, Cute ones, some came on wheels and water guns too!
Do not miss Monsters' Parade, this "parade" was the most entertaining among all the Halloween activities. Look at Boon Xin and Ale (Cheekiemonkie.net) giggle away.
These characters are too cute and adorable to be scary :p
Video : Checkout the cute characters on parade and our Water Park Fun 🙂

Do not block the characters as they might trip. They will stop for some selfie moments 🙂
Do look out for the water sprays!
We went back to Castle area for the final segment of Halloween Bricks or Treats. All the monsters from the "Parade" will gather back here for more events.
There is a contest for "who can scream the loudest" or the "best dressed Halloween costume".  
There are many booths (huts) for families to engage in lucky dips or even "fishing".
Anyone wish to make a lantern? 
More photo opportunities with your favourite monsters.
3)There is a Halloween themed buffet dinner for the month of October
Besides the crabs, prawns and BBQ goodness. We were more intrigued with the "horror" food!
Fingers, brain, eyeballs and more ghouls! 
Really creative, but we thought Buffet price is on the high side.
Halloween is not Halloween without exchange of treats, or balloons.
Friends enjoying their dinner and scribbles 🙂
Let us share more about oure 2D2N stay at Legoland Hotel. We arrive on Friday after 11pm as we got stuck for almost 3 hours at customs.
Scorpions and other creepy insects accompany us in Adventure Room.
From our room, we noticed Legoland is greener now! This means more shady spots to rest 🙂
Started Day2 early at Water Park with Cheekiemonkies 🙂
The thrills, the adventures and rides. More Fun Legoland memories for families.
Who says only kids can enjoy Legoland :p
Upcoming attraction at Legoland would be Sealife.
Thank you Legoland for the fun invite. We had a relaxing weekend before kids had their exams (we did brought books to study haha)
Do pop by for more Legoland details on their Website and Fanpage.
You can read about Cheekiemonkies' experience here 🙂
More details about October Halloween details at this link -> http://bit.ly/BrickorTreat2018 .Do pop by our Legoland adventures here -> https://sengkangbabies.com/tag/legoland
ps.. Follow our Instagram tag #SengkangBabiesJohor for more JB adventures
*Our 3D2N Legoland accommodation, activities and meals are sponsored