Last Friday, SengkangBabies pop over to Legoland Malaysia.
This will be our ideal way to start our school holidays! To make things sweeter, we won two tickets from Cheekiemonkie's contest. Together with the Shell 36rm coupons, we saved a bundle.

From our research, we know we can reach Legoland within 20min from Tuas checkpoint. However, do take note to Exit at 312 (with Legoland signage), ignore Exit 312D beforehand.
If you park at Zon 2, you just have to walk 10min under shelter to LegoLand's ticketing counters.

Of the seven worlds at Legoland, MiniLand would be the best way to capture the LEGO magic. Try to identify 17 countries' iconic landmarks! Photographers rejoice !
Daddy chose to do Miniland last, otherwise we will be stuck forever with Macros. Refer to the map below, we cover Legoland in anti-clockwise fashion.

1. Lego City
For families with young kids, dash for Boat and Driving schools first. The queues get significantly longer as time goes by. Imagine queuing 30min only for two rounds at Nissan school !


Our kids prefer the cars to boats. Cars are easier to steer, and you often witness chain collisions! (not sure whether accidental or intentional haha).
Start perspiring when some drivers choose to drive in the opposite direction !

Video : LegoCity, where we learn about Boats and Cars.

Kids go gaga over all the various types of cars which you can find in the themepark.

Rescue Academy with cool fire engines and police vehicles. Daddy know this is a family activity where adults have to Labour to make the vehicles move. Daddy conveniently told kids we can enjoy other types of entertainment (phew !)

While kids enjoy their rides, Daddy is impressed by the life-like animals. The dinosaurs must have taken months of efforts !

We pop by the Market restaurant, attracted by the cute Lego figurines hanging everywhere. Kids will enjoy their mealtimes in this Funky restaurant.

Stay cool (look at their cool pose in 2010 Gold Coast). Legoland has little shelters, sunblock lotion for the kids is mandatory, not optional.

We skip the airplanes, and headed for the next world.

2. Land of Adventure
Pharaoh, Camels and Mummies and skeletons greeted us. Who wants to play Indiana Jones? Try the laser-ride at "Lost Kingdom". We recommend that you skip "Pharaoh's Revenge" ball games unless you have enough time to cover the other attractions.

Most of our kids enjoy their Beetle bounce, we wonder how come Boon Yee's facial expression is so tense!
Our little gal Boon Xin was smiling all the way. Daddy and Mummy tried very hard not to laugh at Boon Yee….

Considering the Hot weather, it is actually not a bad idea to take a dive. Bring your guts and spare underwear along to Dino Island.

Those climbing up the steep slope can witness the horrified faces and screams from those screeching down the rapids!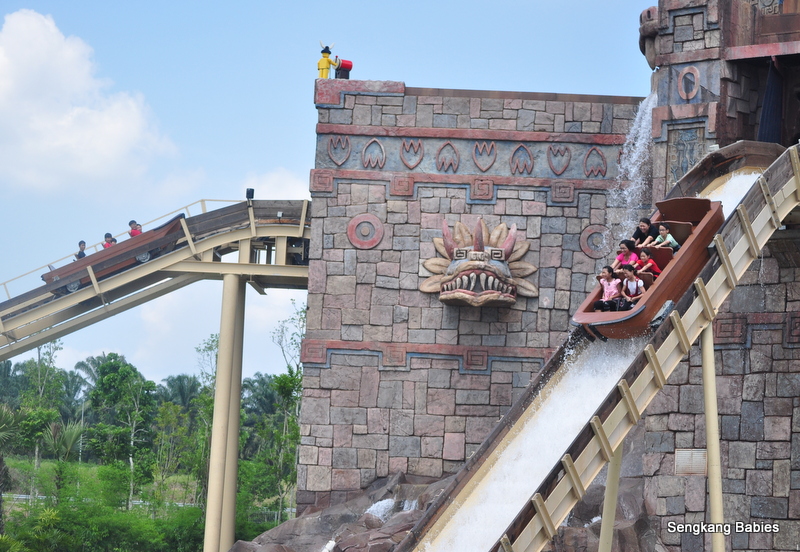 Video : Kids love the boat !

We had so much fun we went up and got drenched twice 🙂

We had some decent Hotdogs and Burgers at Jungle Cafe.

3. Imagination
The land of Imagination knows no bounds, and kids quickly explore their own creativity to build model racing cars. Parents welcome the cool aircon 🙂

Kids love the tall giraffes and giant dinosaurs.

Did you know the dinosaur can splurt water? No wonder kids always stay below to get wet purposely ! Parents do not mind as it helps to cool everyone down.

Although we are in Legoland, not all rides are made from Lego bricks. Kids look at Daddy in bewilderment when he teased that Dragon roller coaster is also made from Lego !

This hand pulley system should be fun for parent and child bonding. Remember Kid-Power-Towers, Daddy and Wei went up a few rounds. Every kid is strong enough to hoist their fat parents UP.

We fail to ride the Observation Tower or 4D movie, as the queues are too long. It will be too challenging to expect the kids to queue up patiently with us.

Video : Imagination

The smaller Kids got Duplo Playtown to entertain them. Duplo Express (train) is ideal for Boon Yee and Xin.

We upgrade to the real train "Legoland Express".

The train is very slow, allowing all the passengers to enjoy the sights. It might be due to the hot weather, Daddy did not find the train particularly Fun. Maybe you can treat the train ride as optional.

Video : Legoland Express choo choo

Build and Test. Kids gather here to build their x4 Wheels, Motorcycles, or anything with wheels.

Kids challenged each other to see whose model car will be the fastest down the slope ! Winners gain a healthy dose of satisfaction.

Boon Xin tried to stack her own skyscraper, but alas the "simulated" earthquake crush her dreams.

4. Lego Kingdoms
Think mediaval period, think Castles and Knights. You can see Dragons (big and small) at every turn.

Look up to see the Dragon roller coasters !

Forest Men's Hideout might be Robin Hood's hideout? Younger kids will enjoy the slides and bridges. However, the slides are very hot during the day.. ouch !

We do not ride ponies, but Jousting will do just fine 🙂

Video : Kingdoms and Dragon roller coaster

More cute Lego figurines around the park. Visitors queue to take snapshots.

5. At Lego Technics, Technic Twister (rotating cups) will spin you round and around, this teacup is still safe for the whole family 🙂

A lot of kids were busy showering in the Red-Optopus pool ! Maybe weather is too warm.

Wave Racers allow us to drive our hovercraft in circles, and avoid water-bombs, triggered by onlookers !

If you need more adrenalin or screams, Project X should give you the ultimate experience. Fortunately Unfortunately, Daddy got a fear of height :p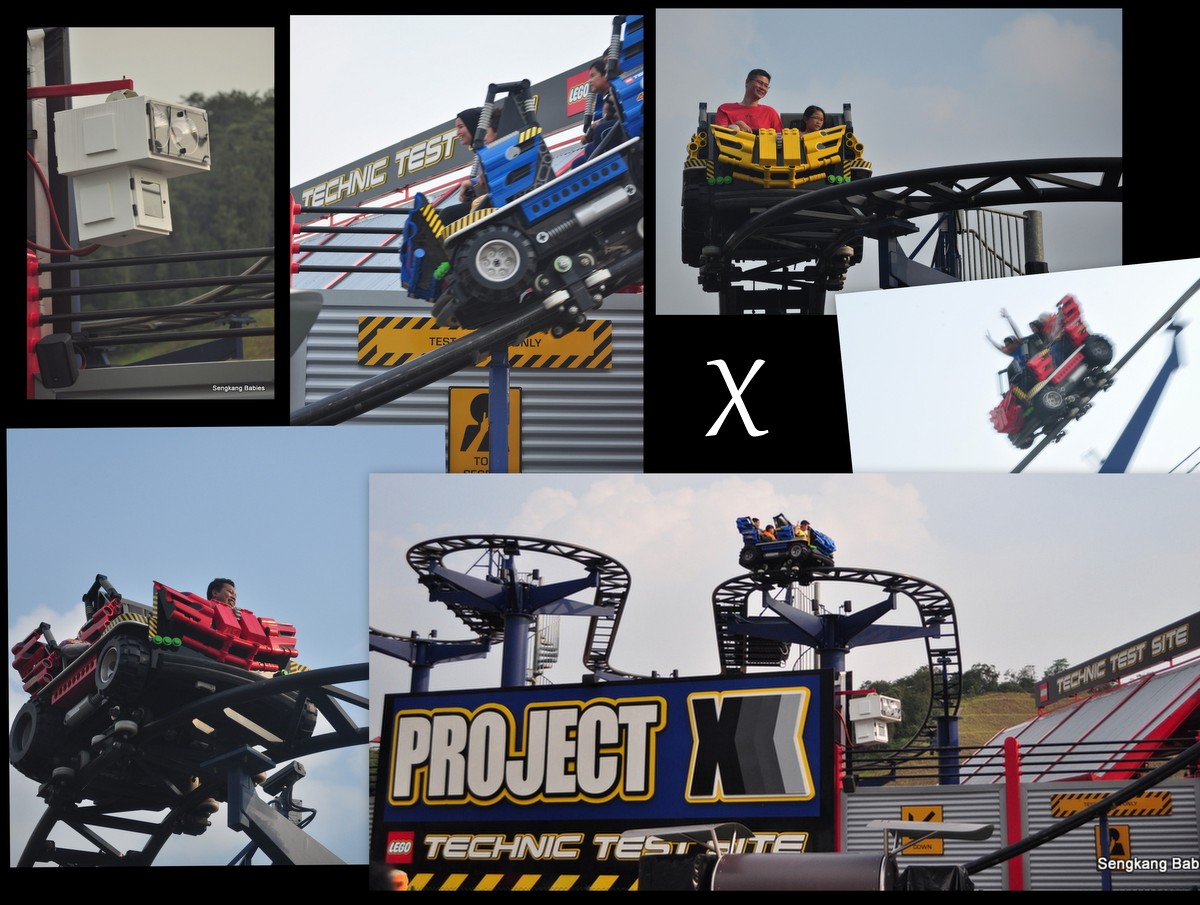 Video : Screaming at Technic

6. We saved the best for last, Miniland.
Singapore, how can we miss the Flyer, Merlion and bumboats?

As the host country, Malaysia got the most miniatures, from Petronas Twin Towers, KLIA international airport etc.

Boats, aircrafts, locomotives, all miniatures. Kids were following the trains as they move along the tracks.

Video : Miniland

Spectacular Angkor Wat! Look at the different shades of Gray. It must be mind boggling to figure out each Lego brick's destination.


If you love Miniland, you might like our previous adventure at WOC Taiwan 小人国 🙂
As the sky turned gloomy, we hid in the Big Shop. BIG houses every Lego merchandise you can think of !

From 1000 to 1800, time flies at Legoland ! We are glad that that the rain twice passed by Legoland, allowing us to maximise our day 🙂 We even spotted a rainbow.

We head to Medini Mall for our dinner. There are so many options, we end up with Absolute Thai. Love our Pad Thai noodle and Tom Yum 🙂

We hope your family will enjoy Legoland as much as we did, more Lego photos can be found at SengkangBabies fanpage.
**updated 2013Dec – our 2D1N stay at Legoland Hotel rocks !
We are recommending that you pop by these family bloggers for their fun tips too :
CheekieMonkie –http://www.cheekiemonkie.net/2012/09/legoland-malaysia-review-part-1.html
EdUnloaded – http://edunloaded.com/sponsored-review/legoland-malaysia/
WackyDuo – http://www.thewackyduo.com/2012/09/legoland-malaysia.html
Princess Dana – http://www.ourprincessdana.com/2012/11/top-20-things-to-do-in-legoland_20.html
Click for more updates at Legoland website.
=== === Our Recommendations === ===
a) Plan your itinerary, identify the must-visits and nice-to-visits. Take note that the park is hugh, and will involves a lot of pacing. With the afternoon sun, and long queues, kids will start to get frustrated 🙂
b) The rains tend to hit Johor during the afternoons, prioritize your attractions in the morning.
c) Suntan lotion and water parades are a must for everyone.
d) F&B is definitely more expensive in the themepark. The shopping mall outside Legoland (Medini Mall) offers a wide selection of cuisines at affordable prices. Annual membership owners can pop out for meals and re-entry into Legoland. Take note Re-entry is not available for day ticket holders.
e) Please bring sufficient water and tidbits into the park.
f) Buy your tickets online 7 days before to enjoy more savings (does not go with other promotions)
g) Compared to Universal Studios Sentosa, we agree with most of the bloggers that younger kids (below 6) will enjoy Legoland more.
=== === === === === === === ===
Meanwhile, we are hoping the trees in Legoland will grow faster 🙂
ps.. Follow our Instagram tag #SengkangBabiesJohor for more JB adventures