Strava Dinosaur ride was on my to do list for 2021. The only thing I needed was to find the time.
Finally took leave in December to complete the route, 130km within 10 hours. You may refer to Google Map GPX link.
My previous Strava experience was a 50km Merlion ride.
In summary, these were the challenges I encountered for Strava Dinosaur ride:

– I did an anti-clockwise ride. The western loops, city area, Bedok and Chai Chee slopes are best tackled with fresh legs. The eastern loop from Tanah Merah Coastal Road (TMCR) towards Changi Village and Pasir Ris, are relatively straightforward.
– Before the attempt, cyclists should be comfortable with 50km rides. 130km can be a stretch. No1 tip, DO NOT RUSH for time! And cater for plenty of rest and water.
– TMCR is 13km of boring straight ride, stretching your patience and endurance. This is especially true after you have already clocked 100km. Hope you can avoid the head winds :p
– I did not enjoy T-Rex's "hands". The repetitive loops in and out of East Coast Park are not fun, and Chai Chee roads are packed with slopes and single lane roads (intimidating for new riders).
How to use Strava Map (or Google Map GPX) to trace
You can save Terence's Strava map into your own Strava (then click Use Route)
Or you can open Google Map GPX. Both methods allow you to trace the route turn by turn. With a map, it is still very common to miss a few turns or junctions. I will highlight a few segments in post below (Eg, I nearly cycled into an expressway!)
Those living in Sengkang or Punggol can start from Punggol Marina and cycle West towards Yishun Dam direction.
At Yishun Dam, new riders should avoid the two-lane roads as vehicles can be impatient (peak hours) and cyclists do not have a lot of room to evade. Bumpy pavement is safer.
10Km Mark-Canberra
The link to Simpang Kiri PCN is still not ready.
Near Block 507B Wellington Circle. This plot of land is popular with families, kites and soccer during weekends.
20Km-lower Seletar Reservoir
Banana break, enjoy the MRT's reflections.
Be careful along Lentor Ave's filter for SLE, vehicles are travelling fast (Y-Junction here). Very hard to filter right here. New riders can go on the footpath.

Head South till Bishan Park, then follow Kallang River PCN. You will pass MRT depot and go up bicycle bridge near BCA Academy.
Kallang PCN will bring you to Potong Pasir and MOM (Balestier).

36Km-MOM (Bendemeer)
Ride safe.
The roads along Bendemeer, Balestier and Moulmein are always congested.
It is the same for Bukit Timah Road towards Ophir Road, you will pass by KK Hospital and Little India MRT.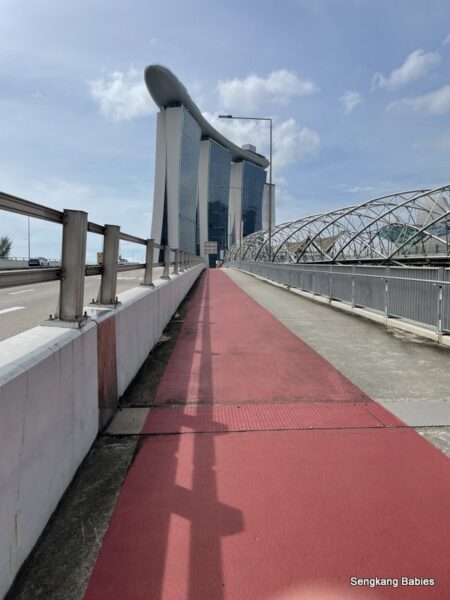 Pit stop for bao (Snacks) and 100 plus. Weather is warm and traffic is busy.
Head towards Singapore Flyer direction. You will go past MBS, Gardens by the Bay, Marina Barrage and Indoor stadium. This is the easy and scenic stretch.
Congrats, you have completed T-Rex's tail and buttock already.
Al Fresco dining by the river at 1200 noon, gobbled down char siew rice.
From past experience, I need to keep myself hydrated and nourished, the weather can be punishing. Sugar boost with sugarcane drink.
Can feel my legs softened at 50km mark. Maybe I did not clock enough mileage post booster 🙂
65Km-Marine Parade near ECP underpass
After lunch, followed PCN till Breadtalk HQ, CDC (Comfort) then head towards Jalan Eunos (watch out for traffic).
You will cycle past Sims avenue and along Kembangan Park Connector.
You are near East Coast Park when you see this Dolphin sculpture (near Block 33).
From either direction (CW or Anti-CW), you will need to enter and exit East Coast Park twice to form T-Rex's mini hands. There are many loops around Siglap, Katong Chai Chee, Bedok neighbourhoods.
(Photo below ) The stretch from Siglap Road towards Chai Chee Street would have many slopes.
Uphill and single lane, not recommended for new cyclists. If you are cycling on pavement, it will be bumpy as this is private estate and has many junctions and humps.
Go slow, safety first.
(Photo below) Along Bayshore Road, heading South towards condo "Costa Del Sol". Be alert and look for the pavement behind condo (GPS 1.311490, 103.940759), which will lead to underpass.
*If you are cycling on road, you will hit the point "X" which leads to ECP expressway! Be careful if you are crossing the junction here as it is a blindspot for vehicles.
Second entry point to East Coast Park. You will cycle East and exit behind  Bedok Camp. Maybe desserts at Bedok Food Centre?
Do take note Bedok Road is also single lane, but the lane is wider. Keep left and ride safe. It will be more convenient when the PCN behind Newater Plant is ready.
This PCN will link folks in Bedok, Tampines and Pasir Ris seamlessly to East Coast Park.

The rain was falling "infront" of me, I was concerned that it will be wet and sandy ride along Tanah Merah Coastal Road (TMCR).
Well, better for the rain to be infront, instead of pouring over me.
Another impromptu pitstop at the canteen at Bedok Industrial Park E (Just before Changi Hospital's junction). I needed to refresh before I attempt Xilin Avenue and TMCR.
Expo MRT, dark clouds loomed.
Be alert along Xilin Avenue. Whether you are heading towards ECP or Simei (either direction), the Y-junction is challenging.
Fast moving vehicles (trucks too), upslope filtering (lanes) and blindspots. Ride safe and take care of less experienced cyclists.
Refer to the two Y-junctions (mark "X") below.
95Km-Start tmcr
Since I am doing the Strava Dino Ride, I should pose with a dinosaur.

It was a Thursday afternoon along TMCR. Even though I was on the bicycle lane, you can feel vulnerable when the endless lorries and trucks roll pass.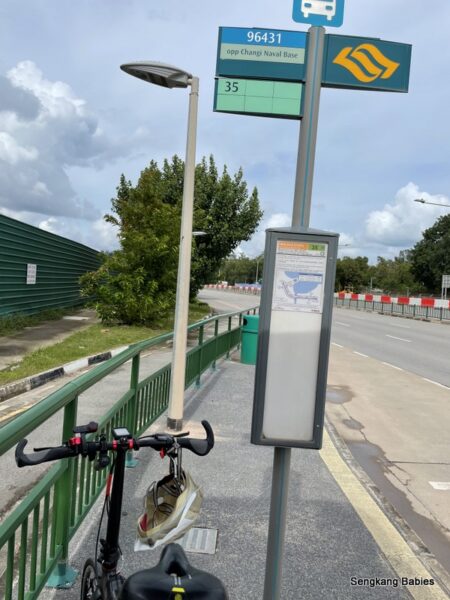 Appreciate the greens and shade 🙂
For those attempting Strava Dino ride clockwise, "Toilet 4" would be the last pitstop before you start TMCR.
At Changi Village, I am just 20km from completing my challenge.
For those regulars, you would know that even 5km can be a stretch when you are tired.
No1 tip, No Rush.
You can choose to chill at Changi Village Hawker Centre or maybe Pasir Ris Park. Take note CV does not allow you to bring foldies inside.
Take note that Pasir Ris Drive 3 is full of road works, leading to uneven pavement and road congestion. The metal plates are dangerous for bicycle wheels and can be slippery during rainy days.
-Try shortcut behind Loyang Tua Pek Kong temple (Google Map link , skip Loyang slopes)
-Take a small detour and cycle parallel along Pasir Ris Park, exit here (slope at Overseas Family School) or here
Follow the pavement, enter Lor Halus Park Connector at the bend (GPS), slow and easy back to Punggol edge (Lorong Halus bridge).
128Km-Near Punggol Marina club
Strava Dinosaur ride completed!
It took me almost 10 hours. Something fun and novelty, happy to cap another cycling episode. (Thank you to Terence and other cyclists for their creative Strava maps)
Tips and next challenges:
1)During the ride, I have cycled on many PCN and shared paths.
The worst "shared paths" could be those outside Yishun and Khatib MRT.  Narrow, bumpy, sharp turns and tons of speed bumps. Very uncomfortable ride experience along these tracks. Somehow, the pedestrian pavement is much smoother than cyclist track.
Are the designers and architects of these after-thought tracks even cyclists? 
Compared Yishun with Canberra's shared paths. Which is spacious, smooth and clearly demarcated. I hope future towns will have better shared paths.
2) Do bring power bank and light (for rain or evenings)
3) Next up for 2022 Q1 and Q2, I will be walking Singapore (150km) with a few kakis, hoping to complete the loop by early April.
4) Cycling has also reignited my freedom spirit, will be attempting to get a Class 2B license. Riding a motorcycle is different from driving a car. The sense of liberty and freedom….