In this blog post, we will share our Tioman road Trip and some family friendly activities.
Fun snorkeling adventure is only hours away, and this is our first visit to Tioman (刁曼岛) . Is Tioman the nearest snorkeling and scuba site from SG?
It is a 2.5hour drive from SG to Mersing (130km), followed by 90 ferry to Tioman island.
We always hear folks mention Tioman is expensive. This is true if you stay at  5* resorts, where all meals are in-house. But try a relaxing resort around The other less popular "kampongs", and the expenses will be more affordable.
Tioman is definitely more affordable than some nearby Indonesia islands which only charge SGD or USD.
Refer Google Map above, most folks will take the Kota Tinggi route to Mersing Jetty (GPS 2.434173, 103.839365).  Desaru detour will take an extra 1 hour.
Just head towards Mersing and you will be ok. Do take note you will not find any petrol stations for a good 50km, 60km stretch along Kota Tinggi route.
The first BHP station will be around the 238/239km marker "Kuantan direction". I would suggest pumping in Mersing town.
The same applies to toilet breaks, you will not find any R&R along Kota Tinggi service road. (ie no pitstops like those from North South Highway, with food, toilet, and prayer)
You will see some white pillboxes (WW2 bunkers) along the route, before reaching a famous Bak Kut Teh outlet.
The halfway point has a famous Bak Kut Teh, 强记肉骨茶 (GPS 1.827193, 103.958769). It was closed when we went on Tue, and they are not opened in the afternoons.
*Warning* Go easy on the meals as the second half of the journey towards Mersing is more winding (left-right and up-down).
(1)Driving and Overtaking tips
Road condition is good, with minimum potholes.
You will need to overtake, unless you wish to be stuck behind lumbering trucks.
The 1st tip for overtaking. Always check blind spot before overtaking, someone faster might be overtaking you.
Drive at your own comfortable speed. My average speed is 100kmh along the route and I may need to ramp up to 140kmh for overtaking.
Kota Tinggi route will be totally dark in the evenings.
If you have not done night driving before, go slower, let others overtake you. Your GPS map will indicate "bends" ahead, so you can anticipate better and drive safer.
The arrows signs, BIG or Small, will indicate whether the bends are sharp or normal.
*Slow down before "bridges", as there are always bumps (or kerbs) before and after.
Try not to overtake near villages ( kampong areas), cars might be trying to exit from opposite access road. Besides goats and cows might stray onto the roads.
** Slow down if cars from opposite side overtake  into your lane, let them filter back safely.
If you feel uncomfortable about cars tailgating behind, keep left and let them pass. Ego has no place on the road.
If unsure, or not confident. Stay Put and do not Overtake. SAFETY first!
(2) Ferry Tickets
(2a) Get your Ferry tickets from Mersing Harbour Centre (picture below). You can buy tickets on the spot, but we would recommend asking the resorts to buy on your behalf.
For "return" trip, just wait at your Tioman Jetty, there is no need to pickup any tickets. The operators will validate your tickets on the way back to Mersing.
Return Tickets pricing are Adults RM70 and Child RM60
For pre-orders, arrive at least 1 hour beforehand to pickup your tickets and boarding pass. If you are late, you might need to wait an hour for the next ferry.
*Take note boarding starts 30 to 45minutes before departure, families who board late might need to split up or could end up standing! Go early.
Use backpacks instead of luggage, otherwise your luggage will be at the bottom, and last one to disembark.
**There is another Ferry Terminal at Tanjung Gemok. Those arriving from Singapore should use Mersing Ferry Terminal.
There are three Ferry stops (jetty) in Tioman. (1)Kampong Genting, (2)Kampong Paya and (3)Kampong Tekek.
The boat trip from Mersing to first jetty "Kampong Genting" will take 90 minutes.
If you arrive earlier, snack and rest around nearby cafeterias, maybe Kluang Coffee?
..or Port Cafe (Picture below)
Left – Rawa Island Carpark
Center – Ferry Terminal entrance
Right-Port Cafe
There are two or three carparks at Jetty. Most will recommend parking at Rawa Island Resort. We spotted many SG cars too.
RM18 per night, there is a security post and some shades. Carpark is locked in the evening. Our cars were infested by ants after 3 nights! Do check carefully where you park your car.
(2b) Below image is the Ferry Terminal entrance. You will collect Boarding pass here.
Beautiful waters and mountains greeted us when we dock. It can be sunny and hot, but mist constantly cover the mountain range.
Can we dive in straight and chase the shoal of fishes?
Walk straight along the jetty and find your resort. Kampong Genting is only 2km end to end. We will share more activities in the following Tioman blog posts.
(2c) The Return Ferry trip would be more challenging.
Always arrive 1 hour earlier, the ferry schedules are not really accurate.
Logically, the ferry route is likely in reverse, but this might not be the case (!) The ferry can either be early or late, ours was 90 minutes late. Our delay could be due to Hari Raya Holiday (peak season).
The safest way would be to ask each inbound ferry "Mersing Jetty?"
If you are taking a coach from Mersing back to Singapore, please buffer extra time for the Ferry.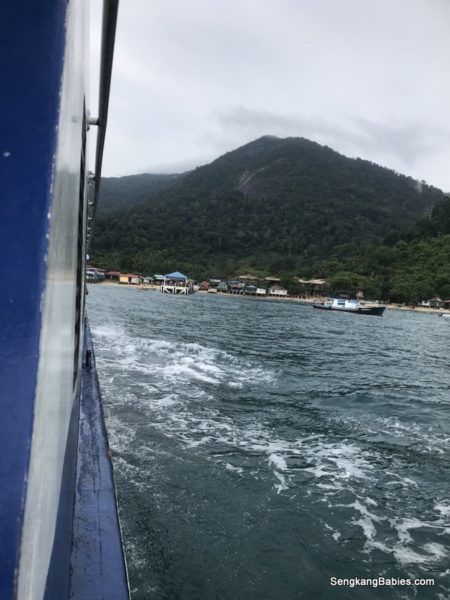 During peak periods, the return jetty will be packed! This was Paya Jetty with at least 100 visitors. Hold on to the kids.
Once back to Mersing, seek out some delicious seafood. One famous dish would be salted egg squid. Most restaurants will sell delicious zhi char (煮炒).
Go easy on the snacks, as we will be facing the winding Kota Tinggi roads (again).
additional tips
-Avoid the Monsoon season between October and March, beach activities might be closed. Check with your resort.
-Tioman tourism website provide additional details (http://www.tioman.org)
-We stayed at Kampong Genting. This is generally less developed and more humble compared to Kampong Paya. Kampong Paya will have the 4* 5* resorts and private beach.
-We prefer the small eateries around our kampong rather then restaurants. It is more authentic and delicious too!
-Map below will indicate some exclusive (read Atas) resorts perfect for that romantic stay or luxurious indulgence.
We got two apps to recommend for easier commute.
– Beat the Jams – This app predict congestion at both customs Woodlands and Tuas. App can forecast the "best time" to visit Malaysia too.
-WAZE (from Google) – Plot your journey, let fellow app users warn you about traffic conditions and speed-cameras (thank you!)
We will end this post with our favourite resort in Tioman.
When we were researching for Tioman accommodation, X Rector  (无名导游) kept popping up with 5 stars! (Booking.com, Tripadvisor, Google Map and Facebook). The friendly hosts are the reasons for the high rating.
X rector Minsu is the main reason why we chose Kampong Genting instead of the other Kampongs 🙂
Only one small problem, you need to book months in advance!

Driving to Malaysia for the first time? Below tips will help you explore further and find more gems. You can explore nearest Johor town before planning for your own Tioman Road trip.
Just remember to exercise more vigilance and common sense once we travel out of Singapore.
–https://sengkangbabies.com/holiday/driving-tips-for-malaysia (Tips)
–https://sengkangbabies.com/automotive/how-to-prevent-car-theft-in-malaysia (Common sense)
–https://sengkangbabies.com/holiday/google-map-hacks (Google Map)
–https://sengkangbabies.com/holiday/gps-i-hear-you (Car GPS)
Do pop by our Facebook album (link) for all our Tioman Road Trip photos.
Video : Tioman Fun activities (Youtube Link)

Tioman 4D3N blog posts :
Tioman Snorkeling –https://sengkangbabies.com/holiday/tioman-snorkeling-and-x-rector-minsu
Tioman Road Trip –https://sengkangbabies.com/holiday/tioman-road-trip
Tioman Family Itinerary –https://sengkangbabies.com/holiday/tioman-family-itinerary