Tioman snorkeling is the best Tioman family activity from our recent trip. In this blog post, we will also be sharing our stay at Tioman X Rector (read our first Tioman post here). Read our latest experience from 2019 too.
Our marvelous resort is also known as X Rector Minsu or 无名导游 (literally no brand travel agency)
Read till the end, we have two snorkel packages to giveaway.
Love the bright blue and yellow contrasting colours, resort is just next to beach front. There is a little bit of Kame-house nostalgia for me (Dragon Ball)
We stayed 3D2N with them, but we could have easily extended another two nights to chill at the beach. ( Do take note this trip is not sponsored and we did not tell hosts we are blogger too)
X Rector is garnering excellent reviews all around, Booking.com, Tripadvisor, Google Map and Facebook (无名导游).
X Rector GPS ( 2.767242, 104.121691 ) is about 12min slow walk from jetty.
Luggage can go in the motorcycle, passengers are optional. If our hosts are free, kids get to enjoy free Grab Motor service 🙂
Rooms are limited, that could explain why there is a long queue. We heard X Rector minsu is going to expand end of the year.
There are two rooms with space for 3 each (including bunk bed). Very clean and simple setup, they place some cute dolls to personalise the room too.
*Do take note booking can only be secured via Booking.com
At last glance, popular dates (school holidays) are almost 100% booked.
We love the "black" bathroom, slick and totally unexpected for a Minsu (homestay). If only they got a bathtub to spare 🙂
The patio is our favourite corner.
You can chill, doze, admire the tides or sunset or simply watch World Cup! (Malaysia is screening World Cup 2018 matches for free!)
When it is low tide, kids can walk on the sandbank and catch some marine creatures.
We get front-row view of sunset everyday. So much warmth.
Low tide and high tide twice a day, kids had field day learning how to catch the elusive crabs (the crabs come with bloodshot red eyes).
Earlier on, an irresponsible ship has dumped oil into the pristine water. As the waves wash the oil molecules up the beach, the oil patches lumped together and might take decades to decompose!
The only way to clean our soles or footwear is to use baby oil. The oil patches are very sticky and hard to rub off with bare hands.
Please ask Ah Liang and Ah Wee to show you Milky way!!
We were commenting that the stars seem to blossom that night, and Ah Wee told us about a secret spot to catch the "galaxy".
During low tide, when the huge boulders are exposed, some are wide and flat enough for 15 to lay across!
As we adjust our eyes to the darkness, millions of stars greeted us from above. WOW 满天星!  Telescope not needed, but I should have brought my tripod for some star trails.
Our hosts would help us identify 北斗星 (Dipper), and Scorpio (looks like a scorpion).  We spotted a few fast shooting stars too. Unlike fairy tales the shooting stars were fast, quite faint and lasted only 2 to 3 seconds.
In that 3 seconds, make your WISH 🙂
Families would love this magical stars-spotting experience. It is very hard to see more than 10 stars in mainland Singapore.
I could lie there for hours , just dreaming away. Alas, kids' attention span is just 30 minutes before they wanted to go back to aircon and phone comfort.
This is the first time I saw such a clear Milky Way. You will never get this "stars canopy" in Singapore (due to light pollution)
The closest experience to enjoying these stars was from my previous Indonesia trip ( Mount Bromo).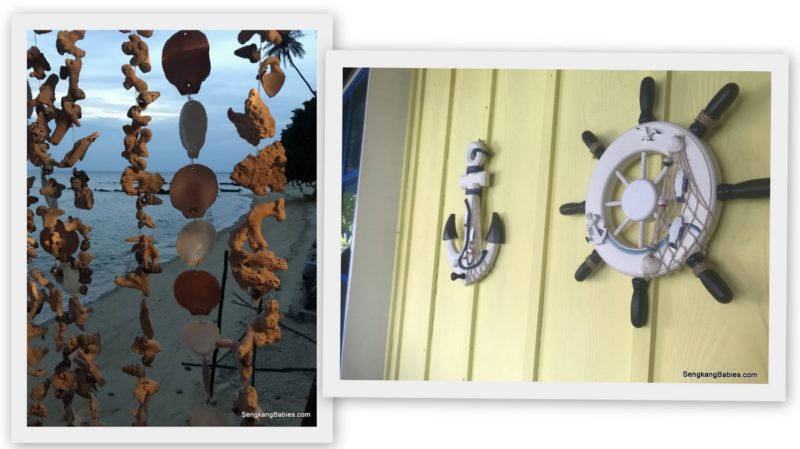 Meals are simple and decent. The malay stall macik (Auntie) whips up power Mee Goreng and Maggi easily 🙂
Although she does not smile much, she really enjoys seeing us finish her food. Maybe we are constantly hungry from sports and activities.
When we want to splurge, order the satay , chicken wings and fish 🙂
Price is very reasonable, and breakfast is included for X Rector.
On the last day, it was Hari Raya holiday. We thank Macik for preparing a breakfast spread and Malay cookies. Really appreciate her gesture.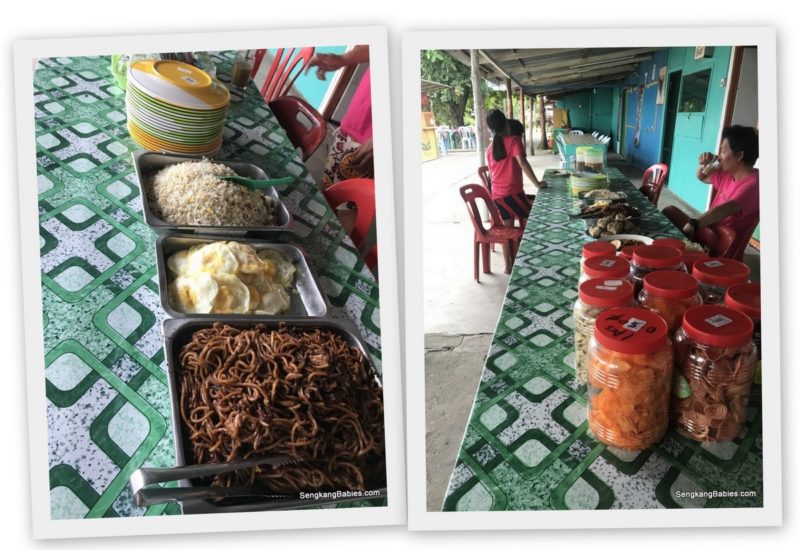 For Tioman Snorkeling, Ah Liang and Ah Wee brought us to three offshore spots.
Before that, we had a morning Snorkel orientation. We must ensure we have a fitting snorkel kit and life vest.
The "orientation" turn out to be a 60 to 90min non-stop snorkeling! We are not complaining because the corals and fishes were calling out to us.
When we next surfaced, we realised we were only 20 min swim away from the jetty!
Ah Liang will show you their personal swimming pool 天然游泳池 🙂
We visited three spots in the afternoon.
First Stop, White Sands 白沙滩
Water is crystal clear and we follow our trainers one round around the ROCKS! Mum and girl was feeling tired, so they got to hang on to a float and let us pull them along ( #soLazy !)
Video : The fishes will swim right up to you when they sense food
Full Snorkeling Video clip (YouTube link) :

Group photo
Ah Liang and Ah Wee can both scuba but they prefer to bring guests on snorkel trips. It is their wish to see more families SNORKEL together and enjoy the wonderful marine underwater world.
Kind of creepy to see the urchin crawl on our palms. The "spikes" can move!
I call the second snorkeling spot Big Rocks, it is only 3 mins away.
Can you imaging swimming along the boulders, which are formed like a maze. You can snorkel over a plateau and suddenly a deep valley lies behind! (Feels like cavern)
The water here can be 30 40 m deep, we even spotted trainee scuba divers.
Awesome experience with rich marine diversity. This is why we keep saying Tioman Snorkeling is the best activity for our 4D3N stay.
The last spot is Pulau Renggis.
This is where our group spotted 2 sharks and one turtle
. The above video clip would show clearly why we could never catch up with the aerodynamic sharks. I was finning full speed, yet the sharks just sweep their fins and they are gone, and these are only the juveniles 1.5m long.
We were rolling with adrenaline and chasing after the baby shark! Where was our fear factor?
I am really happy to see the whole family snorkel together . Everyone got to disturb the clown fish, chase or feed schools of fishes (Cheeky kids tried to punch the fish ooops)
Perhaps we can LEVEL UP our snorkeling with Manta Rays and Whale Sharks next, or perhaps freediving :p
The snorkeling and stay at X Rector Minsu were the best experiences for us in Tioman.
Thank you Ah Wee and Ah Liang for the superb hosting, our families brought so much memories back to Singapore !
These two chaps (and Auntie Uncle) were super friendly, treated us more like friends than customers.
We rated them 5 stars too, because of their top notch service and friendliness. Hope more families will get to enjoy X Rector Minsu's hospitality and enjoy Tioman snorkeling.
Additional tips :
-Do not buy the snorkel kits from company starting with "D". Cheap but constantly fogged, lowering visibility and experience
-Some resort reviews are super-run down and isolated, yet they can get  good Google review 5 stars (and without comments). Be careful when researching
– Wifi is ok on island
– Why are there so many boulders in and around Tioman :p
– We have uploaded all our 4D3N Tioman photos in Facebook album
– Itinerary, route and ferry trips are highlight in our Tioman Road trip post
Each X Rector special Tioman Snorkeling package is worth RM140 (per pax, not inclusive of fin and snorkel rental) . Package might be more expensive than standard fares, but it promised an intimate small group orientation and tour.
Snorkel at your own pace and let Ah Liang and Ah Wee bring you to an magical underwater world. (* This snorkel package is only available for inhouse guests)
Tioman 4D3N blog posts :
Tioman Snorkeling –https://sengkangbabies.com/holiday/tioman-snorkeling-and-x-rector-minsu
Tioman Road Trip –https://sengkangbabies.com/holiday/tioman-road-trip
Tioman Family Itinerary –https://sengkangbabies.com/holiday/tioman-family-itinerary
Updated 2019Nov – 2nd trip to Tioman X Rector
~~ ~~ Snorkel Packages Giveaway ~~ ~~ ~~
Thanks to X Rector Minsu, we have x2 Snorkel Package worth RM 300 to giveaway.
You agree with following Special conditions before joining the contest :
*a) The RM300 package must be used by 03 Nov 2018 (X Rector minsu is very popular, you might need to book months in advance!)
b) Contestants can only book X Rector minsu from 
booking.com
 and minimum stay for 2 nights
c) Contestants must pay for own transport and ferry options
*d) RM300 package can only be used for X Rector's special RM140 snorkel package (ie 2 person snorkel for free)
Contest Mechanics
1. Contest is on our Fanpage
2. Fans must first LIKE X Rector (无名导游) and SengkangBabies Fanpage
3. Share the marine creature which you  (or family) would like to see underwater
4. Leave your name and email on our Fanpage (or you can message email address to us)
5. Share this page (refer step 4) on your Facebook Wall and tag @SengkangBabiesBlog (set Facebook public, so that we know you are participating)
6. Contest ends 14 Jul 10 pm, and two winners will be randomly picked
7. This contest is only available for those with Singapore address.