We share some of our favourite Johor Massage joints in this post.
We are not expert massage reviewers, our comparison are relative to our own experience.  End of the day, it is the skills of the masseur which defines our experience.
Besides, massage experience is very subjective. Some like to be tortured (maximum pressure), while others are more moderate (and ticklish, aka me). There are so many yardsticks for Shiokness, pain, pleasurable and soreness can be a thin line.
Our Malaysian friends will say 几爽一下 🙂
Personally, I prefer Thai massage over leg, as the whole body is given a good rub, stretch (and crack).
Our first venture into Johor massage started with Kaki Kaki 足道养生 at Mount Austin (GPS 1.560080, 103.774326).  This franchise has many outlets in Johor, Mount Austin alone has at least 4 outlets!
Our package was 90 minutes for Foot, Shoulder and Head (脚头肩). RM95 only! About 60% of the time will be on your leg, but you can customised a bit.
This is a worthy investment to get rejuvenated and soothes those knots and aches. (Singapore Massage would be easily $50 for 60 minutes)
Do take note NOT all Kaki Kaki reviews are of same standard.
We can only based on Google Reviews, or trial and error.
The latest Mount Austin branch is only a few steps from Prince 33(here) , and it also serves good massage.
Most Kaki Kaki outlets would have a huge LCD infront, if you want an absolute quiet environment, get the Thai packages for the private room.
2) 7 Days Wellness (Bukit Indah) (Rating 3.5/5)
7 Days (GPS 1.481059, 103.657799) is ok but we suspect nearby massage outlets might score better in terms of customer satisfaction.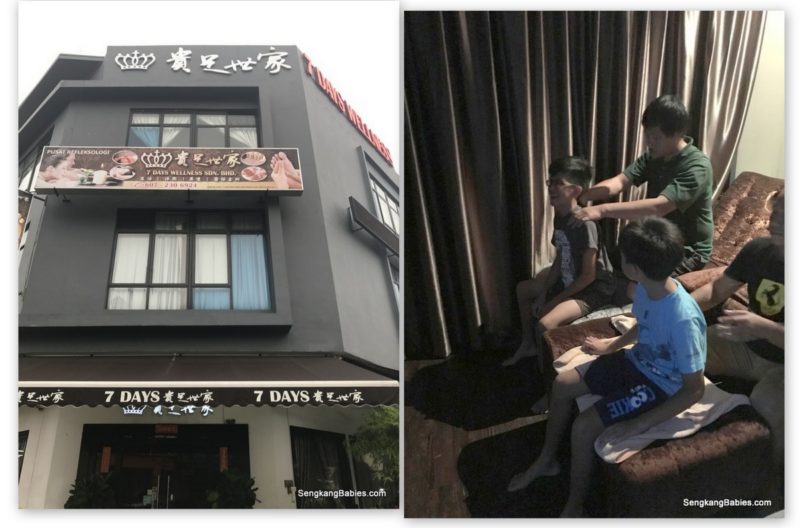 3) Reborn Massage (Skudai) (rating 4/5)
Reborn Massage (GPS 1.515314, 103.667645) is one of the better ones around Sutera Mall (Skudai).
This is a nice area, with plenty of food options. The shopping scene has been hijacked by Paradigm Mall (5km away). Nevertheless, this is a good base to explore the neighbourhood towns and food exploration.
Price wise, they offer about the same package as Kaki Kaki. But their setup is more gland. We would choose Reborn again if we are back in the area.
You MUST visit Maco Cafe (next door) for the best crepe in town!
..our massage selection criteria
-Experience
-Comfort level (subjective)
-Package (Price)
-Value for money
If you find one Massage outlet you like, membership might not be a bad idea. We always go back to our regular masseurs, most of them are from Thailand or even China and Vietnam.
We can only go by "word of mouth" recommendation or Google Reviews to shortlist reputable and clean massage joints (no hanky panky).
You can imagine the challenge when, for example, there are easily 30 massage around Taman Sentosa!
Our previous blog shares how to take a train to JB, and also Google for nearby massage outlets -> https://sengkangbabies.com/holiday/train-to-jb
Like most of you, the No1 turn-off for me during a massage session is HARD-SELLING! Some will pester you to sign up a package, tips or even special service. You are in the wrong blog if you are searching for "happy ending" :p
Go for 60 minutes or more, if time permits. 30 minutes package is just enough for warm up. And Thai Massage 2 hours is the most therapeutic.
Our 4th and 5th recommendations are side by side at Plaza Sentosa.
Skill-wise, both are as good as Kaki Kaki, but their package is almost 50% cheaper!
4) Let's Relax Spa (4.25/5)
Let's Relax Spa (GPS 1.492031, 103.769116) is more posh compared to Sabye Sabye. The environment (LCD, and reclining chair ) are more comfortable.
This outlet is not affiliated with Bangkok's famous franchise.
Wow! 90 minutes session, RM55 is less than SGD 20!
5) Sabye Sabye (4.25/5)
Somehow, we prefer the massage services at Sabye Sabye. Mrs commented that the masseurs at Sabye Sabye are better.
You will not be disappointed with either Sabye Sabye or Let's Relax. Both offer similar package and pricing. If one is full house, just go to the other one.
Enjoy yummy paper wrapped chicken at (Teck Sing) after your pampering.
We hope the above recommendations would give you a head start to Massage in JB.
We normally bring our kids along. While adults massage, they will just play their phones at the waiting area. Some will join us for the occasional massage sessions 🙂
Somehow, we have not visited those massage outlets in shopping malls like KSL and City Square yet. Do share your favourite massage joints (or experience) with us too.
Hint: The oil aromatherapy packages (香精油按摩) are very popular with Singaporeans too.
Additional tips for JB:
If you do not wish to drive to Johor, just book a train and Grab everywhere. Taxi fees are RM5 or RM6 only. Follow our train blog and just Grab in Malaysia
ps.. Follow our Instagram tag #SengkangBabiesJohor for more JB adventures