Sembawang Hot Spring experience  (三巴旺温泉公园) was all over the news and social media.
After all, Singapore only has two outdoor hot springs, Sembawang and Tekong Island (and Tekong is off-limits).
Screenshot below from Kelvin. Depicting the LEPAK calm scene before 500 visitors soaked their feet!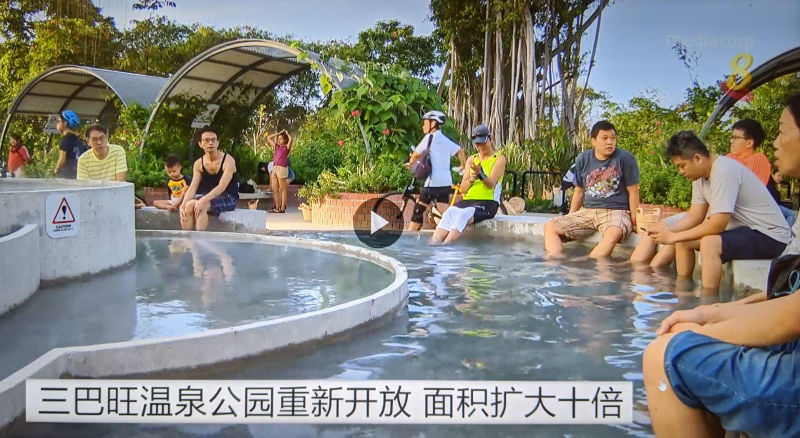 We had blog about our 2015 Sembawang Hot Spring experience from 2015, quite a  novelty (link).  And we are glad the new park is now more family-oriented, offering better experience, yet still Rustic!
What remains the same?
Many folks have remarked that Sembawang Hot Spring Park has retained its unique rustic feel. The locals also got a "Sayang Sembawang" term wow.
From the Gambas Avenue entrance, visitors follow a meandering path to the red brick house.
The air base and canal is still there. The banyan tree and long airborne roots) are still growing.
History of Sembawang Hot Spring.
The iconic red house (and the well) has been preserved.
You will still find "regulars" cycling over to soak their feet, and maybe body too! (There used to be personalised "bathtubs")
You will notice a multi-tier pond 🙂
What has changed?
Toilet and cafe, thanks NParks!
Not too long ago, guys could hide & seek behind the trees to urinate, but it was quite unglam. Now, we have fully functioning lavatory, and I am not referring to the portable loos.
Please keep the Spa and Massage services off this area 🙂
Heard this cafe serves local delights and you can buy your eggs here.

Landscaping has undergone serious upgrade too.
Fruit trees and flowers greet visitors along the pathway.
(Those seeking durians need to go deeper into Mandai)
I can already imagine Minister Khaw and team organising "Fruits and Soak" party in the near future.
Nice flowers and I am expecting more colour blooms! Bring back the bees, butterflies and birds.
We noticed the mosquito population has dropped significantly too!
Hot Spring Water is still the highlight
Soak your feet, cook your egg (bring your own pepper and black sauce too).
Thumbs up, the hot spring pond is wheelchair-users inclusive.
The centerpiece would be the cascading pool. It looks classy compared to the taps last time haha.
From the image below, water at the top is 70 degrees and cool to a comfortable 40 degrees at the base (it feels more like 35 degrees).
Just take note that everyone in Sembawang and Yishun will be visiting for the first few weekends!
Humble beginnings, with only a few taps (2015 blog post)
Video of Hot Spring compound 2015

The well inside the Red brick house.
Before we proceed further, do take note the free-to-use tubs come in two sizes. Big one for feet, small one for eggs.
It would be weird if you start boiling your eggs in the big tubs, the elderly folks might stare at you (and the egg might taste different due to all the soles !)
Please take care of the park and return the tubs! Do not bring the tubs home ok.
Seasoned Hot spring users will collect the 70 degrees water at the back. (Kids should not play with the hot water here.)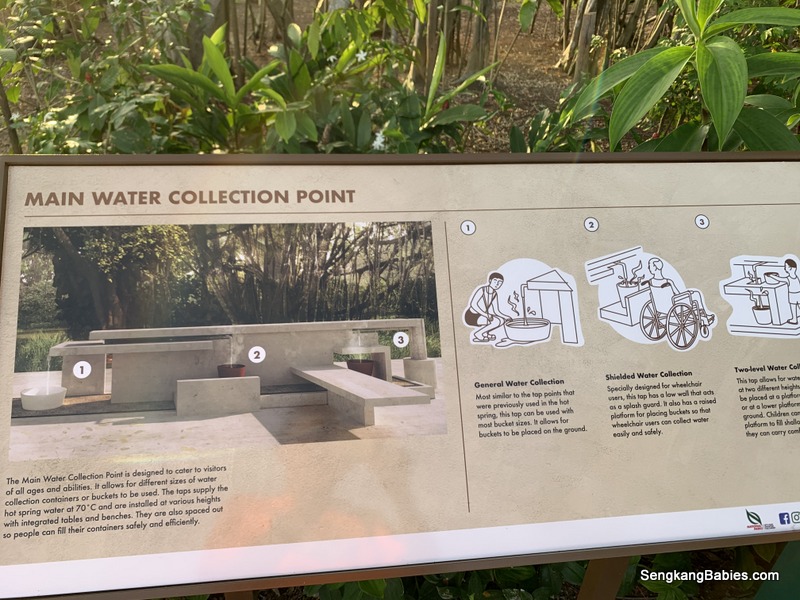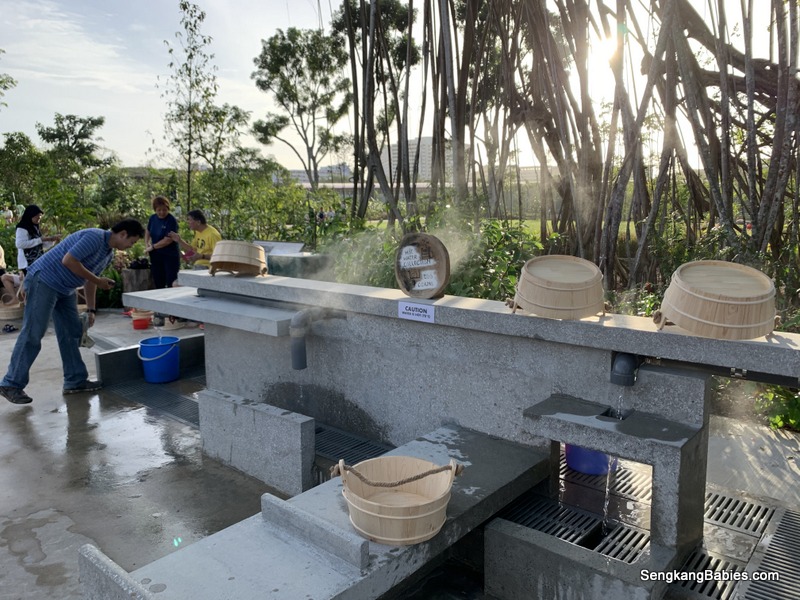 After collecting the water, you can sit under the shade and enjoy some Shiok moments.
There are many sign boards around Sembawang Hot Spring Park. We can learn about Geothermal facts or Sembawang Hot Spring's history.
..or perhaps identify nearby flora and fauna.
Since we did not bring our kiddos along, Kelvin had a go himself.
Verdict: The water here is safe for kids.
With new landscaping too, some natural streams to make the park a bit more like Japan 🙂
Sembawang Hot Spring experience is free for everyone 🙂
By the time we left, there must be at least 200 folks in the park!
SOAK away !
More park features can be found on Nparks Facebook.
Do pop by other Hot Spring, Onsen (and Sento) experiences on our blog.
-2015 Old Sembawang Hot Spring blog
-Cheekiemonkies Review
–Ipoh Lost World of Tambun
-Hualien Antong Hot Spring and Onsen after cycling
-Tokyo Sento 泡汤 (more authentic than Onsen)
–Yunomori Onsen in Singapore
Additional Tips
-Nearest carpark is Block 114. Walk 10min over
-Sembawang Hot Spring Park is open 7am to 7pm (but I did not spot any gate, yet)
-Bring a towel
-Bring a cap or umbrella (for shade)
-This spot is not an onsen 泡汤, no need to strip naked
-The sulphur smell is less pungent compared to last time
-You can only dip your feet. If you want to splash whole body, use the bucket and laddle
-Many claim hot spring (and its mineral) has much health benefits. Those with underlying medical conditions should consult doctors beforehand
-Remind kids to stay away from the hot water. And maybe not aim their water guns at other users :p