Cycling around the Reservoirs through Old Upper Thomson Road was on my wish list. Imagine the green views, the old road and the picturesque water and flora.
YouTube video : My escapade to the reservoirs

Maybe do not think about the FUN Upper Peirce Reservoirs slopes first.
You can cover 3 reservoirs in under 3 hours. If add Springleaf and Thomson Nature Park, that would be at least 5 parks or reservoirs. Adventures Buffet!
This blog post will share the attractions at each park or reservoir. You may jump down to end of page for link to more photos on our Fanpage album.
Those cycling from Sengkang and Punggol can do a clockwise Bishan Park-Lower Peirce – Upper Peirce- Upper Seletar- Springleaf -Lentor Avenue – Yishun Dam and home. Loop should be around 50km.
Photo below, I love the cycling tracks under Ang Mo Kio MRT viaduct (same as Bukit Batok). The pavement offers connectivity and shade.
Bishan Park
Although Sakura tree no more (Refer Nparks' March update link), there are still plenty of visual attractions at Bishan Park.
I used to go long-kang fishing with the kids when they were younger (Blog Bishan Long Kang fish).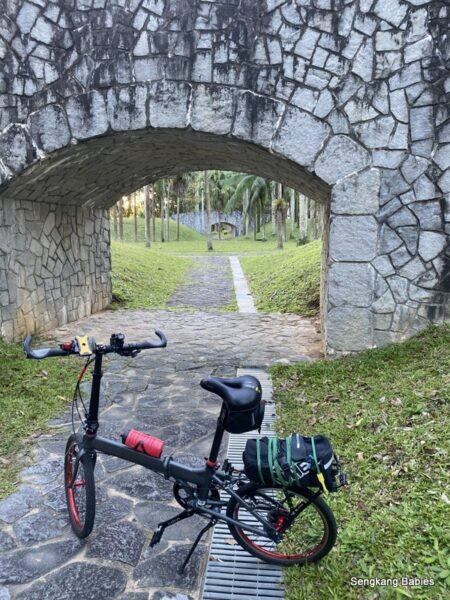 Next, cross Upper Thomson road to explore Lower Peirce Reservoir.
Refer to Google Map below, I had wanted to explore (1)Lower Peirce, (2)Upper Peirce and (3)Upper Seletar Reservoirs.
By all means, detour and explore scenic Springleaf Nature Park and Thomson Park too.
Did you notice Macritchie Reservoir is a mere 5km from Lower Seletar Reservoir? More corners to explore and photograph.
Lower Peirce Reservoir
Lower Peirce Reservoir is easier to access compared to Upper Peirce Reservoir ( It is about 1.5km and 3km by bus and walking, respectively.)
Lower Peirce Reservoir's scenic offerings are not inferior and there are plenty of reflections too. Pose away.
Do follow the winding trails and hug the nature. Boardwalk will let you walk along the water fringe.

Head North along Old Upper Thomson Road, and you will hit junction of Casuarina Road.

Do take note of opening hours for Nature Parks. We want the animals and insects to rest too.
It seems like we can still use the Park Connector, but the gates to the reservoirs will be locked.
PCN for joggers and cyclists, and one-way road for vehicles. I prefer to cycle on the road as it is less crowded.
Follow the meandering Old Upper Thomson road to explore nature up close. You will be connected to the reservoirs, and new Thomson Nature Park too.
Can you imagine how Grand Prix used to drift the hairpin turns in the 1960s?
No more racing on this road, but we are using 2 wheels for Cycling around the Reservoirs.

While cycling or jogging along Old Upper Thomson Road, you can detour and explore the trails at Thomson Nature Park.
Upper Peirce Reservoir
I noticed a detour (Meeting Point 7) at the entrance of Upper Peirce Reservoir. For those who relish a path (and mud) less traveled.
The slopes will take away your breath, literally. Fringed by marvelous green slopes and canopies, it is no joke to cycle up the slopes (x2 times!).
The monkeys will cheer you on :p

But the views are worth the sore calves! Cloud reflections bounced off the reservoir surface. The water is so clear we can see the bottom of the reservoirs.
This spot is super popular for fishing. I am just curious why otters do not navigate to these inland water bodies?
Loves these reservoir pockets of nature. Fresh air providing a respite from Urban landscapes. Awesome instagrammable shots.
Exit Upper Peirce Reservoir, and head towards Upper Seletar Reservoir.
If you start from Springleaf and head towards Bishan direction, you will encounter more slopes (Gut feel maybe 15% more).
Do take note of this "bef SLE" Bus stop. You might not see the steps at night and fly off! This Bus stop is right after you exit Old Upper Thomson Road. Be careful.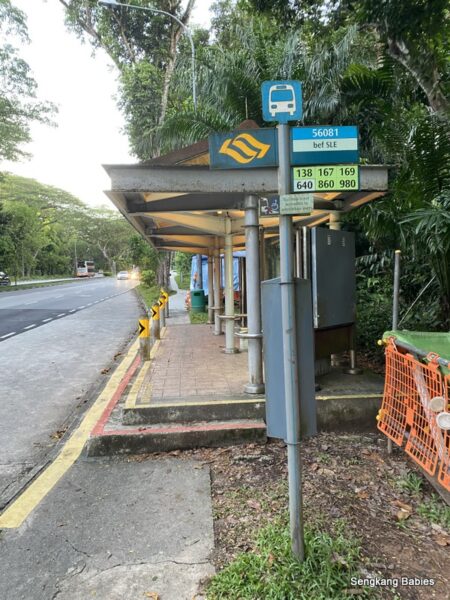 Heading towards Upper Seletar Reservoir, you will pass by new MRT line Thomson East Coast line. This is Springleaf station.
I just realised Upper Thomson Road stretches from (almost) MacRitchie Reservoir to Springleaf Nature Park (about 9km).

You will pass by Springleaf Nature Park (on the opposite side), turn left into Mandai Road. (Springleaf and Thomson Nature Park are near to each other.)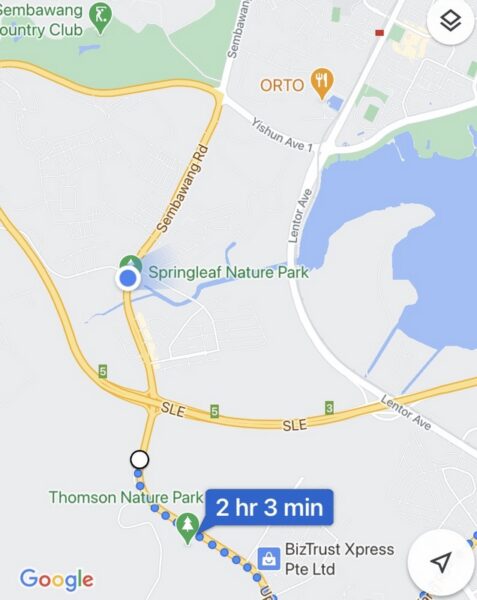 Go under this underpass to reach Upper Seletar Reservoir. (GPS 1.402488, 103.812526), follow Mandai Road Track 7.
You will have to cycle on the road and up a slope.
Upper Seletar Reservoir
Highlights at Upper Seletar Reservoir would be the Rocket and that Tree. Take more photos, climb to the roof for a panoramic view.
I have added Google Map GPX in this link, which links you from Sengkang to Yishun to Upper Seletar Reservoir.

Lesser crowds at Upper Seletar Reservoir, perhaps it is less accessible?
MRT will bring more folks nearer to the reservoirs in the future.
I was fortunate to catch a rainbow on 12th of July!

You can follow the path and cycle towards Mandai Road. This is more convenient compared to cycling in from Mandai Road itself.
I would not recommend this stretch for new cyclists as road is narrow. Just admire the rows of heritage trees forming a "green corridor".

Springleaf Nature Park
Time to head home. Cross Upper Thomson Road to reach Springleaf Nature Park.

Just follow the river along Springleaf Nature Park and you will hit Lentor Avenue and Lower Seletar Reservoir.
漂亮! Nice Sunset.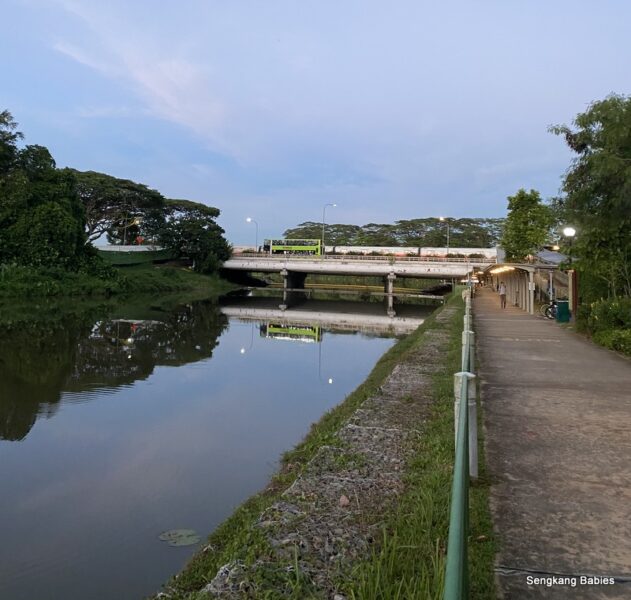 Lower Seletar Reservoir
Cycle pass Lower Seletar reservoir, catch the sunset or blue hour.
From here, you are only 10km from Punggol or Sengkang, via Yishun Dam.
Hope you would find our reservoir tips useful. Cycle to enjoy more flora and fauna. More photos on Cycling around the Reservoirs can be found on our Facebook album.
Do pop by our other related hiking and cycling posts too:
–Upper Seletar climb up the Rocket with Yee
–Trail running 12km MacRitchie Reservoir
-Macritchie Tree top walk!
-Cycle 70 km East, TMCR (link)
-Cycle 80 km West, Lim Chu Kang(link)
-Cycle to Woodlands and back for 50km (link)
-Cycle 50km to explore 3 Reservoirs and 3 parks (Google Map GPX from Sengkang to Upper Seletar Reservoir)
-Completed Round Island 140km!  (Click for GPX routing)
-Cycle 20km to Green Corridor (or Marina Bay and Sportshub)
* MTB\RoadBike\Foldie selection, & Foldable bike shortlisting
* Follow my family's cycling experience here .
-Instagram SengkangBabies #skbCycles or #skbHiking
ps.. if you cycling from Yishun Dam towards Mandai, take note Yishun Ave 1 Lane 3 is super bumpy and uneven. Ride safe.
Updated 29Aug : Thomson-East Coast Line opened in Aug 2021.
3 stations will bring you close to Bishan Park and Reservoirs! (Mayflower, Lentor and Springleaf MRT stations). This is exciting news.