Bangkok bike tour is our best activity. That is the statement from the kids!
As we were researching for something authentic, and less touristy, cycling came across. There are many vendors in Bangkok, we took the 4 hour package from Bangkok Bike Tours (GPS 13.720658, 100.515340) (Read more about Klook promotion here).
If you are not taking a cab, the nearest BTS station is Saphan Taksin (followed by a 5 min walk).
We had purposely arrived early to explore nearby street food (read our street food blog) .
All yummy. Mr Jo Crispy Pork, Kimpo Fish Porridge and the best wanton noodle experience (photo).
Now, it might not be straightforward to find the shop. It is in a wet market!
(Interestingly, Bangkok Bike Tours also conduct cooking classes for Tourists)
A wall mural depicts the route around Bangkok. You can choose from 2 to 6 hours trip. The trip anticipation feels a bit like embarking on a treasure hunt.
Before you start, you need to go through a safety video. Helmets are available but not mandatory in Thailand. On hindsight, I would recommend helmets.
Road and pavement can be uneven, and I would feel safer on the road segments. The tuk tuks can overtake quite near to us!
奶奶 was supposed to join us, but she failed her "balancing" test :p
This was a blessing in disguise, as she would have struggled to catchup.
The video will show some of the narrow corridors, sharp 90 degrees bend and human jams at Chinatown!
The Mrs had a fall when she lost her balance at a sharp road bump. She brought some bruises souvenir home Ouch.
Our guide will share stories with us at scenic and historical spots. We learnt that there is always a school next to a temple in Bangkok 🙂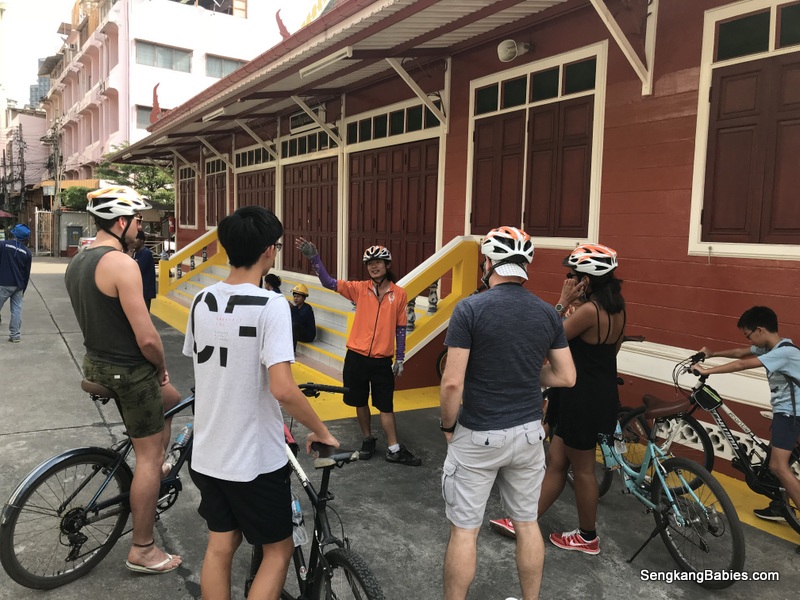 You will be cycling around old neighbourhoods, under a lot of shade and in the back alleys. Many of these tracks are marked as bicycle lanes.
The old Bangkok Custom House.
We are never far from the busy Chao Phraya River.
Mosque and temples are near to each other, religious harmony.
This area is some sort of warehouse, and now a boutique art exhibition. (please correct me if I am wrong)
Some Graffiti, I meant art murals (rough GPS 13.733056, 100.512778)
200 years old Old Temple (Chao Zhou Shi Kong GPS 13.734444, 100.511667)
Do take note some of our Bangkok Bike Tour segments are on the road. Keep left and watch out for tuk tuk and buses.
We visited a 7×24 Flower market (Pak Khlong Market Flower Market,
GPS 13.741389, 100.496667). Many hawkers were busy packing the chrysanthemums, maybe for offerings?
Bangkok bike tour along the river, pretty authentic and unusual for most of us. It was not too hot, temperature hovering around 33 degrees.
Our Bangkok Bike Tour route has two ferry crossings. Ferry crossing is 6 baht per pax and 15 baht for bike (and pax).
River crossing with our bike, this is a novelty 🙂
Adults would need to help the kids with the loading and unloading of bikes, we do not want bikes or kids to fall into the river.
Wat Kan is just across the river, but I do not know how to pronounce the
long name.(Wat Kalayanamit Woramahawihan GPS 13.740278, 100.491389)
We heard this temple is Half Thai and Half Chinese, you can see Thai and Chinese elements in the design.  Solemn and dignified Buddha statue.
Bottom right photo, you can see the tall Stupa from nearby Wat Arun Ratchawararam. This is one of the most prominent temples in Bangkok.
Next stop, turtle feeding!
At 20 baht per child/feed, kids had 20 minutes to fatten the turtles.
There is a huge pagoda too  (Wat Prayunwongsawat , GPS 13.737222, 100.496111 ). Maybe kids should not wander around on their own, this area also serves as a funeral parlour.
Serene surrounding.
After feeding the turtle, we fed the humans at another pit stop. The pit stops are really fun and refreshing, we always learn and see something new.
These pit stops also give tired legs a breather. Recharge with yummy street food, grilled chicken and pork.
Next stop, whisky!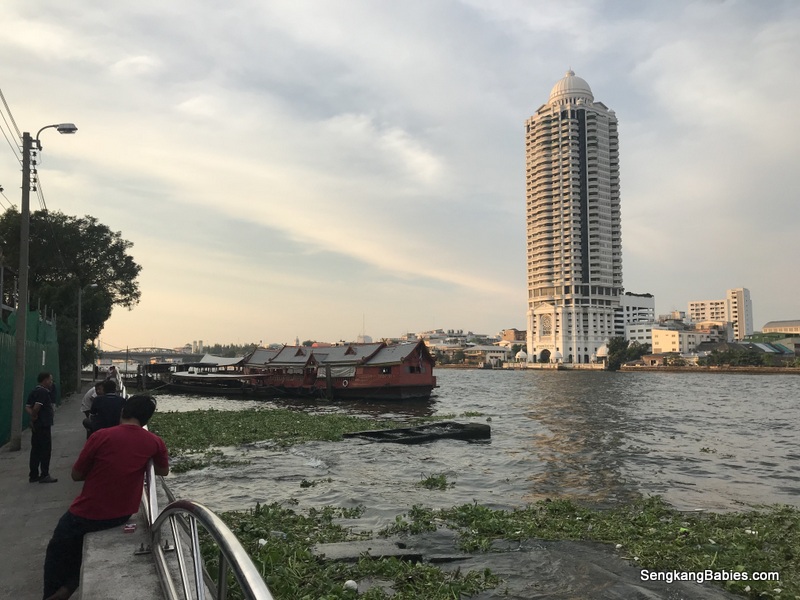 Thais will brew herbs with whisky, toast to good health 🙂
We gave the whisky a skip as we did not want to wobble back heh heh.
But if you are game, this shot might be an energy boost.
We are near to the end of our 4 hour trip. This is the rough map (credit Google Map) for our Bangkok bike tour.
Final jetty for our trip, just opposite River City Bangkok. (Khlong San pier, GPS 13.736667, 100.503333 )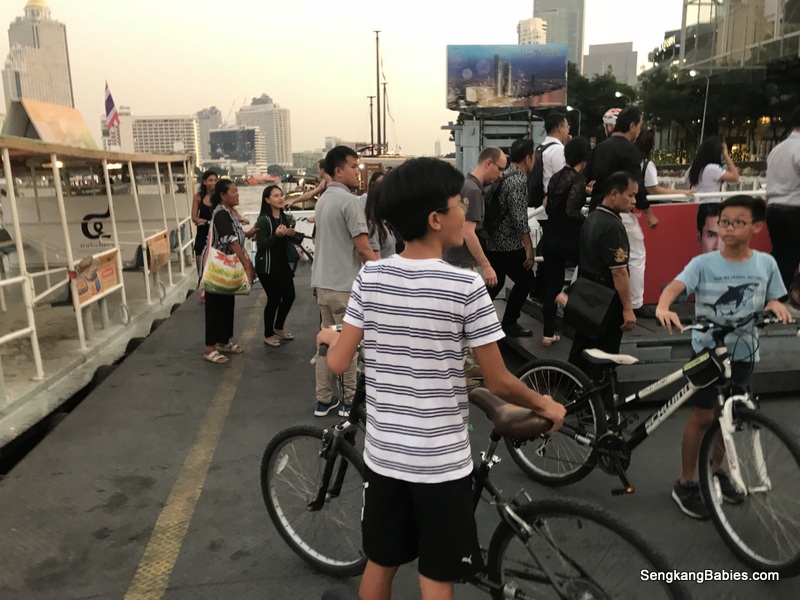 Sunset to welcome us. It also means we have to speed up a bit, as we do not have lights on our bikes.
Everyone arrived back safe and sound, with memories of another side of Bangkok 🙂
Video (YouTube link): Fun cycling around Bangkok

This is our friendly guide "Black". Always patient and helpful, we learnt that he is keeping his hair long for charity. It will be donated for chemo patients, KUDOS!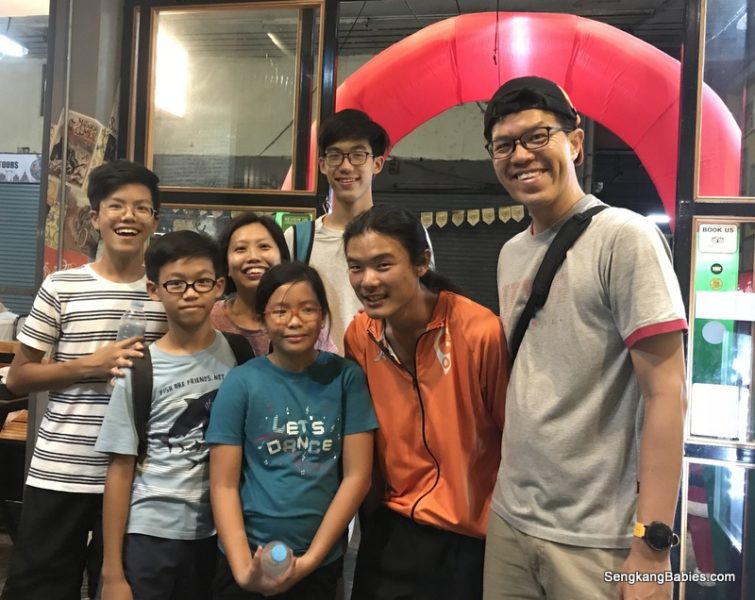 Additional Tips:
Bangkok Bike Tours
+66843354078
-Our vendor does not provide photos, some others does .
-I would prefer vendor to provide a sweeper.  There was only one guide with us, those who are less confident might risk getting lost. Some sections zig-zag as is easy to lose track of each other.
*If you are comfortable with balancing, you are good to go. You need not worry about stamina as it was a leisurely pace. Just bring an adventurous spirit along.
-Look out for each other and be alert, especially at junctions.
-More photos from our Bangkok Bike Tour can be found on Facebook (link below)
We will be sharing more about our Bangkok Family Itinerary. Meanwhile, you can read our Thailand adventures here:
..ps..
Our Bangkok bike tour is sponsored by Klook