Everyone loves Bangkok, eating shopping and massage. Our Bangkok Family Itinerary will share some of the Fun activities we did with Klook.

We have been using Klook for the last few holidays. It is convenient, a lot of promotions and is hassle free. Order your tickets before you travel, just pickup at destination country and enjoy your holiday.
No need to queue for tickets, or trying to articulate in foreign language. Klook website always have more suggestions for your Bangkok Family Itinerary planning (and research). You may reference our Japan Klook itinerary too.

To encourage more friends to try Klook, key in code <SENGKANG5>, and first-time Klook users will enjoy $5 off their first booking (valid till 31 Dec 2019).
Thank to Klook, we have x 50 Vouchers to giveaway. Details at the end.
Our 2018 trip was to Khao Kho and Bangkok, read about our adventures here and here, or Instagram #skbThailand .
We will start with the No1 essential travel item, Roaming Wifi Plan :p
I would be clueless and helpless if I cannot Google! (unless I am enjoying my no-itinerary trip)
If you agree Wifi is critical, you may refer our Google Map Hack post (click link) on how to find the best "reviews" nearby.
Klook's Roaming Man wifi router offers good connection for up to 6. We enjoyed good coverage and battery during our Thailand Holidays.
Collection (and return) of router was in Singapore, just show your Klook QR code and collect, no hassle.
In Thailand, just POWER on and Share hotspot, it is that simple.
Our roaming router is supposed to last up to 12 hours. Our unit was still going strong after 5 hours. Indispensable and affordable.
Be it attractions, cafes, or GPS orientation. Just go Online and Google.
Sea of Clouds from Khao Kho, Tanrak Talaymok Resort blog post.
Food hunting more efficiently in the street of Bangkok. We will share the GPS in another blog post about street food from our Bangkok Family Itinerary.

Google for popular Bangkok night market and more food recommendations.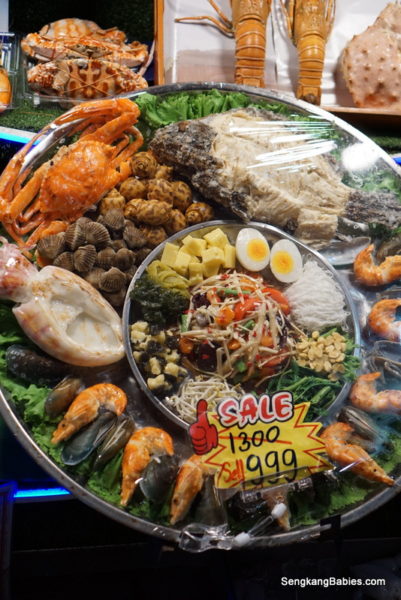 Or cute cafes with animals?

Next up is the kids' favourite activity in Bangkok, Cycling!
4 hours through Chinatown, we covered the alleyways and cycled along Chao Phraya river. What a fascinating way to discover Bangkok!
Do take note list price is per pax.
Cycling packages starts from 2 hours and we went for Go Red 4 hours (Bangkok culture Tour). It is really easy pedaling and our trip distance was about 11 to 12km.
If Mommy Meng Choo can do it, you can do it too. Although she did complained the cycling tour was a bit torturing for a holiday haha. (read our 台中 Taichung cycling trip too)
Bangkok Bike Tours does not have electric bikes, but you can pre-book the escooters. You need to indicate your height when you are making a booking. Helmets are available but not compulsory for cycling in Thailand.
The weather was ok during our trip, and there are plenty of shades along the route.
The bulk of cycling was done on dedicated bike lanes, but there are some sections on the main road too. Exercise vigilance and do not let people rush you, look out for each other.
Cycling confidence is more important than stamina. The operator will stop you from participating if your riding skills fails.
Chinatown was challenging due to the crowds and narrow lanes, sometimes we had to push the bikes along.
Otherwise, we enjoyed the pit-stops at cultural, food and scenic spots. We cycled through Bangkok neighbourhoods, and even cross Chao Phraya River twice on ferries!
If you like something authentic and adventurous, go for a cycling tour to explore another side of Bangkok!
Local snacks and attractions.

Do take note photographer is not part of the cycling package 🙂
This is a whole day itinerary, and it is also the parents' best activity. Value for money as our package was for up to 8 or 10 pax (per van).
If you are traveling by public transport, the markets are easily 1.5 hours away from Bangkok center. It makes sense to grab the Klook package and enjoy the bundled attractions.
Maeklong Railway Market is the most popular railway market in Thailand, where the train literally cuts through the market, with vendors folding their tents and daredevil tourists taking selfies!
Thai people called it crazy market, we can understand the euphoria haha.
As a bonus, we rode the train into the market! The reception at Maeklong Railway Station was unreal, as if the train is a VIP 🙂

Clapping and waving, photos snap non-stop haha. SO CROWDED!

Next stop, Wat Bang Kung.
Amazingly, the dignified Buddha sanctuary is wrapped by Banyan tree roots. Wat Bang Kung is popular with both worshipers and tourists.
If time permits, go feed the horses (behind the Muay Thai statues).
The third stop Amphawa Floating Market was the highlight for our trip. Super crowded, you will see both tourists and many Thais too, we can feel the lively buzz here.
There is something for everyone at Amphawa floating market. Folks can order their meals from the boats or walk along the market.
There are much souvenir and food to savour! The 'street food' is nice and cheap, grab the 烤鱼 (best!)
As you walk along the river, hold on to the smaller ones. You do not want them (or your Mobile Phones) to go swimming :p
The last activity was a boat ride to catch some fireflies. We were tired and some were dozing on the boat ride.
This package is value for money, and we would highly recommended to add to your Bangkok Family Itinerary.
BTS is the fastest and best way to commute in busy Bangkok. It might be the most economical way to beat notorious Bangkok gridlocks too, both in ฿ baht and time saved.
Each BTS card is valued at ฿140, 4 trips (inclusive to/fro) will recoup the investment. Plan your activities along BTS stations to maximise card. (Hint Chitlom, Siam for shopping and eating galore)
Get the voucher at Klook counter (either airport or Siam Centre), then exchange them at BTS, on the day you take the ride.
Expect some easy walking from 10 to 15 minutes between BTS station and your destination. (Unless you are taking Grab)
If you have the BTS day pass, you can avoid the ticket queues.
We clock 15000 to 25000 steps daily easily. We needed a massage to sooth away the strains and knots. What better way then to go for a soothing Thai massage.
In short, no Bangkok Family Itinerary is complete without at least one massage!
Thai massage is always affordable, consider ฿250 to ฿400 for 60 mins, this is only $12 to $20 SGD! If you go to those Massage found in Night Market, even cheaper haha 🙂
Healthland franchise is slightly more upmarket, we enjoyed a 2 hours Thai Massage.
Do take note that after collecting you Klook vouchers, you need to make an appointment with Healthland directly.
The Asoke branch looks like a mansion, their reception feels exactly like a hotel!

Massage was soothing, but maybe lack a bit of kick. This is my personal preference. I have experienced more "skillful" Thai massage in Singapore and Bangkok before 🙂
First timers would enjoy the exquisite experience.

If this is your first time using Klook voucher, grab my $5 discount (detail at end of blog post) and book your Healthland massage in Bangkok.
I would say SGD 28 for airport transfer is very affordable (package for up to 8 or 10pax). If I take the BTS, Grab or Taxis, the difference in Baht (for 7 pax)  would be negligible.
No need to rush and pull our luggage along. Driver will normally reach earlier and wait for you at your accommodation.
Reach airport in comfort, ready to checkout from Bangkok Thailand 🙂
Klook usage recommendations:
a.Download Klook App, so you can always get updated contacts and instructions for your bookings. To be really safe, print out hardcopy of your bookings.
b. Follow Klook Facebook for latest promotions. They have curated itineraries too (eg Bangkok in 72 hours). Klook website -> https://www.klook.com/en-SG
c.Take note of what is included in package. Some itineraries might not include meals (example).
d.Read the "very" detail Klook instructions. Take note of tickets pickup timing, location and venue. And transfer pickup location too.
For example, some vouchers (eg BTS) are collected at Airport, but you still need to exchange for tickets at BTS station
e.For activities which include car or van transfers, take note of contact details of vendor and driver. We were a bit worried when the driver did not Whatsapp us 24 hours beforehand. But all our drivers were on time.
f.Contact Klook Online or (MobileApp) "Ask Klook" if in doubt (instead of email). The team is very responsive and helpful.

g.Klook counters are not opened 24 hours. If you arrive at 6am, you might need to wait until Klook (or partner) counter is opened. Suvarnabhumi Airport is huge, and too little English instructions, it took us a while to find the Klook corner
Try to consolidate and get all your Klook tickets at Suvarnabhumi  Airport.
The Klook counter in Siam Centre is always packed, with many folks trying out their sim card.
h. For first time Klook users, and from now till 31 Dec 2019, simple key in code <SENGKANG5> to enjoy $5 your first booking
===== Giveaway ==== ==
Thanks to Klook, we have x3 $50 vouchers to Giveaway. This voucher can be used for any destination.

Contest is on our Fanpage
1. Fans must first LIKE Klook Singapore and  SengkangBabies Fanpage
2. Comment In Facebook and tell us an unusual activity which you might wish to attempt with your family (The activity need not be from our recommendation)
3. Tag 3 friends / Share the Facebook post (set as public)
4. Contest ends 22 Jan 10 pm, and three winners will be pick randomly
~~~ ~~~ ~~~ ~~~ ~~~ ~~~ ~~~
We will be sharing more about our Bangkok Family Itinerary. Meanwhile, you can read our Thailand adventures here:
-Instagram #skbThailand
–Khao Kho Itinerary
–Sea of Clouds at Tanrak Talaymok Resort
(Khao Kho Photos are here and here)
–Bangkok "Itinerary" with Klook
–Bangkok Street food we like (and food GPS)
–Little Zoo Cafe (Facebook photos)
–Bangkok Bike Tour (Facebook photos)
–Maeklong Railway and Amphawa floating markets (Facebook Photos)
ps.. The Klook services featured in this Blog post were sponsored.