This post will share what is available when we cycle to East Coast Park (from Sengkang). Do read our blog about 80km ride to the West and 50km North too.
In summary, clockwise Sengkang-Punggol-Pasir Ris-Changi Village- Tanah Merah Coast road-Cycle to East Coast Park-Bedok/Kembangan or Marina Bay
Full route 70km will take between 4 to 6 hours, depending on breaks. Average speed 15 to 20kmh.
View this post on Instagram
Our route will normally start at Sengkang Swimming complex and follow PCN (Park Connectors Network) all the way.
Do read our previous blog about scenic 20km running route Sengkang-Punggol-Hougang-Buangkok, best for marathon trainings.
Look out for these land marks along the scenic river route. This stretch could be one of the best in Singapore.
Checkpoint 3 (below) Lorong Halus bridge is the PCN link between Punggol to Pasir Ris. There is a new link between Lorong Halus Bridge to Pasir Ris (checkpoint 4).
You might wish to pose at Lorong Halus wetland too (used to be smelly rubbish hills!)
You can follow Pasir Ris Drive 3 all the way towards Changi. If time permits, detour left into Pasir Ris Park for some exotic scenes.
Love the mangroves at the bridge.
Take an Unesco meal break at Changi Village Hawker Centre. Enjoy the bumboats or take a photo at the "finger".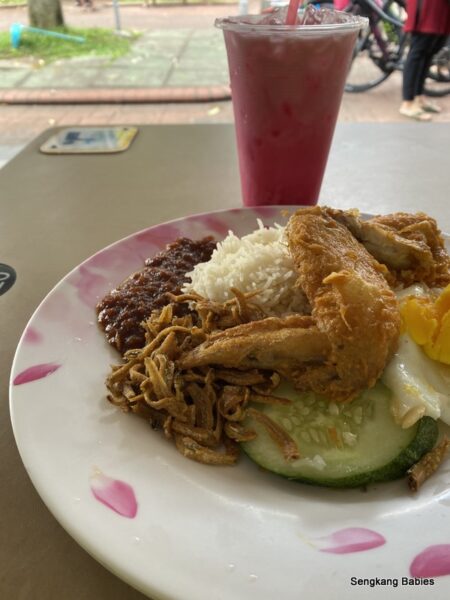 Enjoy this break before embarking on 14km  Tanah Merah Coast Road (TMCR).
Follow the path along the sea, you will pass SAF Ferry Terminal (to Tekong). Toilet 3 will be the last refresh point before you start TMCR. You will pass Changi Ferry Terminal on your left.
On TMCR, you may cycle on the bike lane or on the parallel pavement. Keep left and let faster cyclists overtake. Road bikes can clock 50kmh easily.
First-timers should listened out for "BIKE" or "ON YOUR RIGHT" when bikers approach from behind.
Do not go near the inner yellow lines as you would not have room to prevent hitting the kerb, and the pebbles are normally concentrated nearer to the kerb.
Cycle almost 12km and you will see a entry on your left (GPS 1.318415, 103.983942). This is a new park connector and I love the coastal view.
If you do not turn in and cycle another 2km, you will reach below junction. Turn left to head towards East Coast Park.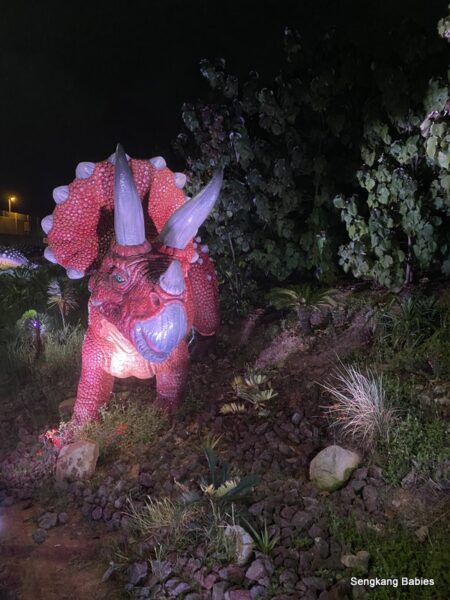 From this junction, you are also 600m away from Jurassic Mile entrance. First time folks can cycle to Changi Airport T4 and T2!
Back to East Coast Park (ECP). You can choose to exit ECP at different exit points, or cycle whole 16km to reach Marina Barrage.
Enjoy the greens. Just take note of heavy human traffic at popular junctions.
Option 1) You can exit via this underpass (image below) to head North towards Bedok, Tampines (circumvent Bedok camp). Travel along Bedok Park Connector.
Or you can stop for refreshment at the newly reopen East Coast Food Centre. Enjoy the carefree spins at Wake Park.
Or maybe chill with Pocari or Ice cream at 7-11 or Raintree Cove (crowded). Personally, I love 7-11 as the window view reminds me of my family cycling trip in Taiwan!
Option 2) You can exit via this overhead bridge (image below) towards Siglap Park Connector. Get a superb view of flower-laden ECP.
Options 1, 2 and 3 captured in this map (Credit Google Map)

Otherwise, cycle North till Kembangan MRT or straight towards Hougang, Sengkang or Punggol. The bridge over PIE.
Pavement next to Hougang Avenue 3. Sometimes the fallen leaves look like a scene out of Autumn maple.
Sengkang is only 13km from East Coast Park.
Option 3) Cycle East Coast Park all the way till you reach CBD or Indoor Stadium.
Take it slow and easy as you do not need to cycle on the road.
The new Keppel Marina East Desalination Plant. You can go to the roof and fly kite.
Or cycle to Marina Barrage.
If you follow Marina Bay basin, you will reach Marina Bay, choose your favourite landmarks for photo-op. MBS, Gardens by the Bay etc.
Miss URA's Car Free Sunday editions! (When roads are off-limits for vehicles, and cyclists own the roads!)
Perhaps, Padang's Singapore National Gallery?
Loop back towards Kallang MRT, park connector will bring me back to Hougang and Sengkang.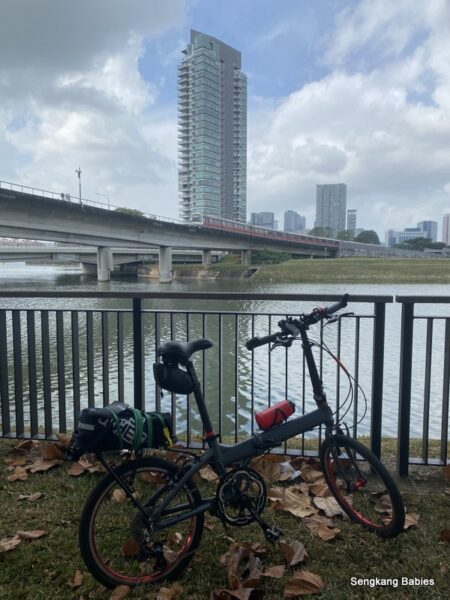 Option 4: You can cycle straight to Queenstown, Clementi, Jurong, Lim chu Kang and close your round the island (RI) loop! (RI completed 2021 May, read here)
Fyi, Raffles MRT to Lakeside MRT is extra 20km.
Tuas West Road MRT Station to Lamp Post 1 is 11 km! (Tuas is huge plot of industrial land).
RTI without Tuas is 130km + (estimate 9 hours)
RTI with Tuas (Lamp post 1) would be 160km + (11 hours)
(My average speed is around 100 minutes for 30km)
We will share the Northern routes (Yishun,Woodlands, Mandai) in a future post. Meanwhile, read our bike adventures:
-Cycle 70km East, TMCR (link)
-Cycle 80km West,Lim Chu Kang(link) (LCK slopes are tougher than TCMR)
-Cycle to Woodlands and back for 50km (link)
-Cycle 50km to explore 3 Reservoirs and 3 parks
-Completed Round Island 140km!  (Click for GPX routing)
-Cycle 20km to Green Corridor (or Marina Bay and Sportshub)
* MTB\RoadBike\Foldie selection, & Foldable bike shortlisting
-More details and landmarks about Park Connectors (PCN) at nParks link
-Follow my family's cycling experience here .
-Instagram SengkangBabies #skbCycles