Cycling Ruisui to Yuli, Day 3 brought us to beautiful Hualien East Rift Valley 花蓮花東縱谷!
Personally, this was the MOST SCENIC route on our 4D3N Cycling adventure!
We wanted to go slow and soak in the views and fresh air.
We covered less than 50km from Ruisui to Yuli to Antong ( 瑞穗, 玉里, 安通).
* the full video is at end of page
View this post on Instagram
You might want to review our Day 1 journey from Hualien to Ruisui here.  We are still on Hualien East Rift Valley 花蓮花東縱谷, which stretches 150km from Hualien to Taitung.
I suspect this area could be Taiwan's rice bowl, there are so many padi fields! Although many tourists would only remember Chisang's famous Mr Brown 池上伯朗大道 . Maybe Bento and 金城武 :p
Imagine yourself on a TRA train, the window view would be Yellow, Green or Golden depending on seasons, and Blues (sky and ocean) So Romantic!
More photos on Taiwan Tourism website or this Instagram Erv_IG account (花東縱谷_官方).
Anyway, we followed GPS and headed South on County Road 193. This road runs parallel to Highway 9 (in Hualien), and actually starts at Xin Cheng 新城.
Internet would recommend the 20km stretch between Ruisui and Yuli as the Best segment.
On a side note, kids can now pack their panniers faster.
Click on our custom map for the attractions on East Rift Valley
Within 5km from our start, Green Fields greeted us already!
Fresh air!
Courtesy stop at Police Station 花蓮縣政府警察局玉里分局春日派出所 . Refill our water and toilet break. Police stations are pit stops for cyclists 🙂
Many small towns will have these cute landmark drawings. Even the bustop has a cute black bear decoration.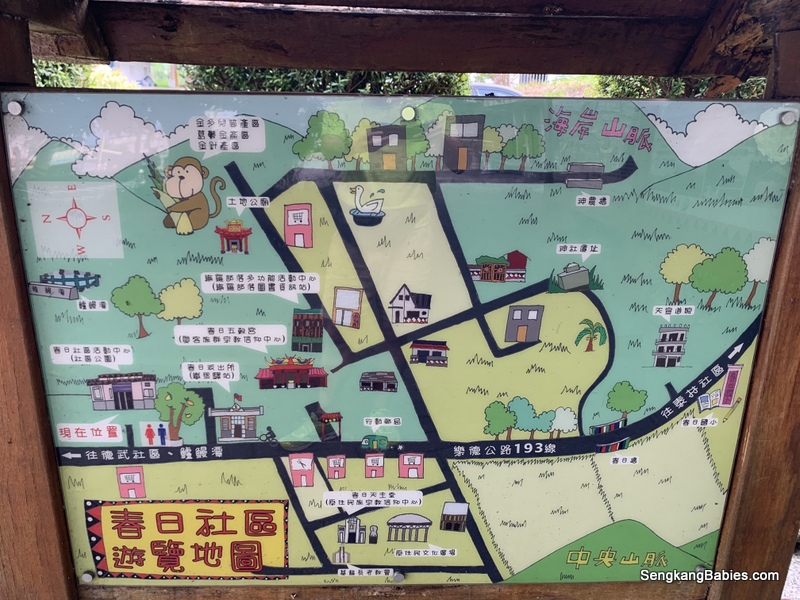 Before we proceed further, most of the attractions on this post would be listed in our Google Sheet itinerary. The distance marker are relative to Hualien Train Station.
With a name like 玉里天堂路 (GPS 23.432846, 121.377370 ), we could not want to miss this spot.
Winding road, only green plains and mountains. Let the wind blow against the lush stalks.
Google will highlight two popular eateries around. 谷悠GuU咖啡民宿 and 米達雞排 (best chicken chop but only for dinner). The former has closed already, too bad for us.
There will be some slopes but gradient is not too steep.
The green fields along us has a calming effect.
赤科山 will be covered by Daylily (金针花) in August September, but would take cyclists a few hours to ascend!
Map below, we are near to Yufu Bikeway 玉富自行車道. From the photo below, the bike route is built over the old train route.
We had one more stopover before exploring further.
Yufu is reputed to be the best cycling track in Taiwan! This bikeways below are exclusive for bicycles, and used to be the old railway track.
This is the bridge (GPS 23.321188, 121.330339) where you can STEP on two tectonic plates! European and Philippines plates.
Instagram spot.
Other attractions near to Yuli. Many would actually stay 2D1N in Yuli to explore nearby attractions.
We had to cross Route 30 (over the mountain) to Highway 11 the next day, thus we missed the following attractions :
–關山鎮 (and another famous bikeway, Guangshan 關山環鎮自行車道)
–池上伯朗大道 Mr Brown Boulevard
–瓦拉米步道 Walami Trail
–六十石山金針花海
As we have more time today, we headed to Yuli town for their famous noodles.
傳統美食玉里麵 . Those from Singapore and Malaysia will find the noodles so so compared to our mee pok 🙂
Do go and try yummy Taiwan version.
85 degree cafe cake and coffee. We just wanted a cool spot to chill, and the cakes are good too 🙂
Sometimes kids are to engrossed in their phones, they might not realised if their bikes are stolen! (it is locked if we stay longer than 10 minutes)
Exploring more Fun under the sun, and iconic red bridge in Yuli "客城鐵橋 Kecheng Iron Bridge" (GPS 23.318884, 121.311827).
There are a few angles to capture the bridge, hardcore fans will wait for the trains. We had fun playing tourists 🙂
We hop back on to Yufu Bikeway to explore the other end. This bikeway is 10km one way.
Cutting across two old railway stations (Antong 安通 is in photos below).
This is the other "old" station, Dongli.
..and the new Dongli station 東里車站. The train passing by Keching Red Iron bridge will pass this station too.
Folks will visit the 2nd level for an elevated view of the padi fields.
Relive our Cycling Ruisui to Yuli  🙂
With that, we make our way to the last stop of the day, Antong Hot Spring Hotel. Do take note you have to exit Yufu Bikeway at Antong Old Train Station, refer this Google Map link.
Slope up is quite steep, but Google Map indicate it as flat. I was beginning to doubt our fitness level :p
Fortunately, it is a short 2.4 km.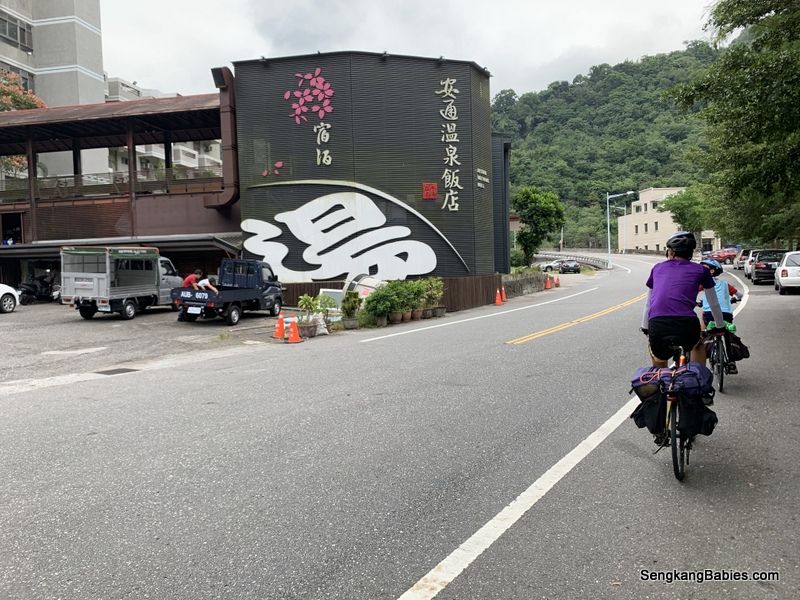 I was there for the hot spring and onsen, but kids found out about the Pokemon Gyms haha.
There are plenty of pools for everyone, and I found it weird that management did not enforce shower cap for visitors :p
Sulphur smell is strong but we got used to it after a while.
We badly need a HOT soak and the hot water soothes our tired legs and shoulders.
Everything met our expectations except two of us got bitten by bed bugs!
Maybe we were unlucky, do take precautions.
Saw a story of how Yuli Noodle became famous.
We had instant noodle in our room 🙂
Be it hiking, cycling or even rafting.  Farms and sightseeing await visitors and explorers.  Hualien East Rift Valley 花蓮花東縱谷 will not disappoint 🙂
More details and photos here -> https://taiwaneverything.cc/2016/05/15/east-rift-valley
Stay tune for more adventures and photos.
Do follow our IG Story too #sengkangbabiesTaiwan #SengkangBabies花東
You may reference our Taiwan cycling posts at this tag SengkangBabies花東 : *Google Sheet itinerary (GPS inclusive)
*4D3N Cycling itinerary and summary
-Day 1a-Hualien-Taiwan Railway Online booking
-Day 1b-Hualien-Taiwan Giant bicycle rental and Hualien attractions
-Day 2-Cycling Hualien to Ruisui (Google Map GPX)
-Day 3-Cycling Ruisui to Yuli, route 193 is SO beautiful! (Google Map GPX)
-Day 4-Antong to Donghe (Attractions along Highway 11) (Google Map GPX)
-Day 4/5 – Surfing at Dulan
-Day 5 – Taitung top attractions, Kaohsiung, Home
ps.. Do follow our Cycling adventures on Instagram hashtag #Cycling
If time permits, check out this 3D bear picture on the paddy field "玉里熊讚彩繪田". Ask around first as the Drawing would be bare after harvesting :p
Updated 09Dec: Our cycling video is up, love the Greens and blues!
(YouTube link)

Video: Cycling Hualian to Ruisui

Cycling Highway 30,11 Yuli to Taitung