In conjunction with Lunar Chinese New Year (CNY), which happens to be the year of the Zodiac Snake, Legoland Malaysia is embarking on a slithering project to construct the World's longest Lego Snake. (have you read our Legoland reviews already, Dry, Wet Hotel )
Over 9 days from 9th to 17th Feb, Legoland guests will be invited to usher in the Snake year by helping to build a 300m snake. Yes, 300 Metres !

SengkangBabies were invited to participate in the snake building feat last Saturday.


Credit. Snake Poster from Legoland webpage
From the beginning, we knew the Snake would be popular because the kids were so engrossed in their project! Even the hot sun could not deter their determination.

You are not going to miss the l-o-n-g Lego Snake, it is RED, and only 50m from the entrance.

Daddy love the lifelike fangs and forked tongue. No offence to Mr Siegfried Boerst (Legoland's GM), but Daddy thought Boon Xin looks sweeter posing with the Snake model :p

In this cool tent, families embark on the building blocks for the Snake.

Even Boon Yee (6 years old) will be able to build one block by himself.

You might be wondering why does Legoland need One Million Lego Bricks for this project? Let Stefan and Mr Pang (Master Model Builders) share their construction insights and challenges.

Our little girl insists on stamping her signature on part of the Lego Serpent.

You can mix and match any colours for the Snake, and we are now certified junior Lego builders.

To drum up the festive atmosphere during Chinese New Year, you can expect Lion and Dragon dance routines.

While building our Snake, we did not forget to chase and pose with Legoland's Stars.

After spending the morning with the Lego snake, the kids are free to choose their favourite Legoland rides (Cars again!)

Kids pass their Driving license (Nissan Learning school), and proceeded to drive the manual-power POLICE van ! They even help to douse a burning building.

Kids managed to convince Mummy that they can handle the wet Adrenalin Fun at Dino Island. Nevermind if they have to cope with wet underwear :p (we did not bring spare clothes)

Boon Wee and Boon Kang's facial expressions (tensed) are priceless !

Fun pics with sculptures and characters.

At the 4D show, we experience wind, bumps and even snow flakes ! If time permits, we would like to view the second premier.

Observation Tower gave us an eagle's view of Legoland landscape. This playground is Hugh, and still expanding ! Kids exclaimed "Roller coaster", "Castle" !

Video : A panoramic view awaits from the TOP

Merlin's magical spin gave us some groggy moments.

The smaller kids decided to go for their pony rides Jousting. We realised the kids were not holding onto the handle as it was scorched by the midday Sun. Maybe Legoland management can do something about the handle?
Otherwise, Boon Yee and Boon Xin always enjoy galloping around.

.. while the older kids prefer to tame the Dragon (roller coasters) !

Daddy is super proud of the boys. They have shown Mummy and Daddy that siblings are there for each other, to brave the dangers together! As long as big Bro Boon Wee is there, Boon Kang will follow his lead.

More sculptures await us at every corner of Legoland.

Wave Racers' spin and water bombs kept us cool.

Boon Wee wish to ride Project-X, but no one is "crazy" enough to join him, we end up taking a harmless family photo at the Project-X model.

We rewarded the kids with some cool treats. Daddy and Mummy is also melting under the unforgiving Sun :p

We hope Legoland's new Water Theme park will be ready soon.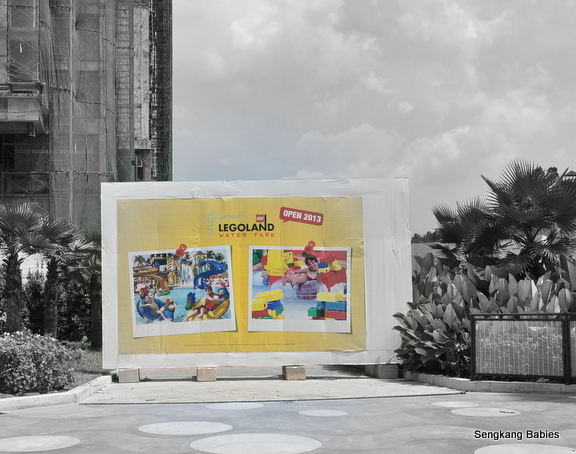 On our way out, we pop by our friend again. The Lego Snake has grown longer again 🙂 If you are popping by Legoland, do spare 20 mins building the Snake body, kids will love the challenge, we are eager to see the full length Snake on the 17th Feb !

Gong Xi Fa Cai (恭喜发财) Legoland, we would like to thanks Legoland for inviting SengkangBabies to an interesting morning. You may wish to pop by more Legoland stories or photos :
– More Snake photos on SengkangBabies Fanpage
– Our first Legoland Review last Nov (we love Miniland)
– Checkout how Xander's family Celebrate Christmas at Legoland last Dec
– Legoland FAQ
– The world's longest snake will fall short of Legoland's brick specimen
Latest updates about Legoland activities can be found on their Webpage and Fanpage.
** Updated 18Feb2013 – the Final length of the Snake is a whopping 318m! On display till end Feb. (photo credit : Legoland Malaysia)