Hiking Clementi Forest came out of the blue. Someone suggested "why-not" and six of us responded YES.
Then we realised nobody has done it before haha(!), and YouTube became our guide.
Nevertheless, we "put date put time" and took leave. We were GAME for some mist, mud and train tracks. Kudos to our adventurous spirit!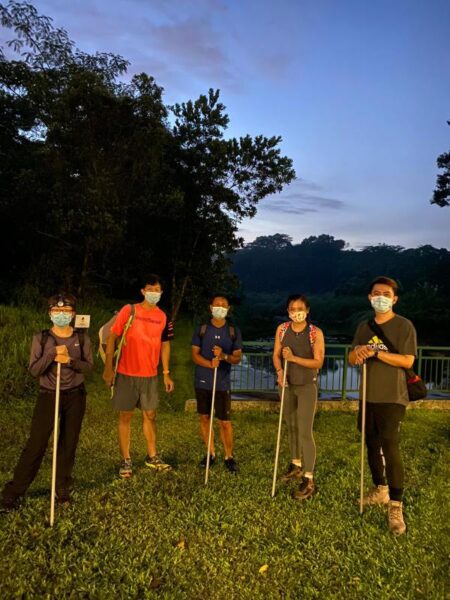 We were afraid we would miss the mist and had arrived early at 0630. Too early as it was still dark and mist not formed yet.
Photo above was taken at around 0645, sunlight quickly showered the landscape between 0645 to 0700. Best time to view the mist would be between 0700 to 0800 (estimated).
If you are researching for Clementi Forest or Old Jurong Railway line, take note there are at least 4 entry points.
You may reference my Google Map GPX too. Just open and follow the route.
You can enter via:
-Point 1 (opp Ngee Ann Poly Bus stop). This is recommended, park at SIM.
-Point 2 (Green Corridor, rough GPS 1.32874, 103.781466)
-Point 3 (Bus Stop Opp Maju Camp)
-Point 4 not in picture. Clementi Forest entrance at Sunset Way (GPS 1.323382, 103.769068)
From Google Map below, we had walked in this direction, 1-2-3 and 4. You will also realise Dover Forest is not too far South of Clementi Forest.
Part 1 of Clementi Forest
Below bus stop is Point 1, "Opp Ngee Ann Poly". The entrance is actually behind the bus stop, follow the green-railings.
I had referenced a few YouTube videos, but this one is short and precise.
Back to our hike, there is something surreal about hiking early morning through forested area. The plants are up to our knee height. Your legs will feel refreshing and maybe slight itch if you wear shorts.
Got a bit of army days feeling when we had to wade waist-deep in Lim Chu Kang ponds.
Day break, the forest is waking up to another day, and birds are chirping to welcome the sun rays. What a blessing to immerse in nature.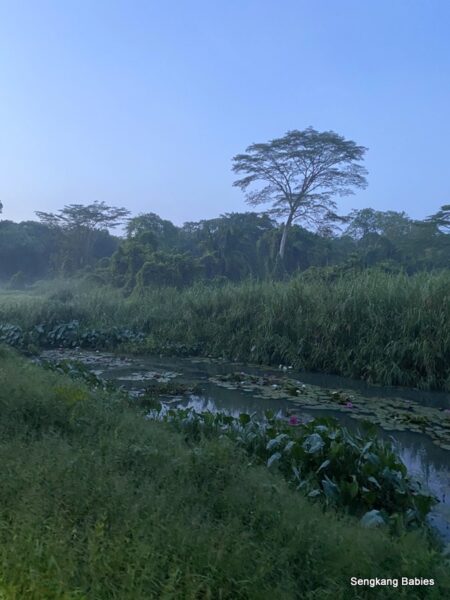 Welcome to Jurassic Park! What a sight.
Surreal and mysterious mist in Clementi Forest!
You can spot the mist after a 10 minutes walk.
Objective 1 achieved. The 2nd objective was to find and follow the Old Jurong Rail line and see where it leads us. (Not to be mistaken with KTMB Bukit Timah Railway line)
(YouTube Video link)  Catch our Fun hiking Clementi Forest. Wonderful experience, closeup to flora and fauna. And the insects and birds never stop singing.
With any adventures, the best memories are actually the journey itself. Mud features highly in our FUN element in Clementi Forest.
My hiking kakis make the trip epic.
We were out of Clementi Forest within 25 minutes! Near to Point 2, we can hear joggers hitting the tarmac at Green Corridor.
Where is the mud? Why so fast exit Clementi Forest already?
Are we on the right track?

Nevermind, we go to the valley for some nice group photo first.
Time flies when we had fun, we took so many photos. The hiking seems shorter and less tiring too.
Part 2 of Clementi Forest Hike
Take this tree as landmark. Just follow the path in.
You can cover Clementi Forest alone, but I would recommend going with companions for safety sake.
Posing time again. Look right to spot this well-concealed red structure in the canal. It is just one 1 minute from entrance (Point 2).
You can step on the cooling water if you wish. We spent 10 to 15 minutes here.
If you do not stop at the red structure, you will need 10 to 12 minutes to reach a log lying across the path.
You can reference another video from CM Chen, at 2:50 minutes for the log.
Just take the left track and you will spot the train track.
Once you turn in, you will spot Mud within 600m (estimated).
Embrace nature.
Plenty of Mud for everyone, this is where the real fun begins.
Some will try to resist coating their shoes brown but it is futile.
Do not let your sole become another statistic :p
Clementi Forest swimming pool haha.
I dare not imagine what would happen if someone slip into the chocolate coloured pool.
This segment could be the most slippery along the trek.
As we were blessed with plenty of rain two days before our hike, the ground was as muddy as it could get.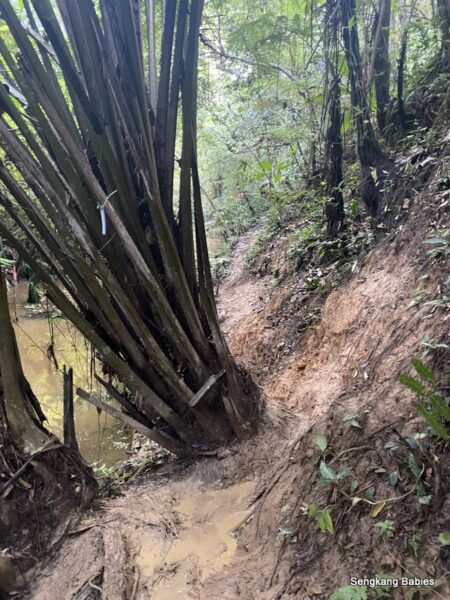 Try to follow in the direction of the tracks, walk on track if possible. Some sections might be blocked by vines or fallen trunks, detour.
Anyway, Clementi Forest "path" is well trodden. In other words, it is very hard to be lost.

Many water bodies seem to be stagnant. Get your insect spray ready.
Point 3 – opposite Maju Camp
We took about 40 minutes to exit the forest and reach our Train Tunnel (opposite Maju camp).
Happy legs and shoes. We have completed the toughest and most muddy section of Old Jurong Railway line.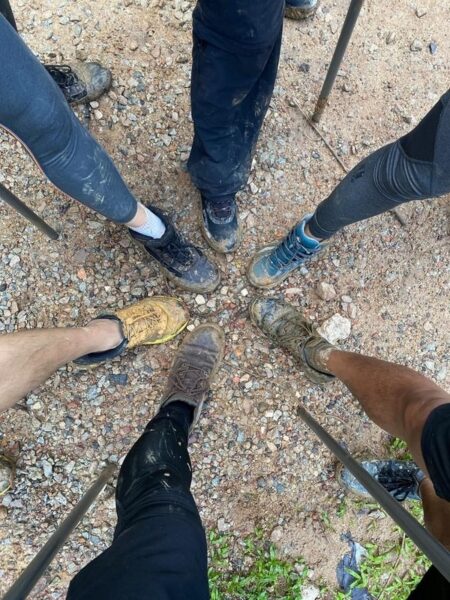 Take your time with photos. Be creative.
We do not get to see old tunnels everyday.
But maybe do not try posing after midnight in the tunnel. It might be quite eerie in the tunnel and forest.
Anyway, you will cross the tunnel (under Clementi Road) and appear in Maju Forest. (Image above, "X" is the tunnel)
There is still mud along the way, but we can do slight detours to skip the mud. We walked pass "Clementi waterfall".
No one should be drinking from the stream :p
Nearing the end of our 3km trek. Everyone is still energetic!
The second mud-covered segment is 300m from Sunset Way exit. Again, this section is normally dry, but was muddy due to last few days of rain.
No worry, just balance on the logs.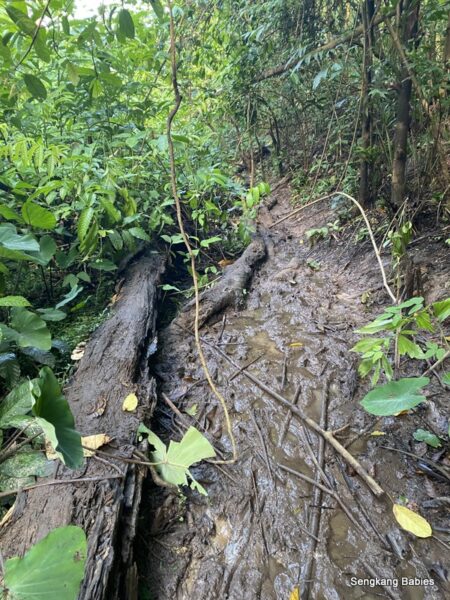 Do you need "banana leave" to package (tabao) nasi lemak or get an umbrella?
Take a closer look at the mushroom, ferns and other plants too. You will spot some interesting spiders and insects too.
So happy to see HDB, civilisation!  Is this block 112 or 113?
Some may decide to wash their shoes along the drainage. Water seems clear here. Have seen folks posing here in IG and FB :p
Point (4) From the train tunnel, we took 40 minutes to exit at Sunset Way.
If you walk South another 200m, you will reach Ulu Pandan PCN and see an old iron bridge (cannot walk over bridge).
Hiking Clementi Forest took 2 hours, although it is only a 3 km track.
We took many photos to bring back as memories. Clementi Forest is not your usual walk-in-the-park, but most active folks should be able to do it. Adventurous kids too.
Love our nature and the greenery, but refrain from climbing trees or swinging from branches. The fragile forest will not be able to withstand thousands or hikers climbing it.
We headed to Springleaf Prata to give ourselves a treat. The prata is delicious and crispy. Nice!
Everyone agrees this was a happening hike. So happy that we completed our hike and had so much FUN along the way.
This ends my blog post about Hiking at Clementi Forest.
Do check out Brice's fantastic Drone footage too. His video kick started Singapore's awareness in both Clementi and Kranji Forest  (Facebook clip).
Clementi Forest (and for that matter, Dover Forest) are slated for future residential development.

Meanwhile, you may catch more photos of my hike (Both Clementi Forest and Kranji Forest in Facebook Photo album)
After Hiking Clementi Forest, I proceeded to part 2 of my adventure.
I had trek 17km to Kranji Forest. Check out the sneak peek below.
Video: Hiking 17km from Green Corridor to Kranji Forest

Due to Covid lockdown, Hidden Trails are getting exposed in Singapore. Read my previous sharing on Green Corridor , Bukit Brown and Kranji Forest (Photos of Kranji Wood lands). Dover Forest and maybe trekking SG 150km will be next.
These trekking episodes have re-ignited my passion for the great outdoors. Challenge would be to find a spot with lesser human traffic :p
Do pop by our overseas family hiking trips in links below.
– Kids at Gunung Belumut (1000m)
– 7 hours NZ Tongariro (Mordor!)
– Our hiking journey is under this hashtag #skbHiking