From Keelung (blog post), we engaged Round Taiwan Round (RTR)'s service to tour Jiufen and Shifen. We will share some Jiufen attractions and neighbouring sightseeing spots.
As in Keelung, Rain followed us along the way! Scenic sea view along the coastal route to Jiufen. The waves are huge but we still spot anglers at the edge!
It might not be suitable for bikes along this coastal route as we noticed the trucks are fast and they keep overtaking. The strong winds might unbalance new bikers .
We visited Nanya Rocks (南雅奇石) first. As it was the onset of winter, the wind was chilling too.
Around the coastal region in Taiwan North Coast, the rocks have been shaped by 1000 years of wind, forming unique shapes.
Nanya rock GPS (25.119735, 121.892811).
Along the route, visitors will also see cemeteries along the hills.
We head back to the 陰陽海 Yin Yang Hai  Carpark GPS (25.121756, 121.864562) . The sea is Golden brown due to the heavy metal from the hills .
We can see the old smelting plant (水湳洞精炼厂) in the background.  It used to be 13 storeys but now lies in ruins.
Southpark's Kenny taking a wefie.
Further up, 黃金瀑布 Golden Waterfall (GPS 25.117368, 121.861475)
This is one of the popular spots for tourists… and we are already resigned to the fact that rain will stay with us the whole day!
Our spacious VolksWagen Caravelle from Round Taiwan Round (RTR). They had sponsored our trips around Jiufen and Shifen.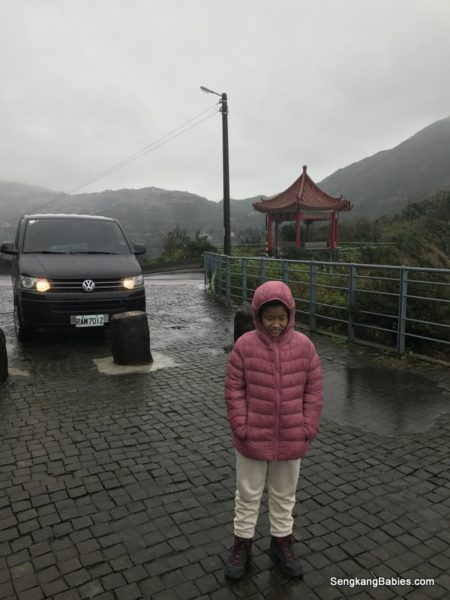 金瓜石勸濟堂 (GPs 25.110133, 121.859780)
This is the 关公 Guan Gong at Jiufen (Chuen Ji Hall). You can also walk about 15 minutes to reach here from the Gold Museum (金瓜石黃金博物館).
We were supposed to visit two other spots but the rain disrupted our itinerary.
In case you have more time, do consider Buyen–pavilion 不厭亭 (GPS 25.089343, 121.847490 ) and Gold Ecological Park 金瓜石黄金博物馆.
We headed straight to 九份老街 Jiufen Old street for some food to warm ourselves.
Taro balls, the adults prefer hot version. Kids did not find the chewy taro tasty.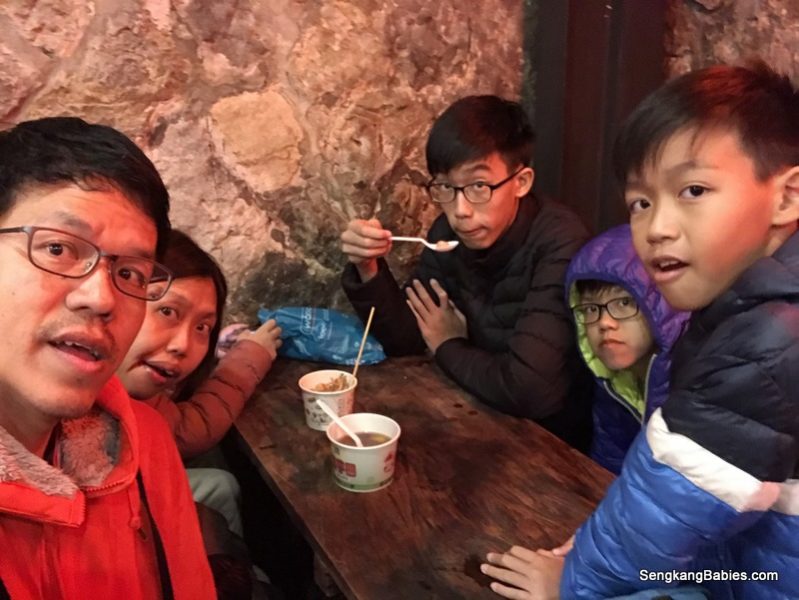 Fish balls and squid snacks, spotted around many corners.
Pig blood 豬血糕 is not for everyone. the very thought of this ingredient chills my blood (no pun intended).
This traditional stall has a monopoly look-alike table.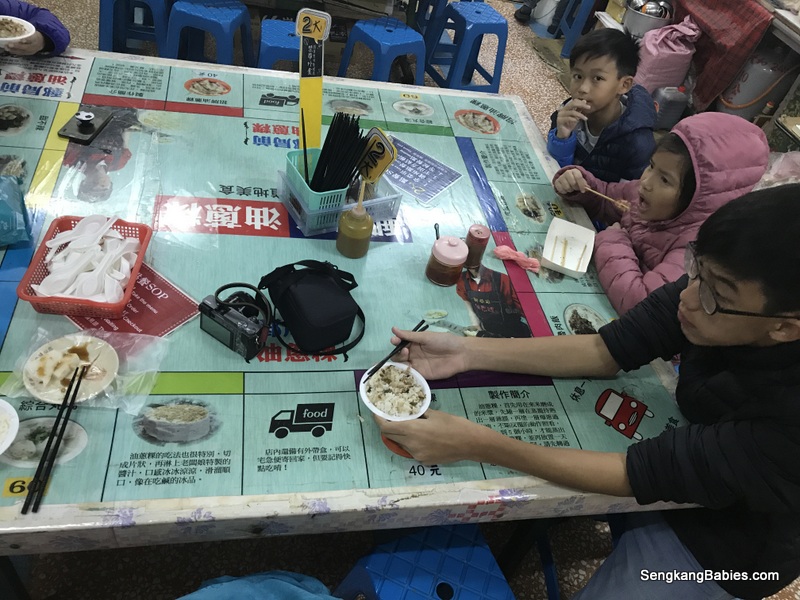 If it rains, use the umbrellas or raincoat, but avoid looking like those tourist who cover their legs with plastic bags haha! It does not look good for photos and I thought it would be slippery too!
Traditional Taiwanese meatballs and popular cream puffs.
We went for the cream puffs as the queue was longer.
Candy for the kids.
You can see more Jiufen snacks on our Fanpage album. Besides the snacks, there are many souvenir shops too.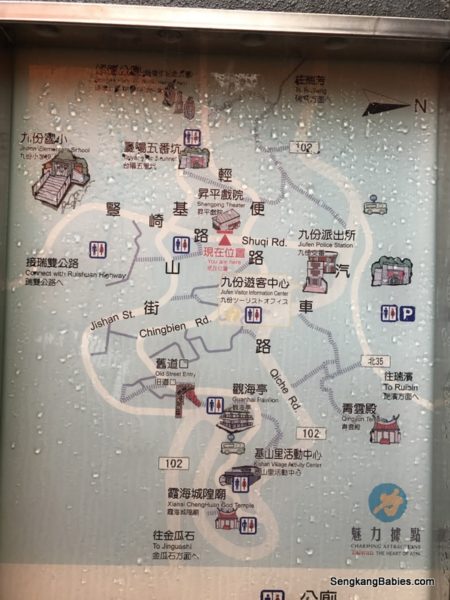 Some will buy Li Yi snacks (太陽餅 sun cake and 鳳梨酥 pineapple tarts) for souvenirs too.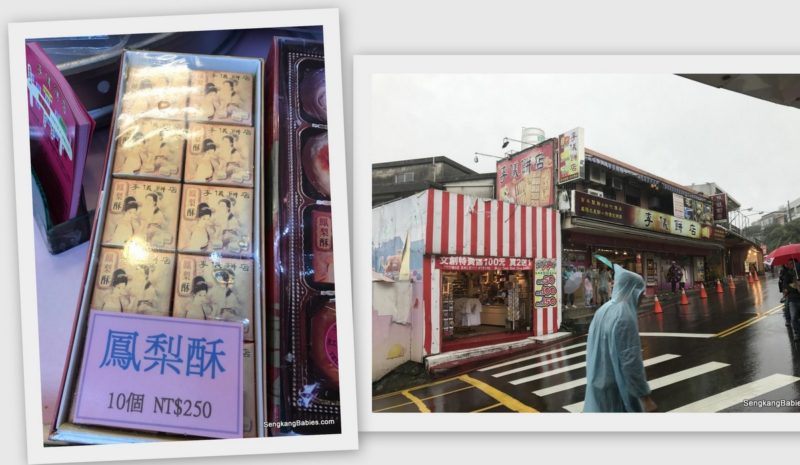 Visitors come to Jiufen because it resembles a Japanese neighbourhood. The Red lanterns and steep stairs are iconic too.
There is a rich cultural identity about Jiufen's mining history.
We heard Jiufen's popularity drops when the mining stops. Fortunes have changed again, Jiufen is now a popular tourist stop.
Many Instagramable corners.
An old cinema, 昇平戲院 Sheng Ping theatre.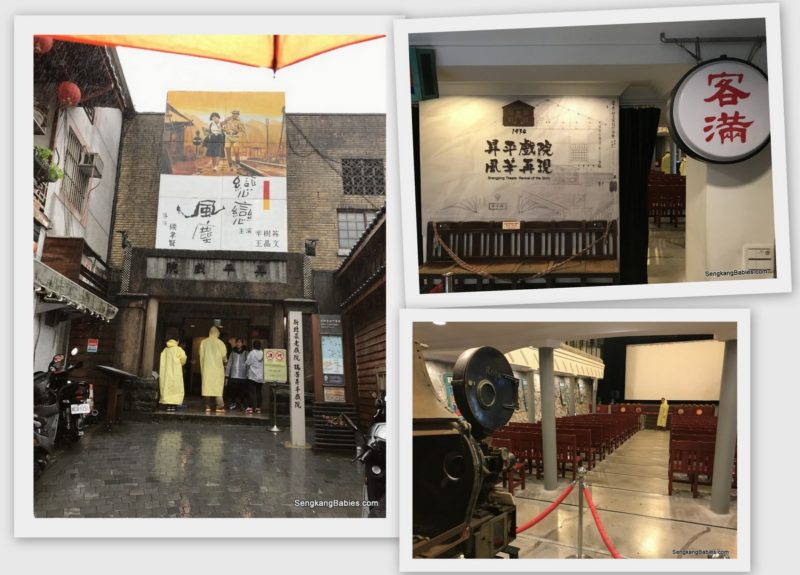 The posters are so old-school, nostalgia.
The scenic views from the balconies.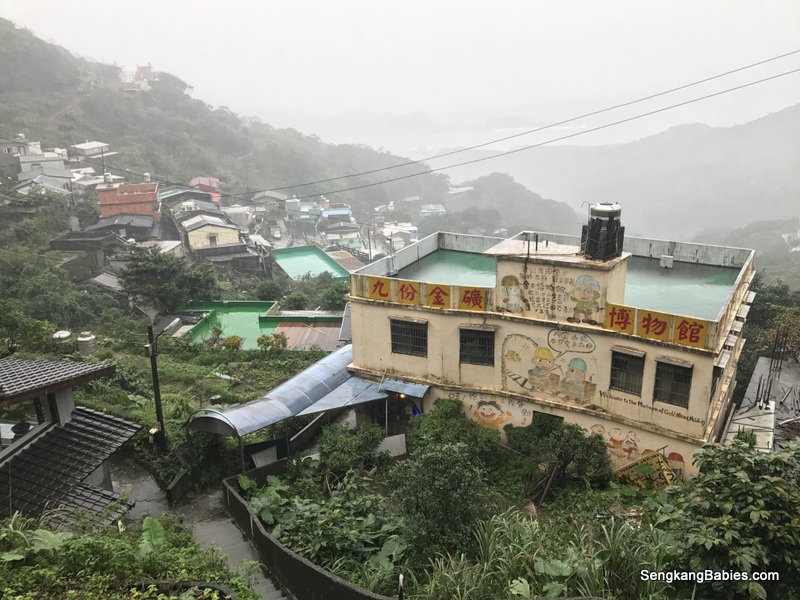 More about Round Taiwan Round, if time permit, we can cover 5 or 6 destinations. But this might be too rushed around Ruifang, Jiufeng and Shifen hilly terrain.
Our original plan was to visit the following Jiufen attractions and scenic spots ( prioritised).
=== === === ===
3 Golden Waterfall 黃金瀑布
4 Gold Ecological Park 金瓜石黄金博物馆
1 Shifen Waterfall 十分大瀑布
1 Shifen Old Street 十分天燈
=== === === ===
One good thing about RTR's Tripool programme is you have a list of spots to choose from. A few groups of visitors can car-pool and share a similar itinerary (consensus)
If you wish to charter your own vehicle, you can opt for RTR's private service.
You may read about our Taichung RTR experience in this blog post, I also covered another beautiful hiking spot (light house) which is relatively near to Jiufen.
Read my experience about 鼻頭角 BiTouJiao (blog post) from 2017 Feb where I covered more Jiufen attractions. And it was RAINING too!
It was a cool 8 to 13degrees when I visited 6 months earlier. Too cold! Instagram hashtag #SengkangBabiesTaiwan
Additional tips :
1)If you have the time, do stay one night in Jiufen. The town has a mystical feeling, especially when mist floats in and out.
There are two hills nearby to hike too, Keelong and Teapot. Both offers a good view of the surrounding landscape, and a good workout.
2) We would not advise self driving. The road up and down is very narrow and steep, and we have to look out for tourist coaches. First time visitors might find it hard to spot the mini-carparks too.
3) Bring your umbrella (raincoats preferred) along, the rain will always shower Jiufen.
4) Ruifang is the nearest train station to Jiufeng. A bus trip will be 20 to 30 minutes up Jiufeng.
Photo albums :
–Day 1 Aowanda, Cing Jing
–Day 2 Cing Jing
–Day 3 Xitou Nature Education Area, Monster Village, Sun Moon Lake
–Day 4 Taichung (Zhongshe flower, ShengXin station, Cycling, Fengjia)
–Day 5 Taichung (Animation Lane, Rainbow, Miyahara)
–Day 6 Keelung 基隆
-Day 7 Ruifang, Jiufen and Shifen
–Day x Taipei HomeAway and Neighbourhood
–Day 8 永康, Xi Men Ding, 象山, 饒河 Raohe
–Day 9 and 10 北投 Beitou, Toyshop, 士林 Shilin
Blog posts :
** Taiwan Itinerary for families 
–Day 1 Google Sheet, Aowanda, Cing Jing
–Day 2 Cing Jing Farm
–HomeAway Recommendations for Taiwan
–Day 3a Xitou Nature Education area (溪頭)
–Day 3b Monster village 妖怪村 and Sun Moon Lake
–Day 4 Cycling Taichung 台中 
–Day 4a 台中 Taichung  attractions
–Day 5a 台中 Taichung food Ice cream and Bubble Tea
–Day 5b 台中 Taichung Fengjia night market
-Day 6 基隆 Keelung
–Day 7a Jiufen attractions
–Day 7b Shifen attractions
–Taipei Neighbourhood around our HomeAway Vacation Home
–Day 8a Yong Kang Street and Xi Men Ding
–Day 8b Raohe Night Market, Wu Fen Pu and 象山 Elephant Mountain
Instagram #sengkangBabiesTaiwan